Supreme Court says yes to national anthem at the cinemas. Where next?
Nov 30, 2016 05:52 PM IST
Someone going to see a Bollywood potboiler, popcorn in hand is not really looking to stand up and sing the anthem
The simple act of going to see a movie has now got an additional touch of patriotism. The Supreme Court has ruled that the national anthem must be played before the screening of any movie at public theatres and also banned the printing of any part of the 52-second song on any "undesirable" object. The court has banned any "dramatisation" of the national anthem and said it must not be introduced as part of a variety show.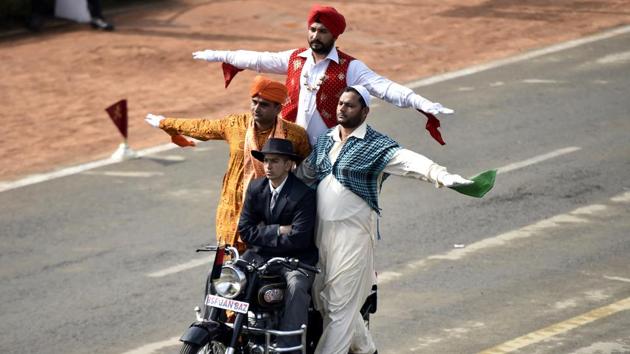 The national anthem is already played before movies in some states – such as Maharashtra – but the measure is often controversial, with instances of people being beaten up for not standing up for the anthem.
Stay tuned with breaking news on HT Channel on Facebook.
Join Now
Read | Supreme Court says playing national anthem mandatory in cinema halls
I wonder where next we might be required to display our patriotic credentials. It is no one's case that the national anthem or flag not be shown due respect but a movie theatre where people are not really focused on nationalistic sentiments – unlike say a major sporting event – seems hardly the place to reiterate one's patriotism. Using potent symbols of nationalism and patriotism in mundane circumstances or places could undermine their effectiveness in inspiring people.
I can understand this if a war was on and overt displays of allegiance to the nation might be psychologically beneficial to people. But someone going to see a Bollywood potboiler, popcorn in hand, is not really looking to stand up and sing the anthem.
In the sixties, after the India-China war, it was mandatory for cinema halls to play the national anthem after every movie. But Indians being famous for their indiscipline, many would leave the theatre even as the stirring strains were playing. This disrespect led to the practice being discontinued. Incidentally, according to The Orders Relating To The National Anthem Of India, cinema halls are not listed as one of the places to showcase the national anthem. And I would like to know if it is mandatory to sing along as the anthem is being played? I have often seen many of our political worthies looking grim faced and staying absolutely silent as the anthem played.
Read | Kerala Blasters in trouble after players 'disrespect' National Anthem
We have seen instances of a disabled person being targeted for not standing up in a theatre which played the anthem. We saw reports of a "Muslim" family being asked to leave a theatre for not standing up for the national anthem.
At last count, I thought we were all Indians. If anything, playing the anthem in a theatre where the iron discipline expected of people in standing to attention may not be followed could lead to the uber patriots and self-styled moral police needlessly attacking people as they are wont to do on several issues like the oddly termed love jihad and cattle protection.
Read | Is India sliding down the slippery road to anarchy?
Of course, now that the apex court has ruled, theatres will have no choice but to carry this out. But it promises to be increase the chaos and confusion that we already see in any public space. And take away a bit of the enjoyment people might hope to experience while taking in a movie while letting down their hair.
The author tweets as @LalitaPanicker.