The lunatic fringe is now the Hindutva mainstream
Mar 22, 2016 09:12 AM IST
The empowerment of popular hate began after the Babri Masjid was demolished in 1992. Instead of taking a stand, the Congress often pandered to emerging prejudice
In Dakshina Kannada, a prosperous coastal district often riven with religious tension, district collector Adoor B Ibrahim is a popular man — soft-spoken, impartial and efficient. Even the Vishwa Hindu Parishad (VHP) could find no fault with him until his name appeared this month on the invitation card of a local temple's annual festival.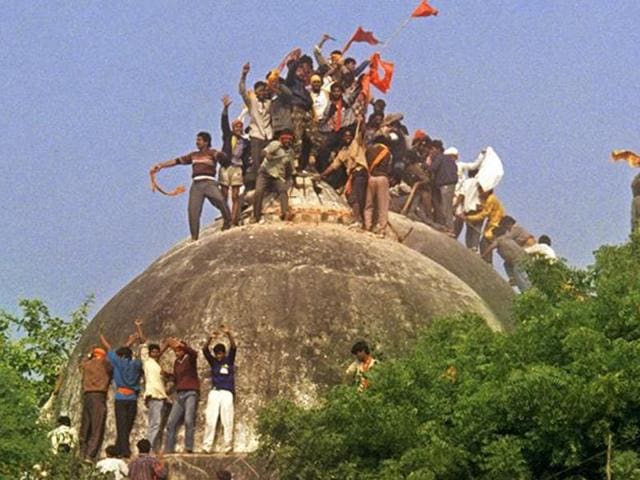 Ibrahim is the local head of the Muzrai, the government's department of religious endowments, which administers 35,000 state-aided temples in Karnataka. "This is a department of gods," says the Muzrai's website. These gods are Hindu, and the VHP decided, this time, that it would not countenance a Muslim name on the card. It did not matter that Ibrahim was often involved with temple festivities; that he ate the prasad offered; and that, over the years, the head of the police station next door — always invited to join the celebrations — is, sometimes, Muslim. "A non-issue is being made an issue," Ibrahim told The Hindu. "It has really saddened me."
Stay tuned with breaking news on HT Channel on Facebook.
Join Now
All over India, non-issues with bigoted, majoritarian views are not just dominating public discourse but poisoning minds. Recently, I heard a cousin, an artist who restores furniture, narrate how friends frowned on her visits to a furniture market she has been frequenting for years in Mumbai's Jogeshwari suburb. Why do you go there, they asked. Surprised, she explained that the carpenters and craftsmen there — almost all Muslim — were very good. Well, they said, 'we' now do not interact with Muslims at all.
Prejudice or discrimination against Muslims is not new, it just stayed hidden. Today, Muslim bashing is out in the open, as common as discussing Bollywood gossip (the facts behind either as uncertain). With some ministers, MPs and MLAs suspects in anti-Muslim riots and/or calling for 'final battles' — amplified on Whatsapp, Twitter and television, often through doctored videos and facts — people feel empowered to express their basest instincts. The inevitable fallout: Rising virulence and tolerance for violence.
Read | India is more nationalistic than Bharat Mata
Compare the outrage over the lynching of the father of an Air Force corporal, a Muslim, in Dadri, UP, less than six months ago to the muted reaction to the hanging of two young Muslims — one of them a scrawny teen — driving buffaloes to market last week in Jharkhand. Yesterday, intolerance on primetime; today, hate as ticker item. "Extreme hatred" appeared to have motivated the attackers, a police officer told The Times of India.
That hatred is evident in hundreds of cow-protection vigilante groups using faith as a cover for Muslim bashing, so acceptable now that we shrug when they attack a Rajasthan college hostel because some Kashmiri Muslim students decide to cook a mutton curry (the police react by randomly arresting Kashmiris, those who stuck to the university's vegetarian diktat). A new normal of hatred and acquiescence emerges; 'isolated incidents', as apologists describe them, grow to everyday acceptance. Even the shrug disappears when state-funded writers in Urdu — and no other language — are told they can no longer criticise the government.
It is clear that Muslims will be held to a different standard of what passes for nationalism, derived from what was until recently the hyper-sensitive 'lunatic fringe' of Hinduism. With the fringe now mainstream, Waris Pathan, an MLA of the All India Majlis-e-Ittehadul Muslimeen (AIMIM), is suspended by the Maharashtra assembly after he refused a BJP colleague's order to shout 'Bharat Mata ki jai'. In Delhi, on the gate of AIMIM leader and MP Asaduddin Owaisi's residence is stuck a poster. It says 'desh drohi', traitor.
Read | Do we have a clear idea as to what is anti-national?
At this point in this puerile but dangerous debate, let me refer you to a YouTube video on Indian nationalism, delivered by the 'traitor' in eloquent Urdu to a Pakistani television audience in 2013. He talks of terrorist groups operating from Pakistan, India's growing economy, fanatical Pakistani views of jihad and — when a commentator stresses the 'RSS-BJP view' of Muslims as gair-mulki (of other nationhood) — an irritated Owaisi declares (I've left it untranslated, so you get its flavour): "Sachayi kadvi hoti hai...hamara dastoor (constitution), uska preamble kehta hain ki hum ek secular mulk hain, hamare dastoor main jo huqooq (fundamental rights) hain; Hindustan ka pluralism hamesha mazboot rahega aur inshallah talla usko mazboot rakehnge, aap uska hargiz fikar mat kariyen." His second point (translated): "Stop expressing concern for Indian Muslims. We have made our decision, this is our country, we will handle our issues, together, in our democracy." Whatever may be the AIMIM's reputation for sectarianism, if India can accept the RSS view of nationalism, so should it Owaisi's.
Read | Where does the RSS figure in the nationalist scheme?
Many Muslims do not share Owaisi's sensitivity — he needlessly reacted, some say, to RSS chief Mohan Bhagwat's taunt that 'some forces' stop young people from saying Bharat Mata ki jai — to what is plainly a matter of choice. A day after his suspension, Pathan declared, "Jai Bharat, Jai Maharashtra, Jai Hind." The last exhortation is what inspires many Indians, myself included. But I can say this because I am a Hindu; Pathan and Owaisi are not.
The empowerment of popular hate began after the Babri Masjid was demolished in 1992. Instead of taking a stand, the Congress often pandered to emerging prejudice, using what is called 'soft Hindutva', such as allowing the police to fake many terror cases against Muslims, while politically espousing secularism.
The facade is now gone. History tells us that when popular governments legitimise hate (fascism and racism are some examples; closer home, the anti-Sikh and post-Babri riots), it is a matter of time before a country's majority population follows suit. If — or as — that happens, don't expect much from the party that was India's secular, political hope.
In the Maharashtra assembly, the Congress joined hands with the BJP and Shiv Sena to suspend Pathan. In Mangalore, the local MLA, Shakuntala Shetty, quickly said Ibrahim's name should be struck off the invitation, his designation retained. Once with the BJP, Shetty is now with the Congress: To her relief, and her party's, the Ibrahim imbroglio is now in court.
Samar Halarnkar is editor, Indiaspend.org, a data-driven, public-interest journalism non-profit
samar11@yahoo.com
The views expressed are personal