The Maratha movement is driven by historical memory
Updated on Sep 27, 2016 02:24 PM IST
The Marathas want three things: The gallows for those who had raped and killed the girl in Ahmednagar, 16% reservation for the Marathas, and a modification of the Scheduled Castes and Scheduled Tribes (Prevention of Atrocities) Act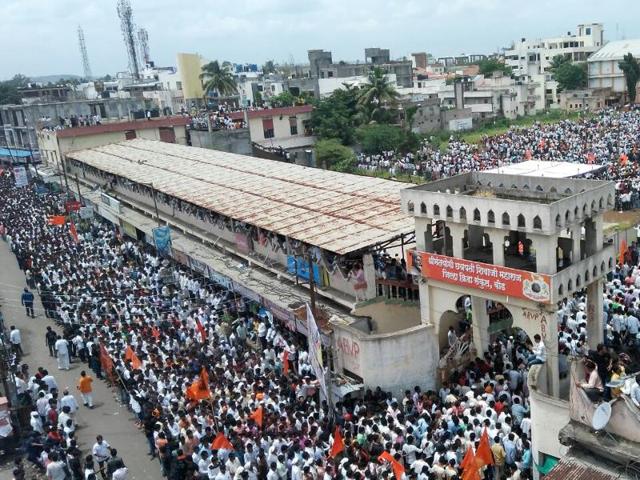 After a Maratha girl was raped and killed, allegedly by some Dalits in Ahmednagar in July, some Maratha organisations asked the question: What would have been the reaction of the State had it been the other way round? Having held successive rallies, demanding justice for the girl, in Osmanabad, Beed, and Parbhani, the movement, so far non-violent, will spread to Solapur, Navi Mumbai and Pune. Though outwardly the movement is focused on the rape and murder incident, there is a subtext to it. It's a resurgence of Maratha pride and an attempt at getting a dominant position, through invoking a certain past.
After all, the Marathas form about 33% of the population of Maharashtra.
Read: Maratha protests spread across Maharashtra
The Marathas want three things: The gallows for those who had raped and killed the girl, 16% reservation for the Marathas, and a modification of the Scheduled Castes and Scheduled Tribes (Prevention of Atrocities) Act. They say the law as it stands now is heavily biased in favour of the Dalits and does not give all equal protection of the law to all.
Of the three demands, what had the strongest pull among the Marathas is the matter of reservations, which were given to them by the Congress government in 2014 when it was in the last leg of its term. Subsequently, however, the Bombay high court stayed the order.
Read: Supreme Court dismisses plea over quota for Marathas in Maharashtra
There are now two aspects to the issue. Reservations have been agitating the minds of the Patels in Gujarat and the Jats in Haryana. And the Rajasthan government has upped its quota ceiling in jobs and educational institutions by 19 percentage points, taking the overall quota to 69%. Given the alacrity with which state governments are placating powerful communities by promising them reservations in government jobs, the Maratha movement could escalate into a fullblown one in favour of quotas. Before things slip out of hand the state government should step in.
The Marathas are proud of their history. As in the case of the Jats, their martial spirit was in evidence when they rebelled against Mughal rule. It is this memory that often propels such movements forward. And there is the additional factor of the burning issue of reservations right in the neighbouring state of Gujarat. The government should see things collectively.
Personalise your news feed. Follow trending topics