Why the Navi Mumbai airport could go the Kochi way
Aug 29, 2018 02:38 PM IST
The Maharashtra government is building the Navi Mumbai airport by razing hills to the ground and raising the height of runways by 5.5 metres, since these are on floodplains
Yet again, in what is becoming virtually an annual visitation throughout the country, the wrath of nature has been compounded by human folly in Kerala. The state can blame the highest August rain in nearly 90 years, which is primarily responsible, but to put this in perspective, 771 mm in 20 days pales by comparison with the 944 mm which Mumbai received on July 26, 2005.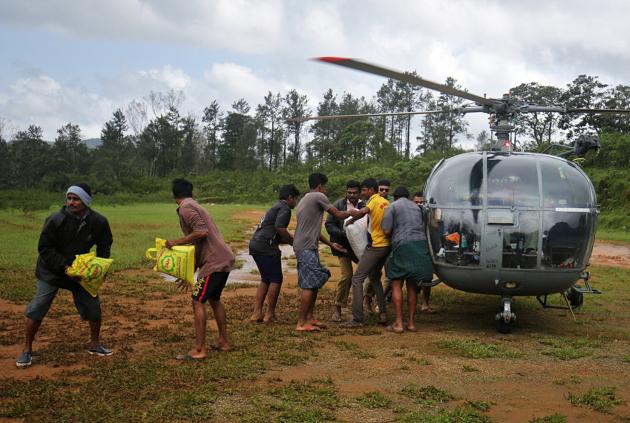 While most have blamed the intense rainfall for the floods, one can attribute widespread ecological illiteracy for the failure to take steps to prevent such calamities. The Western Ghats, and Kerala in particular, are one of two internationally recognised biodiversity hotspots in the country (along with the Northeast, Arunachal especially). These are highly environmentally-sensitive areas and deserve to be protected from reckless construction of buildings and infrastructure.
While the NDA government has rightly been accused of diluting environmental laws nationwide, in this case, the responsibility lies squarely with the UPA. It was in 2010 that it appointed a committee, headed by the eminent ecologist, Madhav Gadgil, to recommend how to protect the Western Ghats, down the entire coast.
The committee proposed that 1,30,000 sq km of the ghats be designated an ecological-sensitive zone, with varying degrees of protection needed for different areas. This included a ban on special economic zones, conversion of public to private lands and diversion of forest land, new dams and mining licences.
Expectedly, there was a political furore against the committee's 2011 report, most vehemently from Kerala itself. The UPA caved in and appointed another committee, this time headed by ISRO chief K Kasturirangan, which in 2013 recommended that 60% of the ghats, an area widened to 1,64,000 sq km, would be open for settlements, farming and plantations, and only 30%, or 60,000 sq km would remain "biologically rich". While some of the earlier bans were retained, construction projects up to 20,000 sq metres were permitted. It was only last year the Union environment ministry notified a slightly smaller ecologically sensitive area.
Such tinkering with what is one of the country's prized ecological assets, with illegal encroachments and a free rein to builders on the ghat slopes and floodplains below, led to the disastrous landslides and flooding this year. There are an estimated 1,500 illegal crusher and quarrying units in Kerala, which function freely.
Gadgil, who also examined the environmental impact assessment (EIA) reports of Goa's iron ore companies during his committee's deliberations, has alleged that it may well be next to face such floods. While its ghats aren't as high, the rampant illegal mining of iron ore – estimated to have touched Rs 35,000 crore by the Justice MB Shah committee appointed by the Centre – may play similar havoc. The streams in the floodplains don't find any mention in the EIA reports. Appropriately, a searing book by Hartman de Souza which exposes such rapacity has been titled Eat Dust.
As one travels northwards up the west coast, there is no paucity of examples of similar illiteracy. In 2005, Mumbai faced its "unprecedented" day of rainfall, which led to a surge of the Mithi river, which has becoming a dumping ground , and not just encroached upon but actually bent twice at right angles under the airport. Nature hit back and the airport of the country's financial capital was closed for a couple of days, as Kochi's is now.
Blissfully ignorant of these harsh lessons, the Maharashtra government is building the Navi Mumbai airport in the twin city across the harbour by razing hills to the ground and raising the height of the runways by 5.5 metres, since these are on floodplains. As Dutch experts whose advice has gone unheeded point out, it's a no-brainer that water will inundate the neighbouring villages. Some, a mere 100 metres from the landfilling work, have been flooded for the very first time this June.
The earlier Congress state government should also explain its wisdom in proposing Mumbai's Rs 15,000-crore coast road, not to mention the Shivaji statue in the sea off Marine Drive, both projects which the BJP coalition is pursuing enthusiastically. While torrential and prolonged downpours are the new normal, their impact will inevitably be accentuated by sea-level rise with climate change, swamping all such grandiose, hare-brained infrastructure schemes.
Darryl D'Monte is Chairman Emeritus, Forum of Environmental Journalists in India (FEJI)
The views expressed are personal