Will Sunil be Balram now? After Gurdaspur win, Jakhar family is back to the Centre stage
Oct 16, 2017 05:27 PM IST
The Jakhar clan, a Hindu Jat family, is quite at home in central politics as Sunil's father, Balram Jakhar who died last year at 92, had the rare distinction of being Lok Sabha speaker for two successive terms from 1980 to 1989.
Twenty-one years after he first contested a Lok Sabha election – his 1996 debut from Ferozepur — Sunil Jakhar is finally in Parliament. In between, he remained a three-time MLA and is the Punjab Congress chief. But the victory in the Gurdaspur LS bypoll marks the return of a Jakhar to where the family belonged for long — central politics.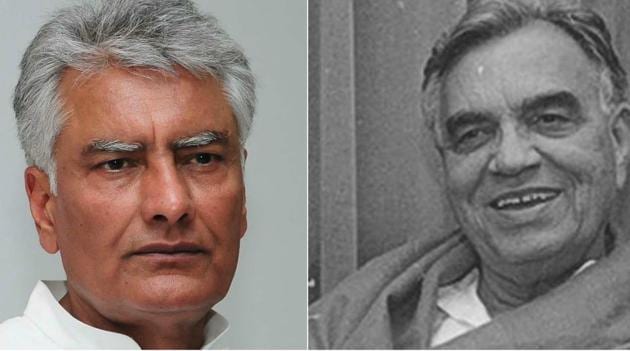 This comes also when the party is seeking resurgence, and Sunil, even at 63, may well fancy himself as one of the next generation leaders from Rahul Gandhi's brigade.
The Jakhar clan, a Hindu Jat family with limited prospects in Punjab's political demography, is quite at home in central politics. Sunil's father Balram Jakhar, who died last year, had the rare distinction of being LS speaker for two terms (1980 to 1989). An Indira Gandhi loyalist, he also served as Union agriculture minister in the Narasimha Rao government (1991-96), and later remained governor of Madhya Pradesh (2004-2009).
FIRST SHOT
In 1996, Balram had decided not to contest, and Sunil (youngest of three siblings) almost became the son who took on the family mantle at the Centre. That wasn't to be then.
Sunil attributes that loss to his late shifting by the party from Sikar in Rajasthan — a seat that fell in the clan's catchment for being part of the Bagri-speaking belt that covers parts of Punjab, Haryana and Rajasthan — to Ferozepur. His father had represented Sikar twice. In 1998, Balram returned to electoral politics and won Bikaner in the same belt in a Lok Sabha that lasted a year.
Sunil's Gurdaspur victory too comes merely eight months after a loss on home turf Abohar in the assembly polls after a hat-trick, even though Congress stormed back to power with a thumping majority in the state. And it comes three years after his unsuccessful LS shot in 2014. Sources close to him say he was keen on the 2009 LS contest, when the party was out of power in the state but was riding the positive image of Manmohan Singh at the Centre. That wasn't to be.
He did come close to entering Parliament in March last year, too, a month after Balram died. Of the two Rajya Sabha seats that fell vacant in Punjab, Partap Singh Bajwa — who had lost Gurdaspur LS seat in 2014 — was nominated to one. Jakhar was hoping to make it to the other. But, well, that wasn't to be either.
He was willing to wait.
ENTRY TO ASSEMBLY
Sunil's first success too had come on a note very different from the initial plan, when he won the 2002 assembly election from Abohar. His elder brother Sajjan Kumar — who has since chosen to stay behind the scenes — was considered heir to Balram at the state level, and also remained agriculture minister in the Beant Singh regime. But he had lost in 1997, and the party decided not to give tickets to past losers in 2002.
In the meantime, Abohar's local unit leader Sudhir Nagpal fancied consolidation of the numerically dominant Arora-Khatri vote and staked claim to the ticket. Balram managed it for Sunil, and he won by a relatively thin margin against Nagpal who contested as an independent.
In the assembly two more wins later, Sunil became the leader of opposition. This was a position his father held, too, in 1977 before graduating to central politics in 1980. In that particular part of the script, he has followed in his father's footsteps.
WHAT NEXT IN ABOHAR?
Sunil and the eldest brother Sajjan both remained MLAs from Abohar. The third brother, Surender, was a satrap in the farm cooperative movement but never got into electoral politics. He shot himself by accident in 2011.
Among the next generation, Sajjan's son Ajay Vir Jakhar was recently made chairman of the Punjab Farmers' Commission by CM Captain Amarinder Singh, while Surender's son Sandeep has been active in the political field, working for Sunil who remains secretive about his family.
But Abohar may now be open to Congress ticket claims by others, particularly from the Arora community whose consolidation was seen as a reason behind Sunil's loss against BJP's low-profile Arun Narang.