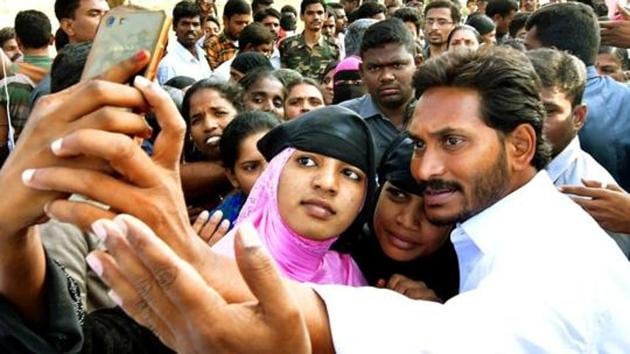 YSR Congress MP dubs civil servants as 'TDP agents', kicks up a row
In his comments made at a party meeting on February 9, Vijay Sai Reddy also threatened to take action against "erring IAS and IPS officers" once his party comes to power.
UPDATED ON FEB 22, 2018 09:15 PM IST
YSR Congress MP V Vijay Sai Reddy's proclamation of senior IAS and IPS officers in the state as "Telugu Desam Party (TDP) agents" has snowballed into a major controversy.
In a complaint lodged with director general of police M Malakondaiah, Narasaraopet TDP MP Rayapati Sambasiva Rao demanded action against Reddy for demoralising senior bureaucrats in the government by tainting their reputation with baseless allegations. He said the Rajya Sabha member must be booked under relevant sections of the Indian Penal Code.
The YSR Congress MP had made the comments at a party meeting on February 9. He also threatened to take action against "erring IAS and IPS officers" once his party comes to power, targeting Satish Chandra, special chief secretary to the chief minister; AV Rajmouli and G Sai Prasad, secretaries in the CMO; and additional director general of police (intelligence) AB Venkateshwar Rao in particular.
Reddy accused the officials of helping some YSR Congress MLAs defect to the TDP, among other things. "They are behaving like TDP workers and indulging in horse-trading on behalf of that party to lure our MLAs. If these TDP stooges are so interested in politics, they should resign from their jobs and join the ruling party. Once our party comes to power, we will definitely take action against them," he said.
Reddy's warning comes in the wake of another controversy in the national capital, where the Delhi chief secretary was allegedly assaulted by an Aam Aadmi Party MLA.
The Andhra Pradesh IAS Officers' Association strongly objected to Reddy's comments. "Such threats of vindictive action against a civil servant are deplorable, and the association appeals to all political parties to desist from indulging in irresponsible behaviour that may demoralise civil service personnel," association secretary Sashi Bhushan Kumar said in a statement issued on Wednesday evening.
The organisation firmly stood by Satish Chandra, lauding him for his selfless efforts in developing bifurcated Andhra Pradesh.
Reddy, however, was in no mood to retract his remarks. "I stand by every word I had used against these officials. They are indeed behaving like TDP agents, and I have all the evidence I need to prove that. I will disclose it at an appropriate time," he told mediapersons in Amaravati on Thursday.
Close