An art project features stories that celebrate body positivity
Updated on Mar 30, 2017 04:27 PM IST
Artist Indu Harikumar's crowd-sourced art project – Body of Stories – features 16 tales that reinforce the idea of embracing every body type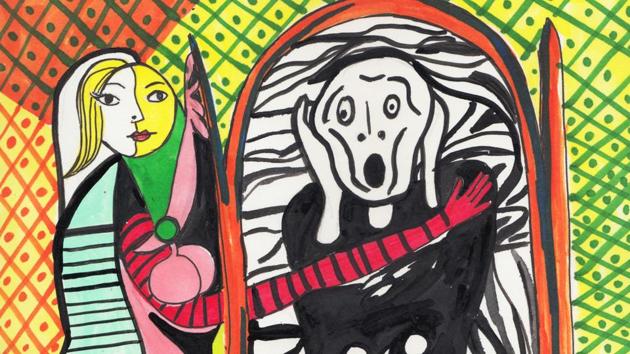 Last year, visual artist Indu Harikumar's (37) crowd-sourced project, 100 Tinder Tales, went viral. She illustrated people's experiences on the dating app, and found it exhausting. It was a bag full of stories — funny, painful and shocking. "I was dealing with people's intimate emotions and, in a way, it took a toll on me," she says.
Yet, the exhaustion hasn't stopped Harikumar. In January this year, she launched her next big idea — Body of Stories. With this project, Harikumar is exploring stories that deal with issues of body shaming, body positivity, and colour and gender bias.
The idea stemmed from a conversation she had with her friend's four-year-old son. "My friend was telling him how broccoli is cauliflower's sister in the vegetable world. He said, 'Broccoli must be the brother because it is darker than cauliflower. Girls are fairer, and broccoli is dark.' I was stumped. These ideas of colour and gender bias are ingrained in us from a young age," she says.
Read more: Meet the artist who's turning 100 stories from Tinder into art
So, she shared an introductory post on Instagram asking for entries, and her mailbox has since been flooded with stories from across the subcontinent.
As for the art, Harikumar has used famous European paintings as the basis of the illustrations. Leonardo Da Vinci's Vitruvian Man and Mona Lisa, The Birth of Venus by Botticelli and Edvard Munch's Scream are some of the iconic paintings that have inspired Harikumar for her series. "I hand draw everything and mix different mediums. While you'll see shades of a lot of European paintings in the series, you'll also find adaptation of Raja Ravi Varma's work," she says.
Read more: A photo catalogue is highlighting colour politics one skin tone at a time
Harikumar believes that bringing art out of the gallery and into social media is the only way forward. Online platforms allow a wider reach, and also offer a certain amount of monetary gain. She says her experience with the 100 Indian Tinder Tales project was a testament to that. "There is no big plan: no coffee table book or shows in a gallery. There's no money for that. Sure, initially, I didn't earn a penny for 100 Tinder Tales either. But once the series went viral, and foreign press started noticing, I started receiving commissioned work," she says.
You can submit your stories to bodyofstories17@gmail.com
Personalise your news feed. Follow trending topics