How this American performing arts institution is embracing hip-hop culture
Mar 04, 2018 11:36 AM IST
One of America's pre-eminent performing arts institutions, the Kennedy Center introduced rap music into its programming, and hip-hop has also been showcased regularly at the centre's daily Millennium Stage concerts.
It was late October 2017 and a packed house of VIPs had gathered at Washington's Kennedy Center to watch David Letterman receive the Mark Twain award for a career in comedy. A stream of comedians took the stage to sing Letterman's praises, and several couldn't resist taking good-natured shots at the crowd. Martin Short deadpanned, "It says a lot about America when people from different white backgrounds can gather together like this."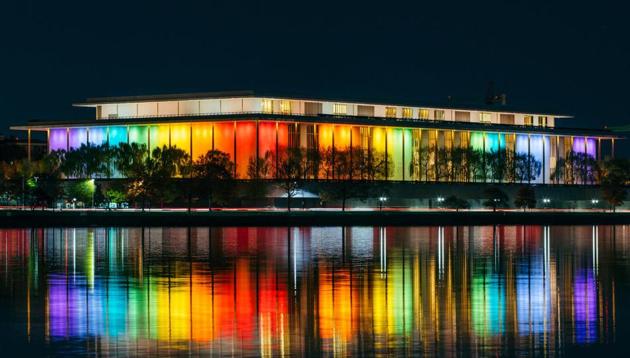 Jimmie Walker — JJ from the 1970s sitcom Good Times — put it more bluntly: "Look at the diversity in this crowd! I feel like Ben Carson at a Trump Cabinet meeting." Walker may have been going for the easy joke there, but he spoke to a deeper belief — that the Kennedy Center exists to serve an elite white audience despite its presence in a largely black city. That perception may linger for a while, but the reality is changing.
One of America's pre-eminent performing arts institutions, the Kennedy Center is embracing hip-hop culture in a major way. The centre has gradually introduced rap music into its programming, with rappers like Nas and Kendrick Lamar performing with the National Symphony Orchestra. Hip-hop has also been showcased regularly at the centre's daily Millennium Stage concerts.
The process is accelerating. The centre has tapped two members of hip-hop royalty to act as bridges into the rap world. Q-Tip from A Tribe Called Quest has been named artistic director for hip-hop culture. Last year, LL Cool J became the first rapper inducted into the elite ranks of Kennedy Center Honors recipients.
"I consider them as important to our culture as Bach or any other composer," said pianist Jason Moran, the centre's artistic director for jazz. Moran is credited with pushing for this change. He was part of the committee that chose Q-Tip to found the hip-hop department. "He's the perfect person to advocate for us," Moran said. "It had to be someone from the bedrock of hip-hop."
Equally important was the hiring of a full-time staffer, Simone Eccleston, as director of the new hip-hop culture department. "This is not a diversity effort. We're not just checking boxes," Eccleston said. "This is a firm commitment to having hip-hop as an ongoing program."
Last year's Kennedy Center Honors program — an annual centerpiece event — may have been one of the blackest nights in the history of the institution. In addition to LL Cool J — whose program included a speech by Queen Latifah and a performance by rapper Busta Rhymes — the honorees included African-American singer Lionel Richie and dancer Carmen De Lavallade. Cuban-American singer Gloria Estefan was also saluted. The only white honoree was TV producer Norman Lear, the man who helped bring black family life into mainstream culture with shows like Good Times and The Jeffersons.
The 2017-18 season, Q-Tip's first at the helm, kicked off with a performance by him and Moran. The veteran rapper calls it "just a flash of our potential". He plans to appoint a "brain trust" council of fellow rappers and says the real impact will be felt around year four or five when both sides are more comfortable with each other. "I have to grow into the position and the Kennedy Center has to get acclimated to the nuances that exist in our thing," Q-Tip said.
Inside the building, staffers refer to the traditional programming staples by the acronym SOB: symphony, opera and ballet. President Deborah Rutter acknowledged that the shift has sparked some concern among what she called "the dyed-in-the-wool, I only want to hear La Traviata" audience.
"Some people get a little nervous," she said. "They ask, 'If you do this other stuff, will there be less of what I love?'" The traditionalists aren't the only nervous ones. Moran laughingly recalls a moment before Lamar's 2015 performance when a member of Lamar's team came up to him, genuinely confused, and asked, "Who's coming to this thing, man?" "They were unsure just what they were getting into. I told them to just be themselves and let it rip," Moran said.
As far back as 2008, rapper Mos Def performed at the Kennedy Center, sneaking in as part of the jazz programming. But the idea of a dedicated hip-hop department didn't come together until more recently. In 2014, the centre sponsored the two-week One Mic hip-hop culture festival, which culminated in Nas performing with the NSO. The festival was already planned when Rutter joined the centre, but she said its success made her focus on deepening the relationship. "That was a tipping point for us to say that this hunger for a connection between this art form and the Kennedy Center is very real. This is too good to let go of," she said.
The dual choices of Q-Tip and LL Cool J are particularly crucial. Both have achieved mainstream popularity and name recognition while still retaining respect within hip-hop circles. That legitimacy will be important, as they're expected to act as ambassadors in both directions. They won't just be asked to help introduce hip-hop to the Kennedy Center; they'll be asked to help introduce the Kennedy Center to the hip-hop community.
The ultimate goal is to draw younger and more diverse audiences, showcasing what Rutter calls "a truly American art form" while also bringing new blood to the 46-year-old institution. "These conversations we're going to have will be complex and will ruffle feathers," Moran said. "Servicing the same audience over and over again, we know that doesn't grow your audience."
Q-Tip says his message to the core SOB-loving Kennedy Center audience is not to worry. "The Kennedy Center stands for top-flight programming. That's not going to stop," he said. "It's going to draw more attention, more people, more bodies. ... We're widening and stretching the territory."
Follow @htlifeandstyle for more