Paris museums go on flood alert due to the rising levels of the Seine river
Updated on Aug 16, 2019 01:12 PM IST
The heavy rains have led to parts of the Louvre being closed and artworks being moved to higher ground. Other museums like the Musee d'Orsay and the Orangerie are also cancelling their weekly evening opening in case works need to be moved.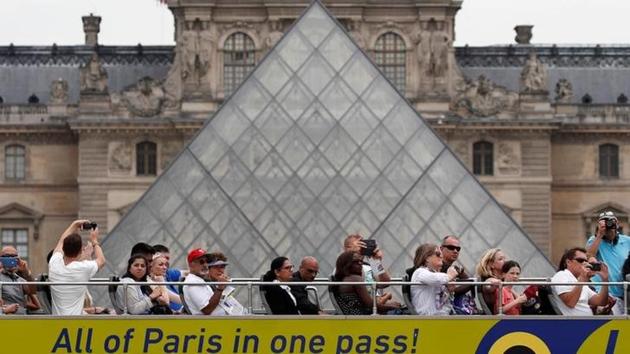 Parisians were likely to spot more rats than usual in coming days as the Seine continued to rise Wednesday after heavy rains, while part of the Louvre was closed as artworks were moved to higher ground. Much of France has been lashed by downpour throughout January, inundating many homes and shops with muddy water and halting trains on a busy commuter line that runs through Paris.
The Seine is expected to reach 6.2 metres (20.3 feet) on Saturday, a peak last reached in 2016 when floods sent riverside museums scrambling to move artworks from their basements, which was the highest level since 1982. No water has yet got in to the Louvre's Islamic Art wing in the basement, but it will remain off limits to visitors until at least Sunday, the museum said on Wednesday.
But Paris's rat problem has gotten much more visible as their dens are swamped with water, forcing them to seek drier shelters. "It doesn't mean that there are more of them, just that we're seeing them more," Pierre Falgayrac, an expert in "urban bio-aggressors" to borrow from the title of one of his books, told AFP.
The flooding could thin the population a bit, but Falgayrac said this would be only temporary before returning to the current level of 1.75 rats for every Parisian.
The Musee d'Orsay and the Orangerie were also preparing for flooding risks, cancelling their weekly evening opening on Thursday in case works need to be moved. In June 2016 the Louvre transferred 35,000 works — about a quarter of its total — from areas at risk of flooding in just 48 hours.
Since then, work has started on a conservation site for Louvre works vulnerable to water leaks near the northern city of Lens, but the 60 million euro facility is not expected to open until summer 2019. The height of the Seine is measured not from the riverbed but from a point located at the Austerlitz bridge — but 6.2 metres is five or six times the normal level of one to two metres.
The Bateaux Mouches cruise ships that ply the river have had to cancel services, while owners of the city's picturesque houseboats worry their vessels might be lifted onto the quais. And the national train operator SNCF has halted service within Paris on the suburban RER Line C, which runs under the river, until at least Friday.
Rivers across France were spilling their banks as well, with fifteen departments still on flood alert, with more rain expected Thursday. The December-January period has been the second-wettest on record since data started being collected in 1900, according to the Meteo France weather service.
Follow @htlifeandstyle for more