Asian Games 2018: Behind Vinesh Phogat's success, a family that broke gender stereotypes
Vinesh Phogat on Monday bagged a gold medal in women's 50 kg freestyle wrestling category at the Asian Games 2018.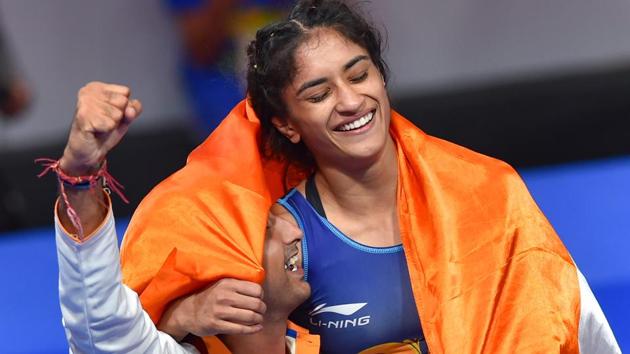 Updated on Aug 22, 2018 03:35 PM IST
Every time Vinesh Phogat wins a medal for India, a cheer should be raised to her father who dreamt of a life for his daughters off the beaten track and a mother and an uncle who kept the idea alive despite family pressure and cancer.
Together they created a champion who pins down adversity whenever it tries to catch her by surprise. On Monday, Vinesh added a chapter to the story of the Phogat sisters by becoming India's first woman wrestler to win an Asian Games gold.
When Vinesh was eight, Rajpal, her father and the man who thought wrestling could be a career for her daughter, died. A couple of years later, her mother Premlata was diagnosed with cancer. But Premlata never let any of this affect Vinesh's training.
'Needed to change colour of medal,' says Vinesh Phogat after Asian Games gold
"I never wanted to disturb the training schedule of my children. So, I would travel alone from our village Balali to Rohtak for chemotherapy. I wanted them to make a name for themselves in the sport and, finally, they have succeeded," said Premlata after Vinesh made history.
READ: Vinesh Phogat wins India's maiden Asiad gold in women's wrestling
"This was only possible because of Geeta's father (Mahavir Singh Phogat). Had he not been strict with the children, I think none of the girls, including Vinesh, would have been able to achieve what they have."
"After being away for long,Vinesh came home after Commonwealth Games (Gold Coast) that too for couple of days. It's been four months she didn't come home because she was preparing for the Asian Games. Now, I hope when she comes, she will spend some time with the family," said Premlata.
Vinesh and Priyanka, who is also an international medal-winning wrestler, are daughters of Mahavir's brother Rajpal. Along with his daughters Geeta, Babita, Ritu and Sangeeta, Mahavir introduced them to wrestling.
"It was Vinesh's hard luck that injury forced her out of podium in Rio Olympics. Otherwise, history would have been different. But no worries, she will fulfill my Olympic gold medal dream in Tokyo," said Mahavir, who introduced the girls to wrestling after the 2000 Sydney Olympics because the prize announced by the Haryana government for winning an Olympic gold went unclaimed.
"I took a pledge then to produce an Olympic champion from the family," said Mahavir, a Dronacharya award winner.
Mahavir was backed by his younger brother. It was Rajpal who supported Mahavir when the entire family including the girls' grandfather was against them being introduced to the sport.
READ: Saurabh Chaudhary clinches gold, Abhishek Verma bronze in 10m Air Pistol shooting
"I still remember Vinesh's father would scold me whenever I sought help from Vinesh or Priyanka for household chores. He had given me strict instructions to let them focus on wrestling. If I needed any help, he said I should call my son Harvinder rather than Vinesh or Priyanka," said Premlata.
"When she was in school, Vinesh would beat boys who were rude to her. Our grandmother told all of us that we shouldn't start a fight but should stand up for ourselves if someone tries to bully us. Vinesh took the advice most seriously. Whenever my father came to know about Vinesh beating someone or the teacher complaining about her getting into fights, he would never say anything to her. Rather, he would feel proud that his girls were no less than boys. After our father died, 'Tauji' (uncle) never let us feel his absence," said Harvinder.
"Had Vinesh's father been around, he would have been happy today. I am sure he is watching Vinesh winning international glory from somewhere," said Premlata.
Close Story
Personalise your news feed. Follow trending topics