In a first, six all-women polling booths set up in Uttarakhand elections
In a first for assembly elections in Uttarakhand, six all-women polling booths were set up in Dehradun and Haridwar districts on Wednesday to boost participation of women in the electoral process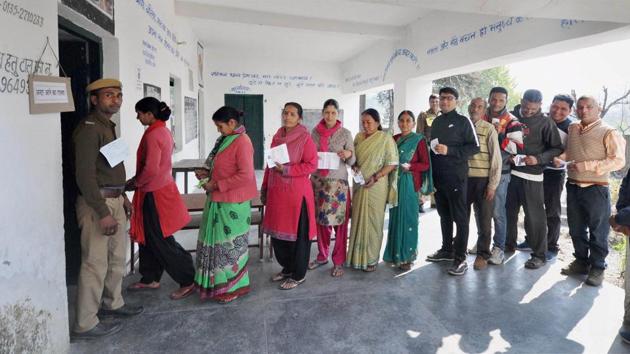 Updated on Feb 15, 2017 08:26 PM IST
In a first for assembly elections in Uttarakhand, six all-women polling booths were set up in Dehradun and Haridwar districts on Wednesday to boost participation of women in the electoral process.
Women constitute about 47.6% of the 74.20 lakh general voters across 69 seats which underwent polls on Wednesday.
In Dehradun, two women polling booths were set up in Dharampur (at Nari Niketan and Pathribagh) and one in Raipur (Vani Vihar). Similarly, three booths - two in BHEL Rani constituency and one in Roorkee - were set up in Haridwar district.
Read more | Assembly elections: High voter turnout witnessed, over 68 % in Uttarakhand and 65% in Uttar Pradesh
Of these six booths, the booth at Nari Niketan women's shelter home in Dehradun not only had women voters but all five polling officials were women. "We all voted for the first time and are excited about it," Sushma Chauhan, Manju Nautiyal and Alisha, inmates at Nari Niketan who voted on Wednesday, said.
"More such polling booths should be set up in future elections," Sushma Goyal, presiding officer at Nari Niketan polling booth, told HT. Chief electoral officer Radha Raturi said the purpose of setting up special polling booths for women was to encourage their participation in the democratic process.
In 2012 assembly poll, women's overall voter turnout (68.84%) was higher as compared to men's (65.74), but there were certain segments were the polling percentage was abysmally poor. While other women polling booths received positive response, the one at Nari Niketan - where 68 women were enlisted in the electoral roll - witnessed a polling percentage of only 28%. "We tried to convince all the (eligible) inmates to vote, but many of them were reluctant," Meena Bisht, district probation officer, who is the overall incharge of Nari Niketan, told HT.
Close Story
Personalise your news feed. Follow trending topics