Note ban brought Congress to tears as it lost all money looted from poor: Modi
"The Congress is associated with every evil; be it corruption, nepotism, castesim and more, Prime Minister Modi said.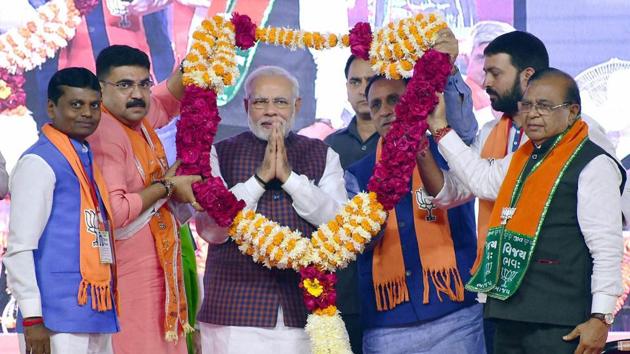 Updated on Dec 04, 2017 07:52 AM IST
Prime Minister Narendra Modi on Sunday launched a no-holds-barred attack on the Congress and its vice-president Rahul Gandhi, blaming them for the country's problem .
"The Congress is associated with every evil; be it corruption, nepotism, castesim and more," Modi said at a rally in Rajkot, a town in Patidar-dominated Saurashtra region of Gujarat. "The youths of Gujarat will never accept the Congress."
The Congress is pinning its hope on Patidars and their pro-reservation movement to return to power in Gujarat after a gap of 21 years. Gujarat goes to polls on December 9 and 14.
Modi, who ruled the state between 2001 and 2014, said the Congress must introspect on its current position.
In the Rajkot rally, he tried to strike a chord with all key sections of his audience – youth, farmers, businessmen and women – as he dished out figures to prove that Gujarat progressed phenomenally under the BJP.
The PM accused Congress of resorting to divisive politics, "one that pits castes against each other", and referred to the opposition party's organisational election to elevate Rahul Gandhi as rigged.
"One doesn't have democracy in his home (party), how can the person practice it in the country."
He referred to Congress leaders – Sardar Vallabhbhai Patel and Morarji Desai (both from Gujarat) – to suggest that they did not get their due because the party's internal elections were rigged.
Modi said demonetisation, the November 2016 decision to recall high-value bank notes, brought Congress leaders to tears since "they lost all money looted from poor".
He listed cheaper stents, savings on power bills because of LED bulbs, cheaper home loans and similar programmes as his government's efforts to make life better for Indians. Modi, seen as the BJP's strongest mascot, focussed on 'pro-poor' narrative while talking about his achievements, a counter to the allegation from its arch-rival that it supported only industrialists.
Modi spoke of India's improved ranking on economic indicators in recent surveys by international agencies and its growing global stature, suggesting it was possible because people brought a government in Delhi with full majority after 30 years.
"India's rise in the world stage has rattled many. They are going out of the way to discredit the rankings. Yes that is fine but will they also discredit the people of UP who have rejected them comprehensively," Modi said.
The PM made a veiled attack on his Harvard-educated predecessor, Manmohan Singh, saying the world has realised that 'hard work' delivers more results than a Harvard education.
Modi also invoked Gujarati pride, saying the people of the state now have a prime minister who can call 400-500 Gujaratis by their name. He also brought up his Rajkot roots -- he was elected from the city once -- during the rally there.
Close Story
Personalise your news feed. Follow trending topics