Punjab election: Who are the truckers voting for?
Updated on Jan 28, 2017 07:55 AM IST
Capturing the mood on the ground in poll-bound Punjab while travelling with truckers .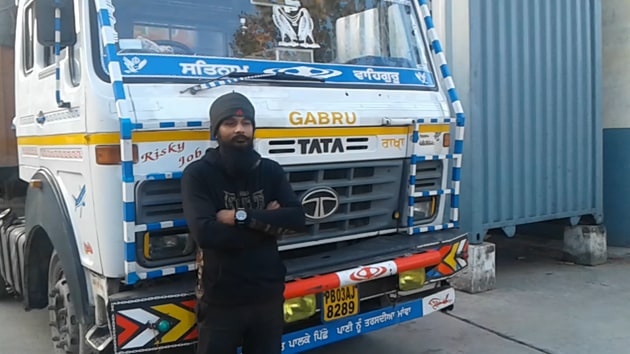 Political posters and placards flutter on either side of the road as Gagandeep Singh takes to the wheels and sets off on another journey in his white Tata truck, ferrying 30 tonnes of coal to a yarn factory in distant Bathinda.
Punjab is readying for crucial state polls on February 4, but Gagandeep is somewhat resigned to his fate.
"I remember in 1999, when I started driving trucks under my father's supervision, the roads were same and the money was the same," Gagandeep, the trucker from the border district of Gurdaspur, says. Of the Rs 10,000 that he charges the transporter, he saves not more than Rs 1,500-2,000 per trip after paying toll fees and obliging cops en route.
"Our fates haven't changed," he complains, voicing the angst of many others engaged in the profession of driving heavy vehicles across the state and beyond.
Famed for its roadside dhabas and a thriving transportation business, there are an estimated 4.5 lakh trucks of all sizes operating in the state and some 18 lakh people dependent on the business.
But truckers say their lot has not changed much over the years. "All that has changed over the years is we now transport heavier loads at skyrocketing diesel prices," Gagandeep adds.
Driving through the electorally significant Malwa region comprising 13 of Punjab's 22 districts and accounting for 69 of the 117 MLAs it elect, Gagandeep pours out his angst against the political class.
He is fed up with the ruling Shiromani Akali Dal (SAD) and the Congress, traditional foes who have taken turns to rule the border-state since independence. This time, however, he says he plans to do 'kuch nawa' (something new).
The new element adding to the poll frenzy is Arvind Kejriwal's Aam Aadmi Party (AAP) and Gagandeep has been swayed by it.
"The corruption is never ending here. The cops will harass you if you don't pay them," he says, as he takes the service lanes instead of the main road, presumably to avoid police check post in the dead of the night. As he keeps his eyes fixed on the road ahead, he reminds that Kejriwal has promised to make Punjab the "first corruption-free state" in the country if voted to power.
Accompanied in the driver's cabin by Sukhbir Singh – his helper and part-time driver – Gagandeep presses the pedal and raises his voice. "Sab neta chor hai. Diesel ke daam hamesha badhegein. Par chote sapoole ko saanp banne mein time lagega, jhadu ko hi dekhte hain is baar (Every leader is a thief here. Fuel prices will keep increasing, Baby snakes will take time to grow up as big snakes. Why not give AAP a chance this time").
Sukhbir nods in agreement, taking a dim view of politicians – particularly those in power - as villages enveloped in darkness whiz by in the wintry night.
"..Yes (the Badals), they made roads but for only for the buses of their family transport business. They gave jobs but to youths in their own bastions in Jalalabad and Lambi. We got nothing," Sukhbir says.
It is well past midnight and Gagandeep stops at a tea stall in Kotkapura of Faridkot district. Several other drivers gather around him and the conversation meanders towards last year's deadly violence in the region over the desecration of the Sikh holy book.
Though mostly on the move, the drivers are all rooted to the ground reality. "We want to sweep out Badals this time. We know they were hand in glove in the last year violence," says Gurdeep Singh, a fellow truck driver. Ten years into power, feelings are running high against the Badals at the tea stall.
Back on the road, Gagandeep drives fast. At the break of dawn, he pulls up into a dhaba for a quick nap in the outskirts of Ludhiana, Punjab's largest city and a famed industrial hub.
The sun has not risen and the mood is bleak. "We work for 12 hours and we earn a pittance," he complains.
Somewhat refreshed after the power nap, Gagandeep drives his truck to a yarn manufacturing factory to unload his consignment. He has to drive out of Malwa and head towards Pathankot to pick up his next consignment.
As he presses on his pedal, he strikes a hopeful note, shrugging off his resignation. "May be history will be made on February 4," he says, as he honks. He is clearly rooting for the AAP.