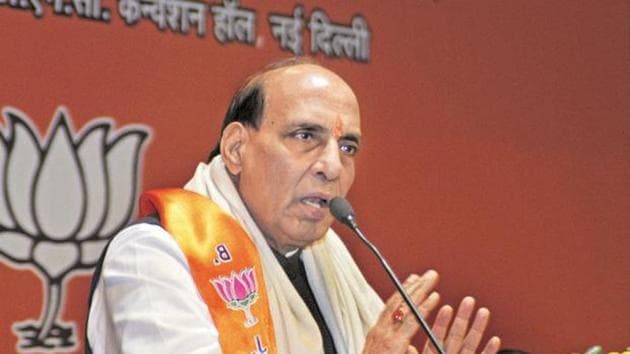 UP elections: From drama to dialogue, Rajnath strikes a chord with his audience
In all his speeches in Lucknow Rajnath Singh has been both articulate and forceful.
Hindustan Times, Lucknow | By Sunita Aron
, Lucknow
UPDATED ON FEB 16, 2017 07:07 AM IST
Before leaving for his day-long campaign trail from Choudhury Charan Singh airport here, Union home minister Rajnath Singh had a chance meeting with Prime Minister Narendra Modi, who was heading towards Kannauj, the parliamentary constituency of Dimple Yadav, wife of chief minister Akhilesh Yadav.
They briefly discussed Nagaland developments and party's prospects in UP. Rajnath Singh, who along with the prime minister and BJP president Amit Shah is shouldering major responsibility to end party's 14-year-long exile from power in UP, exuded confidence and said, "We are heading for absolute majority."
It is, however, easier said than done even though winning UP is crucial to BJP's national plans.
Singh has over 100 meetings lined up till the last phase of elections.
Read more | UP election: How BJP changes its narrative within 50 kms, from Hindutva to secularism
But today's rallies were particularly crucial as they were held in the assembly segments of his Lok Sabha constituency Lucknow. Winning all of them obviously is a prestige issue for him.
The Union home minister started the day from Haidergarh in Barabanki , which had elected him to the Vidhan Sabha twice after he had become chief minister.
He grew nostalgic while addressing the responsive crowds. He invoked patriotism by dramatically referring to the surgical strikes and his visit to Pakistan. Evidently not sure if it could fetch votes in the ensuing polls, he skirted the issue of demonetisation.
However, in all his speeches -- Bakshi Ka Talab, Sarojininagar, Rajajipuram, Gomti Nagar
and even Mohanlalganj, from where alliance partner RK Choudhary of RSP is contesting-- Rajnath was both articulate and forceful.
Read more | UP election: 'Star campaigner' Varun Gandhi missing in his own constituency
While highlighting the clean image of union ministers and former chief ministers of UP, he wanted to know from the crowds, "How can anyone with corruption charges demand support in elections and seek votes. I would prefer to quit politics if I ever have such a blot." Applause followed.
Then he told the BJP candidates not to make promises but seek blessings of the people in elections and went on to remind them the work he had done for the state and the farmers as the CM and the Union agriculture minister.
"Mein aankhon mein ankhen dal kar rajniti karta hun, na ke aankhon mein dhul jhonkar"( I do bold and forthright politics, I do not engage in politics of deceit). His words again drew overwhelming applause. Slogans like Vande Matram, Bharat Mata ki Jai and Jai Sri Ram followed.
Without taking name of Rahul Gandhi, he asked people if they had heard of a Congress leader who had done some innovative public meetings called the 'khat sabhas'.
Read more | UP elections: Why a hung assembly can't be ruled out in this battleground state
"We use khats (charpoys) for sleeping and not for doing politics. Naturally, the campaign failed; so he jumped onto Akhilesh Yadav's cycle, which Mulayam had already punctured," he told the audience amid claps.
Taking a dig at Akhilesh, he said, "The chief minister has already accepted that his party is weak. But what surprises me is that he has opted for weak crutches. How can he sail the turbulent waters with the help of a dying Congress."
He asked people to raise their hands in response to his queries on the work done by the SP government in the last five years. As he listed out issues from power to school, jobs to roads, people shouted in chorus, 'Nahin, Nahin.'
A contented Rajnath Singh then announced, "We are forming the government, vote for the party and not the candidate." In other words, he told the BJP leaders to brush aside their differences and contest the election unitedly.
Read more | Uttar Pradesh election: RLD turncoat says don't vote for me, pick BJP
Close