Horoscope Today: Astrological prediction for January 24, 2023
Published on Jan 24, 2023 12:00 AM IST
Daily horoscope: Are the stars lined up in your favour? Find out the astrological prediction for Aries, Leo, Virgo, Libra and other zodiac signs for January 24, 2023.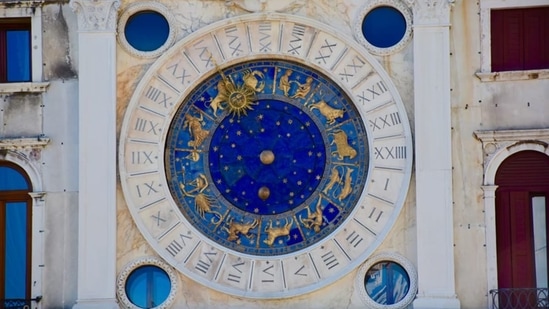 All zodiac signs have their own characteristics and traits which define someone's personality. Wouldn't it be helpful if you started your day by already knowing about what's going to come your way? Read on to find out whether the odds will be in your favour today.
ARIES (Mar 21-Apr 20)
A day dedicated to your career. You might have to travel out of station suddenly for work. Your health looks fine but it is advisable to go easy on yourself. Make your family understand your work priorities and you shall not face any problems on the domestic front. There is a possibility that you may not get enough time to manage your finances. Everything looks fine, yet keep a check on your accounts.
Love Focus : Busy schedules can hinder your relationship with your partner.
Lucky Number: 6
Lucky Colour: Green
TAURUS (Apr 21-May 20)
Relationships with your family will flourish today. Avoid traveling for any given reason. Your health looks great throughout the day. Basic tasks are to be completed throughout the time at the office. Students also have a basic day at school. Indeed a good day to invest your money in stocks as well as real estate.
Love Focus : It is the right time to leave the past behind and move forward.
Lucky Number: 4
Lucky Colour: Saffron
GEMINI (May 21-Jun 21)
Your best interest lies in finding happiness in little things today. Day begins with good health and energy. Students are advised to indulge in co curricular activities along with academics. No foreseen gains are predicted. Make slow moves on the financial front. Refrain from transactions in real estate. A family member has an achievement to share with you today – participate in their happiness.
Love Focus : Peace is the word that defines your relationship with your spouse.
Lucky Number: 5
Lucky Colour: Cream
CANCER (Jun 22-Jul 22)
Investing your money in stocks and real estate can bring gains in future. Your terms with your family are moderate. A family youngster may be required to be counselled by you. Keeping yourself active by adding workout to the start of your day will help you maintain good health. Business people must be wary of taking any risks with some new associations today.
Love Focus: You and your partner seem to be occupied with many other things this day. But make sure small texts or quick chats make it up for the day!
Lucky Number: 7
Lucky Color: Orange
LEO (Jul 23-Aug 23)
Your day starts with a fresh morning with your mind and body feeling all energized. Getting surprised with phenomenal returns from investments might be the highlight of your day. Relationship with your parents is likely to grow stronger. Abstain from travelling for any reason unless/until very urgent.
Love Focus: Surprise your partner with unexpected romantic gestures. It is a good day to spice things up.
Lucky Number: 17
Lucky Colour: Purple
VIRGO (Aug 24-Sep 23)
Best thing about today would be some monetary benefit from old investments. You might feel better while spending time with your family. Workflow is a little bumpy today. Your health looks fine but you need to keep a check on what you eat.Stay positive and turn it into a good one with your positivity.
Love Focus : You need to maintain your calm and control your tone as there arechances of you getting into an argument with your spouse.
Lucky Number: 9
Lucky Colour: Red
LIBRA (Sep 24-Oct 23)
Looks like a very basic day for you in all aspects. Traveling outside can bring you joy. The day at the office would be a satisfactory one where you simply complete your daily tasks. Making investments as of today is fine but better do not expect returns to avoid disappointment. Keep up your morale to take up new things.Meeting new people is on the cards for some.
Love Focus : Spending time with your partner might help you resolve pending issues.
Lucky Number: 18
Lucky Colour: Silver
SCORPIO (Oct 24-Nov 22)
Start off your day with a morning walk and a healthy breakfast. There are high chances of receiving wonderful results at work. Some of you are likely to get the possession of something booked in advance. Your family seems to be very happy with you. Travelling is likely to make you smile. Some of you may get some work opportunity in a different city.
Love Focus : Watch your words while discussing something crucial with your partner.
Lucky Number: 2
Lucky Colour: Off White
SAGITTARIUS (Nov 23-Dec 21)
You need to keep a watch on your health. Positivity at work can be really encouraging. You might not get enough time to ponder upon your finances. Your siblings could help you lift up your mood with fun party time at home only. Travelling looks fine unless it doesn't get you exhausted. Health needs care and make sure you do not avoid signals that your body gives you.
Love Focus : Highs and lows are a part of a relationship. This day could be passing a low phase though.
Lucky Number: 5
Lucky Colour: Saffron
CAPRICORN (Dec 22-Jan 21)
Your health looks stable. Your body will keep you energized all day. There are chances of having clashes with someone in your family. Keep things at a low key on the domestic front. Profits are coming your way. Work wise, things appear to be in order. Long pending chores or commitments can be materialised today. A good day to go for a long drive.
Love Focus : Your love life will be calm and peaceful today. You may give emotional support to enhance a long lasting relationship.
Lucky Number: 6
Lucky Colour Magenta
AQUARIUS (Jan 22-Feb 19)
Your health is in good shape. You might face some challenges at work but would be able to get a solution quickly with your presence of mind and skills. A moderate day to make investments in stocks or real estate. Be careful about lending money on a good will. A family member may need your assistance with an issue they must be facing.
Love Focus : You may have the desire to spend some quality time with your loved one. Don't miss a chance to sparkle things up.
Lucky Number: 5
Lucky Color: Grey
PISCES (Feb 20-Mar 20)
You are most likely to have a healthy day ahead. People around you are likely to be inspired by your good food habits. Keep your expenses under check. Refrain from any impulsive shopping. There is no harm in asking for help if you are stuck somewhere. Students got to focus more and stay away from any distractions. An additional workload is likely to take over some of your personal time.
Love Focus: Your relationship could get strengthened and you two can come closer to each other.
Lucky Number: 22
Lucky Colour: Yellow