Love and Relationship Horoscope for January 12, 2023
Jan 12, 2023 06:00 AM IST
Horoscope Today 12 January, 2023:Following zodiac signs may have some changes in their love life today. Find the love daily astrological prediction for Aries, Libra, Capricorn, Pisces, and other zodiac signs for January 12.
Aries: You and your significant other will have a day of mutual understanding. Each of you would be receptive to the points you make, so your attempts to have a meaningful conversation will be worthwhile. Holding true to this encouraging pattern requires concerted action. It will help your relationship immensely if you are supportive and are willing to talk about anything at any time.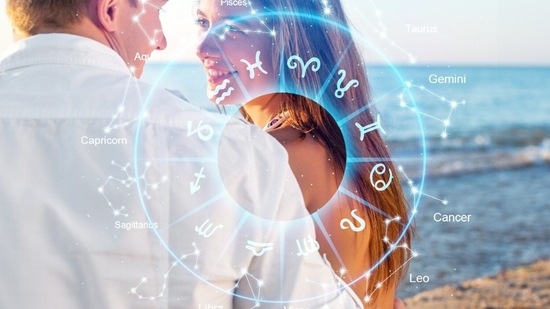 Taurus: If there's something upsetting you, talk it out with your partner. You and your significant other may be having a difficult time communicating right now, and it may take some time before the misunderstanding is cleared up. You might not have anticipated this due to your hectic schedule. But if you and your partner start talking about it, you should be able to work things out.
Gemini: What is required is positivity, both in mind and in action. Right now, you have the opportunity to make the changes in your love relationships that you've been dreaming of. Get go of your preconceived notions, and begin to live your life with a little more abandon. Stop making excuses and start making plans for some fun things to do. Go out and have a ball!
Cancer: Stay focused in your love life as distractions and emotional swings may make it difficult to communicate with your significant other today. It's better if you can spend some time away from the house doing something that both relaxes and amuses you. Then, when you meet your lover again, you'll be back to being your lovely, old self and not harbouring any ill will.
Leo: Explore common interests with your partner today. The two of you will get closer if you take part in activities together. It could be an old hobby or some romantic movie that you want to watch together. This is a great way to show them how you really feel and make them feel important and valued. You will know for sure if you are on the correct path based on the positive response you receive.
Virgo: Today, telling the one who means the most to you how you feel comes naturally to you. It's a wonderful opportunity to deepen your understanding of each other and strengthen the love you already have. Explore a quiet place where you may unwind completely in one other's company, caring for and supporting one another. Singles must stay hopeful of finding their true love prospect.
Libra: Whether it's the strain in your professional life or the conflict in your personal life, you could be feeling unsettled today. Sort out your priorities and focus as much energy on your relationship as you do on your job if you want to achieve a balanced life. Achieve this by treating your partner with respect and making them feel like they matter to you. It will help improve the situation in due course.
Scorpio: Start afresh in your love life. Today, you may find that emotions from a long time ago have suddenly re-surfaced as you introspect about your life. Don't fight your emotional response to the feelings that are sure to arise as a result of this; rather, embrace them. The release of any relationship baggage should benefit your romantic obligations. Prepare yourself for a bright future.
Sagittarius: If you and your partner disagree on a crucial issue, keep trying to persuade them to see things your way. Convincing another individual to see things from your point of view requires lot of preparation and rational thinking. Every time you think you've finally gotten them to agree, they may raise a new point of contention. Meaningful conversation is needed before they may finally change their perspective.
Capricorn: Your partner may be out of town right now which can make you anxious. Despite your best efforts to stay focused on the tasks at hand, you may find that your mind keeps wandering back to your significant other. This might potentially derail your workday and make it difficult for you to concentrate. Do anything you can to keep yourself occupied and prepare yourself for better times in the future.
Aquarius: Today is a great day to spend with your special someone, full of joy and peace. Your upbeat outlook will radiate warmth and joy to your loved one. It's a great moment to talk to your special someone about the exciting plans you've been making for the future. Your significant other will be pleasantly surprised, and they may even agree with you.
Pisces: Create romantic moments out of the ordinary to attract love. You and your partner will find a lot of happiness in your relationship because to your positive outlook and mutual acceptance of one another. Maintaining the health of your love connection through different ways is in your best interest. Engage in fun and exciting activities together to deepen your connection.
----------------------
Neeraj Dhankher
(Vedic Astrologer, Founder - Astro Zindagi)
Email: info@astrozindagi.in, neeraj@astrozindagi.in
Url: www.astrozindagi.in
Contact: Noida: +919910094779