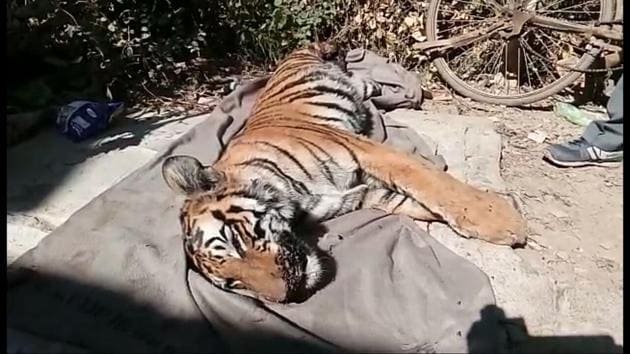 Killer tracks claim one more tiger this month in MP
A tigress was killed after a speeding train hit her in Hoshangabad district, a forest official said on Thursday. Chief wildlife warden Jitendra Agrawal said, "The three-year-old tigress was hit by a passenger train on Wednesday. In the accident, the left limb of tigress cut off. It also had injury marks on her back."
PUBLISHED ON DEC 30, 2016 08:46 AM IST
Bhopal: A tigress was killed after a speeding train hit her in Hoshangabad district, a forest official said on Thursday. Chief wildlife warden Jitendra Agrawal said, "The three-year-old tigress was hit by a passenger train on Wednesday. In the accident, the left limb of tigress cut off. It also had injury marks on her back."
Bhopal chief conservator officer (CCF) Vijay Nema reached there in the afternoon and an autopsy was conducted.
Four tigers died this month and the toll for the year is 32.
"The tiger was hit when it was crossing the track in Budhni midghat. The villagers informed the officers," said Agrawal.
A four-year-old male tiger was killed on December 5 when it was hit by a train on the Satna-Allahabad track in Satna district, around 80 km from Panna Tiger Reserve.
Questioning the security of tigers in the state, wildlife activist Ajay Dubey said, "Former principal chief conservator of forest Narendra Kumar had written a letter to National Tiger Conservation Authority (NTCA) to curb the number of train accidents of wild animals. In a letter to NTCA, Kumar sought intervention of authorities to urge railway ministry to reduce the speed of the train in the forest areas of Shahdol, Umaria and Katni."
Dubey said, "The authorities were informed through letters that railways had decreased the speed of the train in Gujarat to protect Gir lion. Environment minister Anil Dave belongs to the state but he didn't take any action to protect the tigers in MP," he added.
Dubey said he would lodge a complaint with the railway ministry and environment ministry.
Close