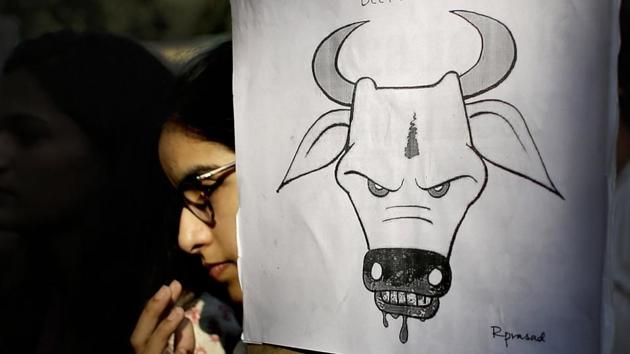 Teen 'in possession of cow tail' beaten up in Ujjain, hospitalised; 3 held
Police said the attackers were not part of any cow vigilante group or saffron outfit, but their chief was the nephew of a Congress corporator.
Hindustan Times, Bhopal | By
Ranjan
, Bhopal
UPDATED ON JUL 19, 2017 06:06 PM IST
A teenager was beaten mercilessly by cow vigilantes in Ujjain on Saturday after he was allegedly found in possession of a cow tail.
Police, however, said the attackers were not part of any cow vigilante groups or associated with saffron outfits.
The 17-year-old boy, a resident of Jiwajiganj working with a caterer in a restaurant, was on his way to work when 8–10 people intercepted him near Gumandev temple and asked him where he had got the cow tail.
When he couldn't give a satisfactory reply, they beat him up mercilessly, with belts, fists and kicks, alleging that he was a cow killer, despite the boy asking them to spare him.
None of the passers-by dared to intervene.
Jiwajiganj town inspector of police, OP Mishra told HT that three of the accused, including the chief of the group Chetan Sankhla, had been arrested and an FIR had been lodged against 8–10 persons.
The minor was hospitalised at Ujjain district hospital.
Mishra said the incident didn't seem to be related to cow killing as there was also a dispute over money matters between the two sides. However, police were investigating the matter.
He said the head of the group Chetan was not related to any saffron outfit, but was a nephew of a Congress corporator.
Ujjain superintendent of police, MS Verma said the police had learnt that the minor was a drug addict.
"He (the boy) might have got the cow tail from somewhere but it did not appear that he had killed any cow," he said.
He said preliminary investigations did not suggest that the accused belong to a cow vigilante group in Ujjain.
However, police were looking into the matter to find out the exact reasons behind the incident.
(With inputs from Anand Nigam, Ujjain)
Close