Akshay Kumar defends bodyguard's violence?
A recently emerged video showed Akshay Kumar's bodyguard punching a fan. The Airlift star had apologised for the act too. Now he says it was wrong, but adds that it is a bodyguard's job to take care of the actors.
bollywood
Updated: May 07, 2016 09:23 IST
Bollywood star Akshay Kumar said on Friday that the incident wherein his bodyguard punched a fan should not have happened and he would make sure such things are not repeated.
A video had recently emerged wherein the actor's bodyguard was seen punching a fan who came close to the actor for clicking a selfie at the Mumbai airport.
Akshay said although the incident should not have happened, sometimes the bodyguards need to take care of the actors because of some extreme situations. "It is wrong to raise your hand on someone, I agree... But about two to three years ago I was shaking hands with many people and suddenly I found my hand was bleeding," he told reporters.
Read: With Taang Uthake, Akshay ensures you won't stop dancing
Read: Twinkle Khanna reveals 5 reasons why Akshay Kumar's her bae
Watch the bodyguard punching a fan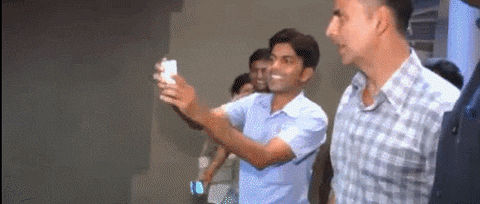 The actor had earlier tweetedabout the incident.
What happened that day was unfortunate and uncalled for. I was at the airport and I heard a commotion which… https://t.co/bkRW5CZJHx

— Akshay Kumar (@akshaykumar) April 29, 2016
"Then I realised someone had put a blade between his or her finger nails. So while shaking hands I got a cut. Now, whether it is madness, stupidity or 'fan-pana', you need to take care of these things as well," he said.
The actor was speaking at the launch of the new song Taang Uthake from his upcoming film Housefull 3.
Akshay said artists need to take care of such situations, too, and added that the bodyguards are there to handle such things. "What my bodyguard did was wrong. I apologised for that too. But sometimes you need to take care of these things because the actors don't realise, they're walking, they don't understand that sometimes they might get injured too.
Read: Education was never a priority for me, says Akshay Kumar
"I have seen with many heroines that sometimes some wrong things happen (to them). They (bodyguards) are there to take care of it. Raising your hand on someone is wrong and I'll make sure it doesn't happen," the Airlift star said.
Watch the new song from Housefull 3, Taang Uthake
Apart from Akshay, Housefull 3 stars Abhishek Bachchan, Ritesh Deshmukh, Jacqueline Fernandez, Nargis Fakhri, among others. The film, directed by Sajid-Farhad, is scheduled to release on June 3.
Follow @htshowbiz for more.
Thank you for subscribing to our daily newsletter.