Akshay Kumar wishes PM Modi on his birthday, thanks him for supporting causes close to his heart
Sep 17, 2018 02:02 PM IST
Actor Akshay Kumar thanked the Modi government for exempting taxes from sanitary napkins, and getting toilets constructed to eradicate open defecation.
Actor Akshay Kumar has become a crusader of sorts, championing many causes such as eradicating open defecation and promoting sanitary hygiene across India through him films. Wishing Prime Minister, Narendra Modi on his 68th birthday today, the actor took to social media and thanked the PM for all his support.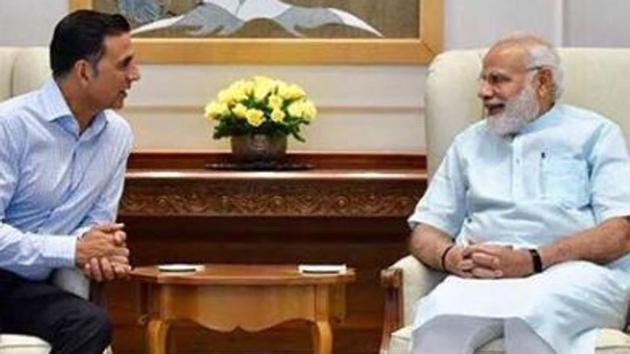 In his video message for Modi, Akshay highlights the fact that how the government under Modi has supported him in the causes he feels strongly about, and which he has depicted through films such as Toilet: Ek Prem Katha (2017) and this year's Pad Man. The actor is also involved in actively promoting Bharat Ke Veer, a fund raising initiative by the Ministry of Home Affairs, Government of India on behalf of members of the Indian Armed Forces, which has now made the donations by civilians tax free.
Read more: Akshay Kumar: Bharat Ke Veer going tax-free is my biggest birthday gift
Akshay says, "In the past one year, he (Modi) has supported causes which are close to my heart, and blessed us. Under Swachh Bharat Abhiyaan, he took the initiative to get toilets constructed throughout the country and eradicate open defecation."
Akshay, who is known to not abandon the causes his films endorse once they release, goes on to add, "Even when it comes to the issue of removing GST from sanitary napkins, or more recently, exempting tax on the donation that comes through the Bharat Ke Veer website for the families of martyrs. Through our government's support, I was able to give a small contribution for the betterment of our country. A big thanks to you sir, and a lot of good wishes once again on your birthday."
Follow @htshowbiz for more