Before Judwaa 2, a millennial watches Judwaa: As good as a bad Salman Khan film can get
With Varun Dhawan having made up his mind to make a remake to it, unimaginatively called Judwaa 2, we watched the original Judwaa starring Salman Khan to figure out what was the big deal?
bollywood
Updated: Sep 29, 2017 14:48 IST
How well do films age? In this series, we will be taking superhits, blockbusters and cult classics and putting them through trial by a millennial. Could a 1990s action drama or a 1960s musical still feel fresh to a Netflix-binging, avocado eating, Starbucks sipping 20-something?
God, I hate remakes.
But what I hate more are films like Mad Max: Fury Road. Suddenly, a remake turns out so good and makes a bomb at the box office, giving bad filmmakers misguided ideas that the same could happen to them. It never does.
And we are left here, suffering through a new brand of younglings halfheartedly promoting the remake on a hundred reality shows. Nothing changes, except their wardrobe.
Anyway, there is no escaping yet another round of the same old because David Dhawan was blessed with a baby boy in '87 and his duty as a father demands that he remake one of his biggest hits with him. So here we are, in 2017, waiting for Varun Dhawan to turn into Salman Khan with Judwaa 2.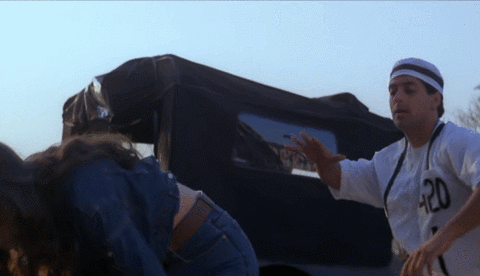 It was the obvious choice. Which other David Dhawan movie will let his son spin around with two heroines (Biwi No. 1, Gharwali Bhaharwali), have twice the screentime (Bade Miyan Chote Miyan, Bol Radha Bol), and Shakti Kapoor for a sidekick (Raja Babu, Coolie No. 1), all in one? The original was one of the most Salman Khan film Salman Khan ever did and to tell you the truth, one of his better ones.
Now, now! Before I lose my Judge-All-Things-Bollywood-Bad pass, let me make it clear that my adoration for the film stems from nothing but that sweet, unfair nostalgia. These are the songs I danced to in colony Diwali party. Back then, Salman spanking unsuspecting women did not seem like a big deal when the beat was so good. The five-year-old me was busy choreographing moves to 'India Is The Best' for the school Independence Day function.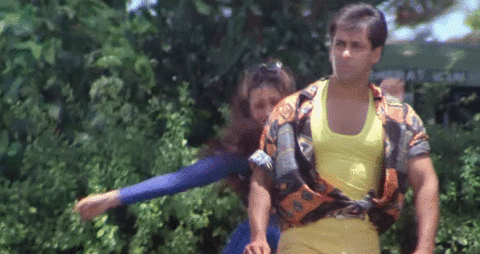 Watching it again, 20 years later, the film can still manage to pull you to the television. While instances of harmless comedy do make you laugh, the cliched storyline is silly enough to ignore. Salman plays Raja and Prem, twin brothers separated at birth by a thug who wished to kill their father. While Prem lives in the safe four walls of his rich home in Umricah with his father and a 'zinda laash' mother, Raja grows on the streets, adopts a sister and a Shakti Kapoor.
Confusion ensues when Prem returns to India. Karisma Kapoor, the more sexually vocal of the two heroines, loves the thug Salman while the modest Rambha wants the sweeter Salman.People get beaten up, songs are sung about malfunctioning lifts, dads and moms want their daughters to marry the rich guy and the police in this universe is a comic relief right until one of the cop gets stabbed or choked. One moment you are chuckling at Salman playing hot potato with a bomb, the next you are watching Satish Shah get murdered in cold blood. The transitions are quick with this one.
There is also a side plot in which the adopted sister gets raped by Bulla/Tiger who can play some mean flute. All goes well though and the rape isn't mentioned again once Raja beats Tiger into a pulp. The all-singing, all-dancing funfair continues like ever before. And I guess I am supposed to be OK with it because the girl gets married in the next scene and uh, seems pretty happy. OK then, that's a pretty accurate portrayal of a rape victim's road to emotional recovery.
But, I would lie if I didn't accept it was fun to revisit the film. The songs, the lame lyrics and the innocent comedy can still, somehow, keep you hooked. Also, watching Salman Bhai move more than two muscles at a time was a nice throwback too.
Watch me watch the film and chronicle it all on Snapchat:
Check out the first part of the series here: A millennial watches Mohra
Follow @soumya1405 for more
First Published: Sep 28, 2017 13:49 IST