Before Thugs of Hindostan, feast on Thugs of Chess featuring Aamir Khan. See pics
Oct 29, 2018 06:57 PM IST
Aamir Khan spent his free time on the sets of Thugs of Hindostan playing chess, according to a new series of behind-the-scenes images shared by his co-star Fatima Sana Shaikh.
In a series of behind-the-scenes pictures shared by actor Fatima Sana Shaikh on her Instagram, her Thugs of Hindostan co-star Aamir Khan can be seen deep in concentration, playing chess, on the sets of the big-budget action-adventure film. "Thugs of chess," she wrote alongside the images, which show Aamir playing chess on location and on set.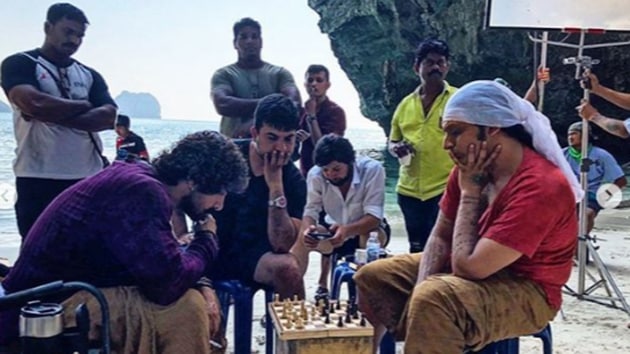 It appears that the chess matches were such an event that the crew would stop what they were doing and watch the match. Thugs of Hindostan co-stars Amitabh Bachchan and Katrina Kaif along with Aamir and Fatima.
In the pictures, Aamir can be seen sitting in a chair, wearing an expression of deep concentration, sometimes even holding his chin in a pose reminiscent of Auguste Rodin's Thinker sculpture. Thugs of Hindostan is touted to be the most expensive Bollywood film ever made, with huge action set pieces modelled on the Pirates of the Caribbean series.
"Thugs of Hindostan is a big action-adventure film. There's no message in that. I am playing a character who cannot be trusted at all – [so it's the] very opposite of Dangal … He's a very slippery character. He has no scruples at all – for money he can sell his mother out. He's like that," Aamir has said about his character, Firangi Mallah. In a recent video about the character's look, Aamir said that the idea was to make his costume a potpourri of outfits he's stolen over the years.
Aamir has played a few chess matches with legend Viswanathan Anand in the past, and the latter has seen most of the actor's films. There was a 2015 public event in Mumbai where the actor and the grandmaster played chess for about 30 minutes. They first met in 2001, and their acquaintance has developed over the years.
"Yes, he's quite a chess fan, and comes a couple of times to play chess. Obviously that helps the sport a lot," says Anand about Aamir. "I have seen Dangal (2016)... that was very nice, and yeah I've seen a fair amount of his [other] films." Anand says that were a movie to be made about him, he would want Aamir to play him on screen. "That 's the name I usually give out," he told Hindustan Times.
Thugs of Hindostan is directed by Vijay Krishna Acharya and produced by Aditya Chopra under the banner of Yash Raj Films. The movie, also starring Amitabh Bachchan and Katrina Kaif, is slated to release on November 8 on the occasion of Diwali.
Follow @htshowbiz for more