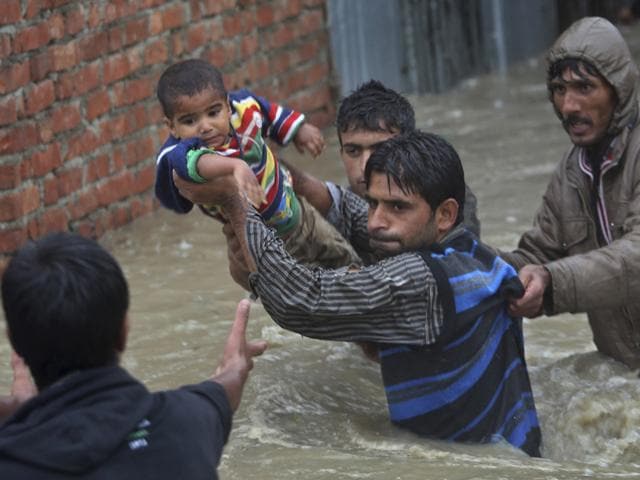 Bollywood prays for flood affected J&K
As the state of Jammu and Kashmir is ravaged by the 'worst flood in six decades', B-Town celebrities hope the situation stabilises soon. The state is struggling to attain normalcy again.
UPDATED ON SEP 08, 2014 02:27 PM IST
On Sunday (September 7), chief minister of the flood-ridden state of Jammu and Kashmir, Omar Abdullah, said that the situation was improving in Jammu, but remains grim in Kashmir. "The situation is slowly going back to normalcy in Jammu, while in Kashmir, the situation has become worse," he was quoted as saying in a report.
As newspapers and channels label it "the worst flood in six decades" — over 2,300 villages are affected, and nearly 350 are submerged — and with the death toll constantly rising, the country's prayers go out to those in the state.

Certain celebrities with ties to the area — Anupam Kher was born into a Kashmiri pandit family, Kunal Kemmu was born in Srinagar and musician Rahul Sharma has family in the same city; or those who have worked there recently — actor Kay Kay Menon and director Imtiaz Ali among them — hope the situation improves soon.

On Twitter

"Hope and Pray the flood situation in Kashmir gets controlled sooner than soon." - Shah Rukh Khan, actor

"Praying for abatement of floods in Kashmir. Courage to the rescuers and patience and faith to an anguished people." - Boman Irani, actor

"My Aunt & Cousin are stuck in Raj Bagh Srinagar in Kashmir in the floods and water had reached the first floor. They are waiting for help. Prayers for one and all stuck in the floods in Kashmir." - Farah Khan Ali, jewellery designer

"Cousin's family on rooftop near green acre resort Rajbagh. Water level rising #KashmirFloods." - Aamir Bashir, actor

It is a terrible thing to happen. I am really concerned about the people there. But the army is doing a great job. The crisis management team is working hard, and the government is doing its best. - Anupam Kher, actor

I pray that the situation is brought under control. When a similar incident happened in Uttarakhand, we all know how badly it (the area) was affected. I am concerned about the safety of the people there. - Kunal Kemmu, actor

Like all citizens, I, too, am upset. I hope that the people there are taken care of. We also need to take care of our environment like it's our home. If our home doesn't exist, we won't. I pray that things get better. - Kay Kay Menon, actor

My aunt (dad's sister) lives there (in Srinagar); right now, her son and grandson are there. Their garden is flooded. Last I spoke to my cousin, he said they were just hoping for the weather to get better. - Rahul Sharma, musician

I know the people of Kashmir to be very brave. They should be given all the support by the central government, and they will rise out of this calamity. I hope nature shows mercy. - Imtiaz Ali, director
Close