Dum Laga Ke Haisha is a film that you must watch. Here's why
Updated on Mar 05, 2015 11:56 AM IST
It's often said (and not without a reason) that best things in life come in small packages. Nothing typifies it more that the latest Yashraj Films offering, Dum Laga Ke Haisha.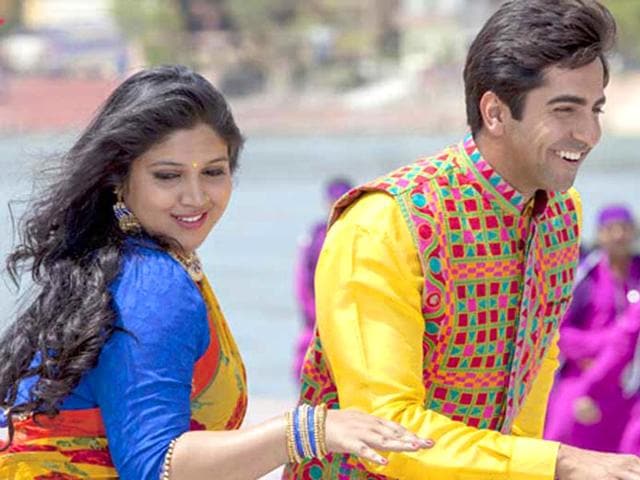 Hindustan Times |
, New Delhi
Nivedita Mishra
It's often said (and not without a reason) that best things in life come in small packages. Nothing typifies it more than the latest Yashraj Films offering, Dum Laga Ke Haisha. It bucks stereotypes in many, many ways yet remains true to its Bollywood-style love story and is utterly entertaining. You know from the onset that the guy will get his girl, it's a romantic comedy after all. Yet, you gleefully accept the subjugation of the intellect to the heart.
If you haven't watched it as yet, here are few reasons that should compel you to do so.
1) Love happens... anywhere and anyhow, even in an arranged marriage




If companionship and empathy are the cornerstones of a lasting man-woman relationship, then an arranged marriage is no hindrance. Dum Laga Ke Haisha certainly pitches in for consensus and compromise over passion as the bedrock on which a solid relationship is built. Prem (Ayushmann) and Sandhya (Bhumi) make for an unlikely pair. He is a good-for-nothing 25-year-old who loathes himself while she is a confident 20-something whom society chooses to silence given her unusually big size. When their paths cross, there's much rancour. However, in due course, pain brings them closer, with an external conflict (read a local tournament for which both must work in tandem) sealing the deal.
2) Charms of small town




Small-town India, more precisely Uttar Pradesh, has been high on Bollywood's imagination for a few years now. Think Ranjhanaa, Ishaqzaade, Tanu Weds Manu, Ishqiya (and we are talking only romances here) and you think of Benaras, western UP, Kanpur and Gorakhpur in north-eastern UP respectively. It pretty much seems that UP is the new Punjab of Bollywood. Dum Laga Ke Haisha keeps the trend going. The film is set in Haridwar, which while not being UP technically, pretty much carries the flavour. So, the dialect, tight gali-kucha environs, more than 100-150-year-old houses, the Ganga banks, the close-knit and large households, no fuss wedding décor and chaos - all come alive in the film.
3) The '90s era




The film is set in the 1990s - the world of Aashiqui and Dil, Anil Kapoor-Madhuri Dixit-Sridevi star troika, and the music of Kumar Sanu-Alka Yagnik-Sadhna Sargam. It's a world of gauche make-up, kitschy fashion and tacky production sensibilities (Dilwale Dulhaniya Le Jayenge and the Manish Malhotra storm are yet to hit Bollywood). In the music department, lyricist Sameer and composers Nadeem-Shrawan had the nation in thrall. For those of us who were witness to that era, this honest recreation is bound to launch a strong attack of nostalgia.
4) Socio-political commentary




This is not merely a romance, in many ways, it is popular culture's introspection of life in small-towns, its value systems, passions and aspirations. Desire to have a daughter-in-law with a permanent government job, a longing to master English, the conflict between tradition and modernity as we see Ayushmann struggling with himself and his overbearing father, a fat girl and her family's overriding concern to get her married -- it all comes rushing in.
Add to it, a gentle nudge to exclusionist value system, particularly in the social fabric of society -- our hero is a Shakha-visiting, Kapal Bharti-practising fellow who is told to emulate Rana Pratap, Shivaji, Netaji Subhash Chandra Bose and Vajpayee. We also appreciate the support this same system provides to a lower-middle class family (read the community wedding where the hero and heroine get married amidst hundreds of others).
5) Yashraj Films – Swiss sojourn no more




Think Yashraj, think the Swiss Alps. With so many of their films in the '90s (Chandni, Darr, DDLJ, Dil Toh Pagal Hai, etc) set in distant shores with plots centering around the rich and loaded, the Yashraj Films of the '70s (the banner which gave us films like Kala Pathar, Noorie, Daag) which was all about middle class seems like a distant dream. Yes, there have been Bunty Aur Babli and Rab Ne Bana Di Jodi, but these have been few and far between. Dum Laga Ke Haisha begs to differ, set as it is in a lower middle class setting in small-town India.
Personalise your news feed. Follow trending topics