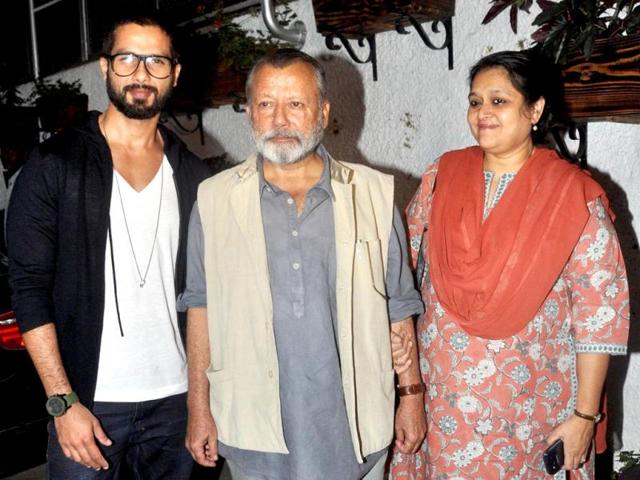 Forget Father's Day, my dad hardly lets us do anything on his birthday: Shahid Kapoor
In a candid chat with HT, Shahid Kapoor and his father Pankaj Kapur open up about their equation with each other, Father's Day, acting and more.
UPDATED ON JUN 15, 2014 04:12 PM IST
When we fixed a special shoot with father-son duo,
and Shahid Kapoor, we were expecting a formal equation between the two (blame that on perception). But, it was nothing less than heart-warming to see
's terrific chemistry with his father, when we visited the latter's residence (at Yari Road, a floor above his dad's).
On Father's Day (June 15), we get them talking about life and their relationship, without any inhibitions.

Do you believe in the concept of Father's Day?
Pankaj: It's just a name given to a particular day. To me, it's more of a western concept, since children there move away from their parents and find an opportunity to connect with them. But, by God's grace, my family is a close-knit one.

Do you come up with special plans on Father's Day?
Shahid: Forget Father's Day, my father hardly lets us do anything special on his birthday. But, I agree with dad. It's more like a reminder. The relationship one has (with his /her father) can't be explained.

Would you say your dad was strict?
Shahid: Initially, he was strict, but that was 15 years ago. He is a strong-minded person, which I admire a lot. Over the years, we have come to understand one another a lot more. Emotionally, we have become very close and when you become emotionally intimate with someone, you can't be scared of them. The fear is of only hurting them.

Do you think you missed out on Shahid's initial years?
Pankaj: Definitely, yes. I missed him every day, but there were professional constraints. What's most fortunate is that once he turned 18, Shahid assisted me for a while, so we got to spend a lot of time with each other. Then, we started going for holidays together with the family, so the bonding increased, especially after we shifted to our new house.

How do you look back at your initial years in Delhi?
Shahid: I wish we had low-cost airlines at that time (laughs). I remember it was very expensive to travel [to Mumbai]. And we always had a middle-class life. I remember it would only be an occasion when I got to connect with dad. After I moved to Mumbai [at the age of 10], we were staying very close and [I] saw him much more. But yes, in Delhi I didn't see him that much.

What kind of an equation do you have with Shahid? Do you two ever share a drink or two together?
Pankaj: We are teetotallers, so, sometimes we share coffee or tea, and sometimes a meal together (laughs). I wanted my kids to be friends with me. But say whatever, at the end of the day. I am a father, and at times I exercise authority.

How did you cope with your parents' separation?
Shahid: My parents separated when I was three, but I was extremely secure as a child. It has a lot to do with the kind of effort dad and I made to keep it [our relationship] healthy, normal and positive. You know, sometimes, he says that he wants to shift out of town and lead a chilled-out life, maybe five or 10 years down the line. I don't like that. He is a big part of my life.

What's your take on that?
Pankaj: As Shahid said, it is very difficult to explain. For a father, to separate from his son is not easy. It was a huge emotional loss for me [the last time around] and I started living with the hope that there will come a time when we will come close to each other again. And today, it's a great feeling to sit next to him, see his work or hear him speak and bond with the family.

People in the industry yearn to act like Pankaj Kapur. You have the advantage of learning from him. Is he your mentor?
Shahid: He set a benchmark; I should learn from it. But, I have my own journey. I feel fortunate that I can spend time with and learn from him.
Pankaj: You also have to realise what age Shahid is at right now, what work he has done, what roles he has been offered and what he has chosen out of them. He is on his way to prove his mettle as an actor. A large or small part of it you will see in (his upcoming film) Haider.
Close