I have no barometer to judge my own performance: Karan Johar
After making his mark as an actor, Karan is excited about his production and direction plans.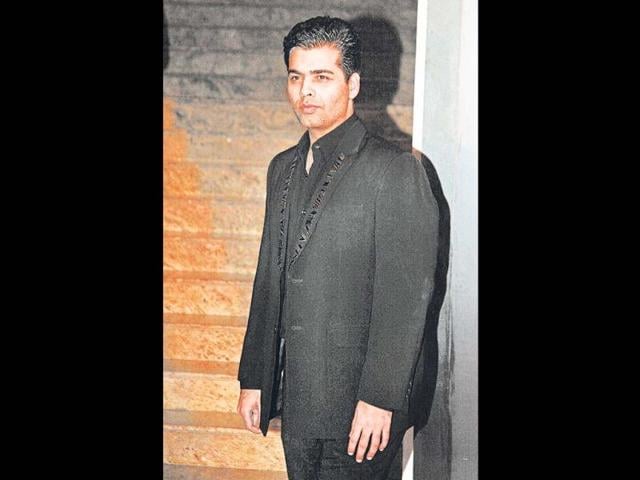 Updated on May 25, 2015 01:33 PM IST
He is a multi-tasker. But after a cameo in Dilwale Dulhania Le Jayenge (1995), not many expected Karan Johar to take up a full-length acting project. However, the film-maker, who turned actor with the recently released Bombay Velvet, is happy with the feedback to his performance.
"I have no barometer to judge my own performance, but I am happy with the feedback. Now, I can tick off another thing on my bucket list (smiles). But I really hope I haven't let the makers down. As for friends and family, they're happy with my job," says Karan, who turns 43 on May 25, and is currently in London, UK, on a work trip.
"It will be a working birthday, so there's no big bash. I am in the middle of pre-production for my next, and I am finalising locations for the same in London. My effort, time and energy will be directed towards my work and my company now. I've turned 43, so instead of celebrating, I'd rather focus on new achievements," he says.
Talking of new, there has been another development in his life. A few days back, Karan and film-maker Sanjay Leela Bhansali, who were involved in a war of words last year, decided to bury the hatchet. "Sanjay and I met at Deepika's (Padukone) party and had a conversation. I have always had a lot of love and respect for him as a film-maker. I have watched and loved his films, so the sense of admiration for Sanjay never went away. In between, though, there was some misunderstanding between us. However, I feel that life is too short to keep anything (negative) in your heart," he says.
Karan has also started an exciting chapter in his professional sphere. His long-standing, ambitious production project is finally set to kick off with a new cast — Varun Dhawan and Alia Bhatt. "So much has been already said about the film that now instead of talking, I would rather show people some visuals. We have the cast ready, and I am glad that Salman (Khan) made the announcement first (on Twitter). However, till the time we have visuals, there's no point talking about it," he says.
But it is not only the 'producer' Karan, who is excited about things. The 'director' Karan is kicked too, as he's looking forward to his next venture, starring Aishwarya Rai Bachchan, Ranbir Kapoor and Anushka Sharma. "We will start shooting in December. I am extremely excited to go back to what I know best — direction. I will take up direction after three-and-a-half years. Although, I have produced a number of films in between, nothing gives me more thrill than directing a film," he says.
The film-maker, who made his full-fledged acting debut with director Anurag Kashyap's Bombay Velvet, says he was "more excited than nervous" about his outing. "I was only hoping I don't get lambasted [for my performance]. I didn't want critics to say, 'He is better off as a producer-director.' So, after the release, I went online and read all the reviews, and now I am relieved with the response," says Karan, adding that he feels it is "unfortunate and sad" that the film has failed to do well at the box office. "Right from the start, there was a shroud of negativity around the film. Even the audience has been discussing its box-office numbers, which I feel shouldn't be their problem. Anurag's vision can be criticised, but he doesn't deserve this kind of backlash," he says.
Interestingly, Karan says it is "even sadder" that some sections of the industry are celebrating the dull performance of the film. "We (the film industry) need to function as one family and one unit. We need films to succeed for everyone's well-being," he says.

Although Karan isn't on the lookout for more acting roles at the moment, he does say, with a smile, "Never say never; if some gripping material with a solid part comes my way, you never know."
Ready for coffee with Ramu?
A few days back, film-maker Ram Gopal Varma and his one-time protégé Anurag Kashyap took to Twitter to engage in banter about the latter's film failing at the box office. By the end of the Twitter conversation, Varma suggested to Anurag that "we both have coffee with Karan" to "learn from him how not to make Aag's and make Kuch Kuch's (sic)." Ask Karan about it and he says, "Ramu is an extremely entertaining person. And I don't mind having coffee with him and Anurag, though I won't be able to televise it for technical reasons. But I am ready for a cup of coffee at any of our offices."

Read:Happy birthday Karan Johar - 11 lessons his films taught us about life
Close Story
Personalise your news feed. Follow trending topics