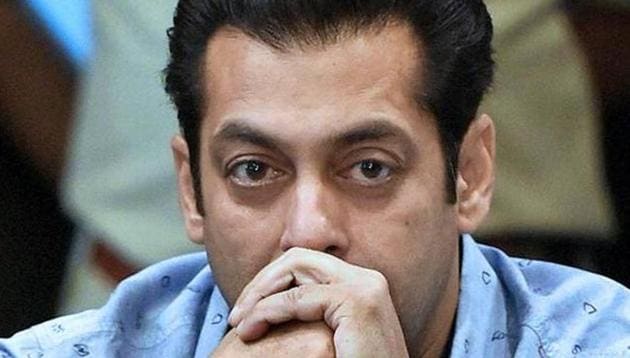 I was blank: Salman Khan on his jail experience in this throwback interview
In a throwback interview, Salman Khan talked about his stay in jail and how he spent his time. Salman's bail plea has been reserved for Saturday.
UPDATED ON APR 06, 2018 03:28 PM IST
Bollywood actor Salman Khan, who was sentenced to five years' jail term in the 20-year-old blackbuck case, was prisoner No. 106 in Jodhpur Central Jail on Thursday night and was lodged in the barrack next to Asaram Bapu's. With his bail plea reserved for Saturday, he is expected to stay in jail for another night at least. The actor ate a simple dinner of dal, sabzi and chapatis served in the jail and slept on floor. He refused breakfast on Friday morning. His only question was about the toilet in his barrack and if there was a geyser.
This is the fourth time Salman spent time in this jail. Talking about his previous jail terms, Salman had told Koel Puri in an interview in 2008 that he was "chilling" and "the only tension was bathroom". When Koel asked, "What was your time in jail like?" Salman replied -- apparently with sarcasm, "A lot of fun." He then went ahead and laughed loudly when she said, "Really?" She accepted that this kind of question would lead to such a response.
Read: Missing movie review: Slightly disoriented, but Manoj Bajpayee-Tabu make it work
"I was blank. I was chilling. The only tension was the bathroom. That was it. [pause] And, the bin, and three, four times I have gone in and out of it. If someone wants to put you in, you go in quietly. When you know you haven't done it, you go in head high," he said in the 2008 episode of On the Couch with Koel.
"The police custody here, yeah.. There were like nine or 10 rooms, and each room had 9-10 people in one room. One bathroom. One toilet. So that was...[rolls his eyes] Then the rest of the space, the Central Jail. When you go to the judicial custody, you get your own suite there [smiles]."
Salman further elaborated on the people he got to see and meet in the prison: "Once a week. Then you get one qaidi who'll give you chai in the morning. The same guy will come and get you the lunch. There's one guard outside. You get this one mug, that you have your chai in and wash it. Then you have daal-chawal in it. You use it to take a shower. You use it to do whatever you wanna do."
"I used to do a lot of push-ups and crunches. And used to work out thrice a day," he added in answer to how he spent his time in the jail.
Watch excerpts of the interview here:
Salman's current stay in Jodhpur Central Jail is his fourth inside the prison. He has earlier been behind bars from October 15 to October 17 in 1998 after he was sent to judicial custody during the investigation in the Kankani blackbuck poaching case.
Salman was convicted of killing a chinkara (on September 28, 1998, at Ghora Farm near Mathania village) in 2006 and spent three days in the jail for the second time after the court of chief judicial magistrate sentenced him to five years of imprisonment.
The third time Khan went behind bars was in 2007 when his appeal against the conviction was rejected by the session court on August 26. He came out on August 31 after he got bail from the high court.
Follow @htshowbiz for more

Close