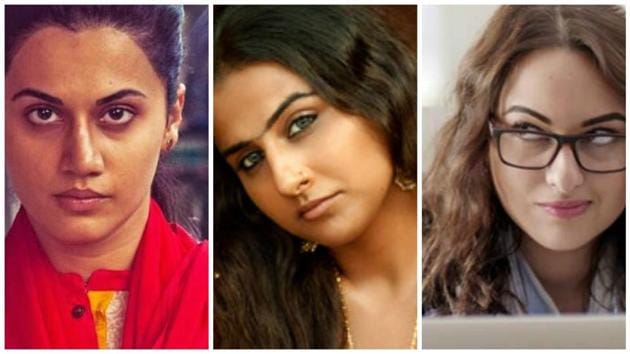 Noor, Begum Jaan and more: Bollywood succumbs to tokenism in the name of feminism
In 2017, Bollywood has released three films touted to be feminist - Naam Shabana, Noor and Begum Jaan - but all of them have failed.
Hindustan Times | By Sweta Kaushal
, New Delhi
UPDATED ON JUN 05, 2017 06:16 PM IST
The year began on a high note for feminist movie lovers as the box office line-up promised 3 big-budget films that claimed to be feminist in content and treatment and were headlined by female actors.
Taapsee Pannu's Naam Shabana, Vidya Balan's Begum Jaan and Sonakshi Sinha Noor led the optimistic cinema lover to expect some sensible, feminist films that talk of women and are spoken by women.
To our utter disappointment, all the 3 films in the first quarter of 2017 have ended up thrusting male chauvinism in the name of feminism instead.
Let us take a look:
Touted to be India's first film that narrates "the making of a spy - one who is a woman", Naam Shabana was disappointing in the way it portrayed the reason for Pannu's presence in the film. Akshay Kumar often drags Shabana (Pannu) to safety and whenever he holds her, it is by the arm not hands. The dialogues stereotyped women, for example, when Manoj Bajpayee, Shabana's boss in the film, tells her women are pre-configured to be spies and only men need gadgets. Director Shivam Nair's feminism is the Jai Mata Di version of hailing women, where you do not allow the woman to take the centre stage but put her on a pedestal and call her the saviour nonetheless.
Even as we ignore Vidya Balan's loud theatrics in Begum Jaan, it is not possible to ignore the patriarchy that the film flaunts. Begum Jaan (the brothel owner essayed by Balan) could have been an icon of women's empowerment as she declares 'My body, my rules'. But Begum runs by every rule that would be condoned by patriarchy as she forces the young girls in her brothel to take on clients they would rather not - "my body, my rules" only applies to the one in power. Everyone in the house must accept Begum's word for the law as she "saved" them and has kept them under her protective shadow. The protesting woman puts it in perspective when the filmmaker wanted to elicit sympathy for: "Kasayi ki dukaan mein bakre ko pyar se ghaas khilana sirf ghaas khilana hota hai, pyar nahi."
While the storyline of Noor is nothing feminist, it was promoted as one that hails women with the heroine headlining the story. However, the facts that the titular character (played by Sonakshi Sinha) cannot prove her mettle - not as a journalist, not as a woman and not as a human being - pushes the film further from anything that can be listed as glorifying female roles in Hindi cinema.
While this too is a new trend, imposing male chauvinism in a woman's voice is the same as promoting patriarchy through a man. It simply does not count as the development of women's roles in Bollywood nor does it make for feminist cinema.
Follow @htshowbiz for more
The author tweets @SwetaKaushal

Close