Not a hint of plagiarism: Newton gets vote of confidence from Secret Ballot director, producer
Updated on Sep 26, 2017 05:47 PM IST
The makers of Secret Ballot, Iranian film that is alleged to have 'inspired' Rajkummar Rao's Newton, have dismissed plagiarism claims.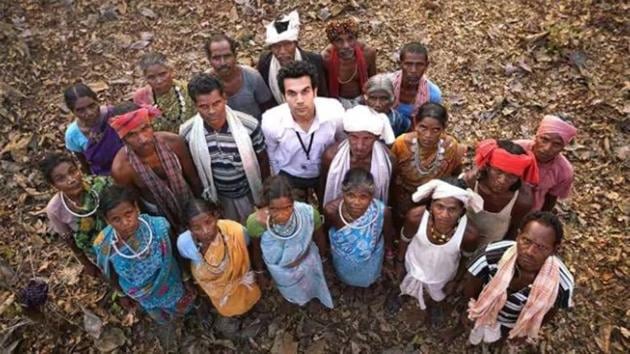 The most energetic defence of Newton against plagiarism rumours have come from the makers of Secret Ballot, the Iranian film which is alleged to have "inspired" India's official Oscar entry this year. Producer Marco Mueller has said that there was "not even a hint of plagiarisation" in Rajkummar Rao's Newton.
Last week, Newton was announced as India's official entry for Oscars' foreign language film category.
On Monday night, filmmaker Anurag Kashyap, in a Facebook post, shared Muller's opinion after watching Newton. "A pretty decent film, definitely no rip off from our Secret Ballot (even if the general concept is the same)" and then I asked him if I can share his response on social media? He replied, 'Please feel free as you see fit, there is not even a hint of plagiarisation'," Kashyap, who spoke in defence of the film on Sunday, posted. He also shared the screenshot of his conversation with Mueller.
He also shared the response of Secret Ballot director Babak Payami to the questions posed by a member of Indian media regarding similarities - if any - between the two films. Kashyap wrote, "And this was Babak's answer to an indian journalist who wanted to know what Babak felt( without having seen the film) .. I don't know yet if this interview is out. With permission I am putting up the screen shot . I hope this puts enough shame in our controversy mongers .. now that's how a true artist thinks. Babak now has the film and he will see it soon. But this is how he thinks and looks at us(indirectly)."
Meanwhile, member of Film Federation of India (FFI) Suparn Sen has confirmed that there will be no change in India's official entry for the Academy Awards and Newton is the final name.
Payami has said in his response that "thematic similarities are just that" and he hopes they will not stop others from "rendering the same themes in their own voice." He went on to say he is not contemplating anything other than best wishes for the film's director, Amit V Masurkar.
On Sunday, defending the film, Kashyap tweeted: "Newton is as much a copy of 'Secret Ballot' as 'The Avengers' is of 'Watan Ke Rakhwale'."
The movie, produced by Manish Mundra of Drishyam Films, had its world premiere at the prestigious Berlin International Film Festival, where it even won an award.
Standing up for the film, Kashyap said: "'Newton' is an award winner from Berlin fest and I can promise you those curators watch more films in a year than rest of us do in a lifetime."
Newton, which stars National Award-winning actor Rajkummar Rao, revolves around a government employee who struggles to supervise voting in a forest area of Chhattisgarh, controlled by Maoists. Secret Ballot is described as a movie which focuses on the life of a woman ballot officer who visits a barren and desolate place to plead with voters to cast their votes and take part in the elections.
Newton director Masurkar has already given his take on the controversy, saying: "The story was born from my heart. I had no idea about Secret Ballot."
Meanwhile, meeting the film team's expectations, Newton is attracting audiences to theatres. Trade analyst Taran Adarsh tweeted on Sunday: "Newton' shows remarkable 162.5 per cent growth on Saturday. Friday Rs 96 lakh, Saturday Rs 2.52 crore. Total: Rs 3.48 crore India biz."