Newton movie review: A charming satire on the dance of democracy
Sep 22, 2017 03:13 PM IST
Newton movie review: It is one of the finest political satires we have seen in the last couple of years. It refrains from taking sides and offers a humorous take on state versus the Maoists bloody battle.
Newton
Cast: Rajkummar Rao, Pankaj Tripathi, Sanjai Mishra
Director: Amit Masurkar
Rating: 4/5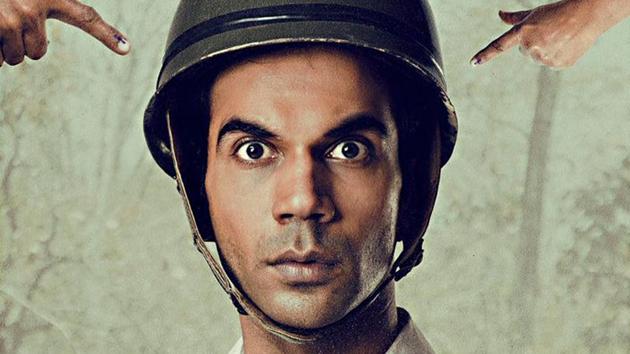 When Nutan Kumar, son of a middle class family in Chhattisgarh, decides to change his name to Newton to avoid getting laughed at, he doesn't know where it will lead him. After a few years, when he is a government clerk and is sent to conduct a free and fair election in the Maoist-hit Dandakaranya region, he realises the significance of Newton's discovery of the gravitational force. It's just that, in real life, not everybody has a similar free fall the way Newton predicted.
Actually, this is a conversation between Newton Kumar (Rajkummar Rao), a first time presiding officer bubbling with enthusiasm and nearly cynical honesty, and his commanding officer played by Sanjai Mishra.
During a casual interaction, an old and wise Mishra figures out how Newton wears his integrity as the badge of honour and is ready to fight till the end to protect it. He advises Newton to do his duty without thinking he is doing any favour to his fellow beings as this is what he is supposed to do. Later, in the interiors of the jungles in Bastar, Newton seems determined to treat everyone equal in front of the electronic voting machine.
Though Newton is aware of the high disappointment and illiteracy rate among the locals yet he is hopeful about the role of a fair election and how it can bring a potential change in their lives. He appears like a nice guy whose apolitical views are more political than most of us. He won't take names of the politicians or the parties, but wants the adivasis to cast their votes at any cost. He wants the voters to make an informed decision but won't pressurise them. His faith in the proper functioning of the system is unshakeable.
Unfortunately, his booth that has only 76 registered voters comes under the jurisdiction of Aatma Singh (Pankaj Tripathi), an egoistic and scheming para-military commander.
During polling, a presiding officer becomes the commanding officer of his booth by designation and that starts a tussle between Newton and Singh. None of them seems to back down and it appears they both are waiting for a trigger point. Of course, the rules will be followed, even in animosity. After all, they both are serving the same government.
From refusing to marry a minor for Rs 10 lakh cash and a motorcycle to standing up for the common people's rights, Newton is as common as any of us. He can easily be beaten up, but we all know he will rise, again and again. He follows the rules and will make you do the same. His spine is not bent yet.
The contrast comes in the form of his staff during the polls. Loknath (Raghuvir Yadav), a government servant on the brink of retirement, and Malko Netam (Anjali Patil), a local teacher, are there to help him, but they don't share the same sentiments.
While Loknath, who keeps thinking farcical zombie stories, takes polling as just another day in his life, Malko initially seems hopeful but slowly starts to give up against a mighty and corrupt system. There is another team member who mostly sleeps or does whatever he is asked to.
This team, except Malko, didn't expect how bad could be the ground reality. Nobody understands proper Hindi or has inclination to get into the depths of the system. They're simply living amid poverty, corruption and an unjust administration.
The brilliance of the director Amit Masurkar, who earlier made a very talkative Sulemaani Keeda, is visible here. Not much action is shown and yet we know the scale of violence that is rampant in the area. He suggests more than an ideological war that both parties, the Maoist and the state, would like us to believe they are raging. In fact, it's a battle to retain physical control over the region. In the film, a character candidly says, "We want to break free from both the government forces and the Maoists."
We travel inside the beautiful jungles that witness hundreds of murders and encounters every year. It's a place for five-yearly visit for the national and international media. They come here armed with their microphones and high-end cameras to cover the insane dance of democracy, only to be fooled by the local officers. They see and capture only what they are shown because not many care to investigate once the elections are over. Even if they do the administration wouldn't let them.
There are biases and there are parties. If Newton is taking forward the government's agenda, Aatma Singh is also doing the same. Loknath's aloofness and Malko's noticeable concerns resonate within us. It's a place of terrible paradoxes and miscalculated sentiments.
Former Maoists have joined the government to fight against their ex-colleagues. The locals struggle hard against fate and lack of resources and don't want much outside interference in their day-to-day life. The urban intelligentsia believes it's their duty to lay out rules for the uneducated, rural junta. It's all messed up. From the outset, it doesn't look anything more than a routine exercise to maintain the one-upmanship between the state and the violent guerillas.
Newton is sad to see the current state of affairs. Loknath doesn't care. Malko thinks nothing will change. The other person keeps sleeping. Aatma Singh is also human who has a family to take care of and is worried about the safety of his people. The journalists are mostly clueless. Top officers want a media face-lift and the locals go about their usual businesses like basic farming and 'hadiya' (a kind of alcoholic beverage). Zero displacement.
Newton is one of the finest political satires we have seen in the last couple of years. It refrains from taking sides and offers a humorous take on state versus the Maoists bloody battle. It raises questions on the importance of the electoral system we are so proud of. It takes us much beyond what we see. The team of Rajkummar Rao, Pankaj Tripathi, Raghuvir Yadav and Anjali Patil has come up with a top-notch performance. It's a world waiting to be explored, so better do it now.
Interact with Rohit Vats at Twitter/@nawabjha
Follow @htshowbiz for more
ott:10:ht-entertainment_listing-desktop