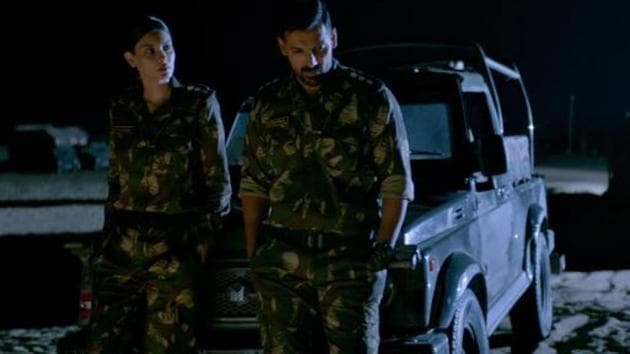 Parmanu song Jitni Dafa brings out John Abraham's inner conflict. Watch video
Parmanu- The Story of Pokhran's first song Jitni Dafa sheds a new light on the film. Instead of the covert operation, the song deals with the inner conflict of the officer played by John Abraham.
UPDATED ON MAY 17, 2018 04:14 PM IST
Parmanu-The Story Of Pokhran has released its first song, Jitni Dafa, and the number goes a long way to add to the drama of the film. The song sets an entirely different mood than what we saw in Parmanu trailer. It focuses more on the moral conflict of Johan Abraham's character in the film. He seems to be torn between two different women in his life: One he is married to and has a kid with, and the other he is attracted to at the workplace.
Voiced by Yasser Desai and Jeet Gannguli, the song has visuals where John appears confused between his choices in life. At the same time, he is expected to carry out a covert operation for the country.
Jitni Dafa is a melodious number mostly comprised of visuals of John's family life and his longing for Diana Penty's Ambalika Bandopadhyay, who plays an intelligent officer in Parmanu. Composed by Jeet Gannguli and written by Rashmi Virag, the song makes the audience see Parmanu in a new light. It takes the viewers beyond the highly secretive mission.
Parmanu- The Story of Pokhran is an ode to the Indian army and scientists, who accomplished truly extraordinary feats in the face of adversity in 1998. While the premise of the film is based on true events, the characters are fictitious.
Named Operation Shakti, the operation was carried out despite international pressure on India to not go forward with the tests. The event may not be discussed much, but it certainly put India on the course to become a nuclear power.
Directed by Abhishek Sharma, the film is about a team of officers who were given the responsibility of carrying out a covert operation. Parmanu will hit the screens on May 25, 2018.
Close