Phantom trailer: Saif Ali Khan, Katrina take revenge for 26/11
Updated on Jan 03, 2016 04:27 PM IST
After teaching peace in Bajrangi Bhaijaan, Kabir Khan is taking us to war in Phantom trailer. Saif Ali Khan and Katrina Kaif play Indian agents who will enter Pakistan and kill the perpetrator of 26/11. The film's tagline goes: A story you wish were true.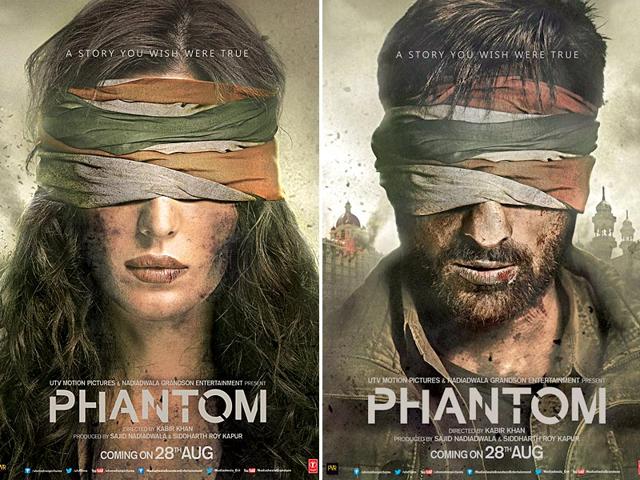 Nawaz Sharif and Narendra Modi may be enjoying the fruits of mango diplomacy as Salman Khan's Bajrangi Bhaijaan teaches us all to 'love thy neighbour'.
The film's director, Kabir Khan, has other plans though. His next film Phantom, whose trailer released on Saturday, has more jingoism than you see in the midst of an India-Pakistan match.
The trailer opens with vignettes from 26/11 attack and shows its main preperators -- David Headley, Sajid Mir, Hafiz Saeed and Zaki-ur-Rehman Lakhvi. The action moves to some suits discussing why India only severes its cricketing ties with Pakistan after a terror attack.
Saif's Daniyal is an Indian agent who has a job at hand: To find and kill Hariz Saeed (a thinly veiled reference to Jamaat-ud-Dawa chief who is wanted in India and resides in Pakistan). We also see excerpts from the JuD chief's speech in the trailer. The film's trailer oozes patriotism and does full justice to its tagline: A story you wish were true.
Saif poses the question: If the US can find and kill Osama in Pakistan, why can't India do the same. The rest of the trailer is a lot of fight and smoke, with Katrina adding some oomph and a lot of Brit-accented dialogues to the mix.
This would be the first time that Saif will be working with Kabir while Katrina had teamed up with the director in the 2009 thriller New York and the 2012 action spy movie Ek Tha Tiger.
The film has been extensively shot in Beirut, Lebanon. Apart from Saif Ali Khan and Katrina Kaif, Phantom also stars Sabyasachi Chakrabarty and Zeeshan Ayyub. With its theme, the film will be compared to the Akshay Kumar's 2015 release Baby.
Read: Are Phantom's dramatic posters copied?
Close Story
Personalise your news feed. Follow trending topics