Sajid Khan asked me to strip during audition: Actor Simran Suri reveals her MeToo story
Oct 14, 2018 07:16 PM IST
After actor Rachel White and two other women, actor Simran Suri has accused Sajid Khan of sexually harassing her.
Actor Simran Suri has accused director Sajid Khan of sexual harassment, making her the fourth woman to level #MeToo allegations against the filmmaker. On Friday, actor Rachel White, assistant director Saloni Chopra and journalist Karishma Upadhyay had spoken of the harassment at the hands of Khan as India's #MeToo movement gathers momentum.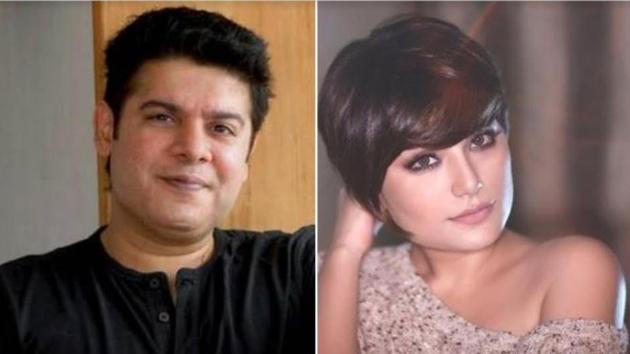 "I kept thinking all these years @whitespeaking to talk about this a## @SimplySajidK and what stopped me was that nobody would listen. He did exactly the same with me while he was casting for Himmatwala. Called me to his juju house and asked me to strip," Simran wrote on Twitter.
Speaking to Indian Express, she added that Sajid was casting for 2012's Himmatwala when he called her for an audition to his house. "He was on his treadmill, wearing an undershirt. He said, 'See, my body is so good!' I was wondering why a man, who is supposed to be in a professional meeting, wearing sandos! I felt really weird. After some time, he asked me to strip. I was shocked but he said, 'I am the director. I will have to see your body'," she is quoted as saying in the report.
She said that Sajid pulled down her top and when she protested, asked her to keep his voice down as his mother was in the adjacent room. Simran said she left his home and deleted his number. While the director called her again, she abused him and told him off.
After the #MeToo allegations against Sajid, actor Akshay Kumar announced his decision to cancel the shoot of his directorial Housefull 4 until "further investigation". Sajid later stepped down as director of Housefull 4, and tweeted, "In the wake of the allegations against me and the pressure being put on my family, my producer and the stars of my film 'Housefull 4', I must take the moral responsibility of stepping down from my directorial post, till the time I can allay the allegations and prove the truth... I request my friends in the media to kindly not pass judgment till the truth is out."
Topics