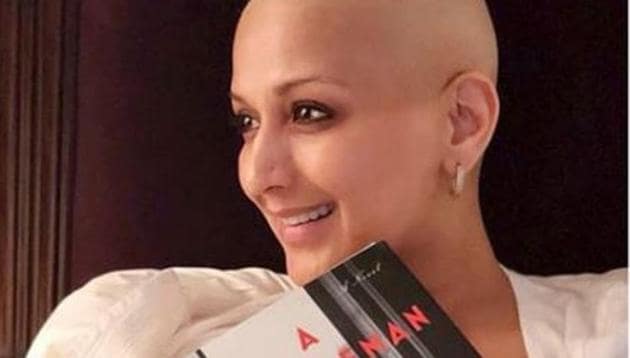 Sonali Bendre celebrates Read a Book Day with a new book and a brave photo
Sonali Bendre shared a brave new photo on Thursday in which she introduced a new book for her book club.
UPDATED ON SEP 06, 2018 04:42 PM IST
Sonali Bendre may be going through the toughest time of her life right now but she is still ready to find happiness in the little things. The actor, who has been diagnosed with cancer, has shared a new book for her book club to read.
In a new post on Instagram, Sonali is seen with a book in her hand and a smile on her face as she proudly shows her bald head from chemotherapy. "Today is #ReadABookDay and what better way to celebrate it than by announcing the next book for #SBC! This one is a historical fiction set in Russia called "A Gentleman in Moscow" by @amortowles. The premise sounds pretty interesting, and I can't wait to start reading it! #SonalisBookClub," she captioned the photo.
Sonali's last book club meeting was attended her supportive friends Dia Mirza, Sussanne Khan and Gayatri Oberoi. She even posted pictures from the meet-up on Instagram and thanked her friends for always showing great support. "I've said it before and I'll say it again... "I have the best friends in the world!" Thank you sooooo much @gayatrioberoi, @suzkr and @diamirzaofficial for coming together to celebrate Friendship Day with #SBC... I had so much fun watching this... So glad some of my influence has rubbed off on you hahaha," she captioned a photo of her friends from the book club meet.
On Wednesday, Sonali also showed off her new wig and said how a little bit of vanity never hurts. "'Vanity is my favourite sin.' - Al Pacino. Well, it might not be my all-time favourite sin (that would be gluttony), but who doesn't like looking good? The way we look has a profound psychological impact on us... A little vanity here and there does no one any harm. It's important to do what makes you happy, even if it's something as simple as wearing a wig, bright red lipstick, high heels.... All that white noise doesn't make a difference in the larger picture. No one can tell you what's right or wrong for you. When I was testing out the wigs, I had a brief moment of self-doubt... "Am I vain for wanting to look good?" As part of the entertainment industry, you're always expected to look good... Maybe that has been ingrained in me? But then I gave it a thought and I realized I like looking good for me. If I'm in the mood to wear a scarf, I will. If I want to walk around bald and free, I will. Only you know what would make you feel good, and what works best for you. So take every opportunity you can to #SwitchOnTheSunshine. #OneDayAtATime Thank you @priyankachopra for connecting me with the amazing @bokheehair, who created my new look," she captioned the photo.
Sonali revealed her diagnosis in July with an Instagram post. "Sometimes, when you least expect it, life throws you a curveball. I have recently been diagnosed with a high grade cancer that has metastised, which we frankly did not see coming. A niggling pain led to some tests, which led to this unexpected diagnosis. My family and close friends have rallied around me, providing the best support system that anyone can ask for. I am very blessed and thankful for each of them… I'm taking this battle head on, knowing I have the strength of my family and friends behind me," she had written. She is receiving treatment in New York with husband Goldie Bahl by her side.
Goldie recently wrote on Twitter, "Thank you all for the love and support for Sonali. She is stable and is following her treatment without any complications. This is a long journey but we have begun positively."
Follow @htshowbiz for more

Close