Sumeet Vyas, fiancee Ekta Kaul's real love story revealed just days before wedding
Sumeet Vyas not only revealed details about his September 15 wedding to Ekta Kaul, but also opened up about their love story, including the day Ekta almost left him, in a Humans Of Bombay interview.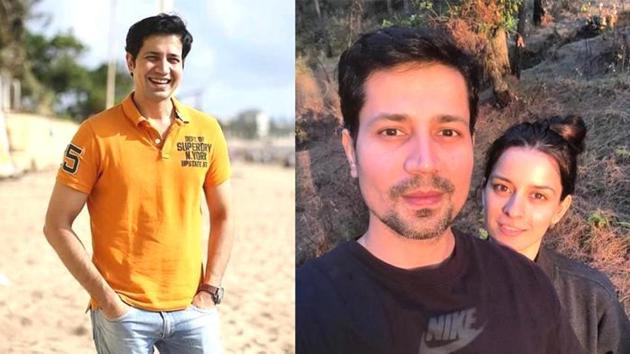 Updated on Sep 10, 2018 03:51 PM IST
Hindustan Times |
HT Correspondent
Veere Di Wedding actor Sumeet Vyas and television actor Ekta Kaul are getting ready to marry. After announcing their engagement in August, the couple is busy planning their upcoming nuptials on September 15 in Jammu.
"Yes, we are getting married. It is going to happen in Jammu on September 15. As I am busy with my shoots, Ekta is managing most of the work. It is going to be a simple wedding. We are really happy and excited about it," Sumeet told Indian Express in an interview, also adding, "Being with Ekta gives me a new ground. And that's really exciting. I find a new person in myself, when I am with her. It's a blissful relationship."
With only a couple days to go until their big day, a few details have started to emerge, and while the actual location in Jammu (Ekta's hometown) and guest list remain unknown, we now know a few things about Sumeet and Ekta's romantic and dramatic love story. Sumeet was earlier married to actor Shivani Tanksale, they parted ways in 2017.
+ +
Speaking to Humans Of Bombay, Sumeet said that his phase as a "single man" was short lived. After he met Rab Se Sohna Isshq star Ekta, Sumeet discovered they have little in common and that she did not care much about him being famous as Mikesh (Sumeet's character from web-series Permanent Roommates). "She was least bothered! People used to approach me for photographs, and she'd wonder why," said Sumeet.
Sumeet recalled the day when he thought to himself, "I'll marry her." In the post for Humans Of Bombay, Sumeet said: "It's not one big moment when you know you've met 'the one'... One stand out moment was last year during Holi! I rode my motorcycle to a party and had a little bit of bhang. I was in no state to ride. She saw that and took the keys -I thought she was joking! I mean it was a Bullet! But she just got on and off we went, me in the backseat and my lady driving the bullet. I was thinking then, Man! I'm going to marry her! She's the one!"
But his love story hit a speed breaker, when Ekta Kaul temporarily returned to Jammu (her home town). Read Humans of Bombay's post on Sumeet Vyas's love story to know what happened next:
+ +
Sumeet and Ekta officially confirmed their engagement and wedding only in August, after quietly dating for months. Speaking about how he asked Ekta for her hand in marriage, Sumeet told Times of India, "Ekta is a beautiful person. I decided to pop the question a few days ago and slipped a ring on her finger before she could change her mind. I am glad she loved it and has accepted my proposal. Unfortunately, I got the size of the ring wrong, which can be expected from a guy like me."
When asked if a failed marriage made him cynical, he told Indian Express, "Not cynical but initially I was scared to fall in love again. It's a natural thing. But with time I realised that it could not go on like that. We grow up, we become mature and it also depends a lot on the people you meet. I am in a happy space again and we are positively looking at this new start."
Follow @htshowbiz for more
Close Story