Thugs of Hindostan first poster: Aamir Khan, Katrina Kaif, Amitabh Bachchan battle it out. See pic
Updated on Sep 25, 2018 12:15 PM IST
A Thugs of Hindostan poster featuring Aamir Khan, Katrina Kaif, Amitabh Bachchan and Fatima Sana Shaikh emerged online before schedule but Yash Raj soon shared the official poster after the leak.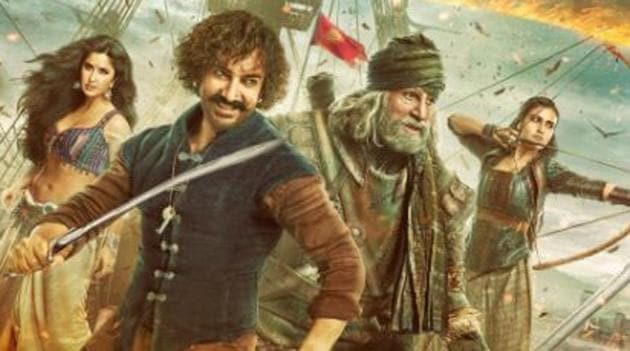 A day after Thugs of Hindostan revealed the looks of its lead actors—Aamir Khan, Katrina Kaif, Amitabh Bachchan and Fatima Sana Shaikh— a poster of the film has emerged online. The new Thugs of Hindostan posters features all four actors as they battle against an unknown villain.
Sharing the poster Yash Raj Films wrote, "This Diwali, be prepared to be Thugged. Presenting the poster of #ThugsOfHindostan #TOHTrailer OUT ON 27TH SEPTEMBER! @SrBachchan | @aamir_khan | #KatrinaKaif | @fattysanashaikh | #VijayKrishnaAcharya | @TOHTheFilm."
One of the most ambitious film to come from Yash Raj, Thugs of Hindostan will reveal its trailer on September 27 on Yash Chopra's birth anniversary. This was revealed by Katrina Kaif during an Ask Me session on Instagram; she added that it will be first shared on Aamir Khan's Instagram.
On Monday, Aamir shared his first look poster from the film. In a motion character poster shared on Monday, Aamir is seen wearing a green jacket and a top hat. He has a big bottle of liquor by his side and red glasses on his eyes. He caption the photo in Hindi, "And this is me Firangi Mallah. You will not find anyone kinder than me on this planet. Truth is my second name and loyalty is in my work. I swear on my grandmother."
Since September 18, YRF and Aamir have been sharing the first look motion posters of the film, introducing its main characters. So far the posters have introduced the characters played by Amitabh Bachchan, Fatima Sana Shaikh, Lloyd Owen (playing the villain) and Katrina Kaif.
They started with Amitabh, who will be seen as Khudabaksh. Sharing it, Aamir had called him the 'biggest thug of them all'. Sharing the same poster, YRF wrote: "Wading through storms & battles, the commander of Thugs has arrived. Amitabh Bachchan as #Khudabaksh."
The next was the poster featuring Fatima. Called Zafira, she is seen playing with fire. The poster gives a glimpse of Fatima's character, whose advantage is her skill with a bow and arrow, as emphasised in the poster. For added drama, she's seen floating mid-air in the middle of fire and total chaos. "Zafira is fiery and stunning. She is an extremely talented fighter and specialises in combat by bow and arrow. Zafira has perfect accuracy and she doesn't miss a target, ever. Fatima Sana Shaikh as Zafira brings vigour and freshness to Thugs of Hindostan," read the description along with a 25-second video. Aamir also shared the poster in a tweet that read, "The warrior thug! Iskey nishane se bach ke raho!!!"
The third poster to be shared was that of the villain of the Aamir and Amitabh film, character called John Clive. Aamir shared the poster and wrote, "John Clive..not to be confused with Robert Clive..as you can see he is one of the most gentle and kind souls. Loving, caring non violent, and generous. My idol!"
On Friday, the poster of Katrina in the role of Suraiyya, was revealed. The poster takes us to a musical theatre show ambience. In a shimmery lehenga choli combination, Katrina can be seen looking at the camera. The background looks rich: there are chandeliers, lamps in the shape of musical instruments, candles and comfortable seats on the floor. Seated in the audience are Britishers.
Sharing the poster, YRF wrote: "She's coming to make you go weak in the knees. @katrinakaif as #Suraiyya #ThugsOfHindostan @amitabhbachchan @_aamirkhan @fatimasanashaikh @vijaykrishnaacharyaofficial."
Thugs of Hindostan is based on Philip Meadows Taylor's 1839 novel, Confessions of a Thug. The film releases on November 8 to coincide with the Diwali weekend.
Follow @htshowbiz for more