Zip your mouth, says Sridevi to plastic surgery rumour-mongers
Updated on Sep 02, 2012 02:20 PM IST
Slamming plastic surgery rumours, Sridevi has a message for all women who're 40 and above: "Look after yourself and do what makes you desirable. Work out, eat right, be focused and be happy. You should also be in love. That makes you radiant." FULL INTERVIEW INSIDE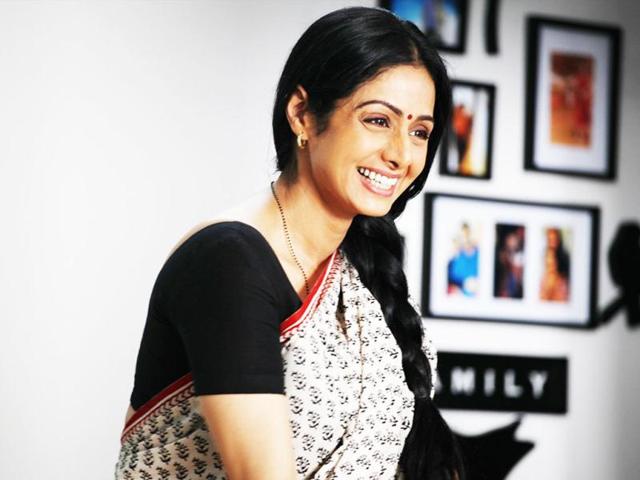 Hindustan Times |
, Mumbai
Afsana Ahmed
For all women who're 40 and above, Sridevi has a message: Look after yourself and do what makes you desirable. Work out, eat right, be focused and be happy. You should also be in love. That makes you radiant.
About to return to the big screen after a 15-year focus on home and family, Bollywood's original queen bee should be out there promoting her comeback movie, R Balki's English Vinglish. But she leaves the hype to the producers, preferring, instead, to talk only to people she trusts, just as she did in the '80s.

Dressed in simple black slacks and a white top, sans make-up, Sridevi chats about her film, life and how she manages to look so young.
All set for your comeback?
I am so glad to be here at a time when cinema is going through an exciting phase. It's not just stars pulling in the crowds. The script has also become a star! Look at Kahaani and The Dirty Picture (2011). I would love to do more films after English Vinglish, if people accept it.
You've always had offers for a comeback film. Why did you choose to work with Balki?
I love his previous work, Cheeni Kum (2007) and Paa (2009). Also, the subject of English Vinglish is universally appealing. After watching this film, men will never take their wives for granted (laughs).
You look stunning and younger than ever! What's your secret?
Actually, I've looked like this for quite some time. It seems new because I've recently started making frequent public appearances. Your state of mind reflects on your face and I am in the happiest phase of my life today. I lead a systematic life. I am health conscious, I do power yoga, play tennis four days a week, control my diet and resist junk food, fried stuff and sweets, even though I have a sweet tooth. And most importantly, I don't sweat the small stuff (laughs). All these bring a change in the appearance.
Some people say you must have had plastic surgery to look like this.
No, I haven't. I want to tell these people that instead of whining and criticising, why don't you move out of your comfort zone, zip your mouth and slog it out? Then let's talk! There will be a visible change not just in your appearance, but also in your attitude. But if you're a lazy bum, hooked to TV, and cannot give up your food because you know you can undergo cosmetic surgery, you're damned! It doesn't work like that. Anything that is plastic melts in no time. You have to understand that there's a regime for everything and you benefit by associating yourself with it. To look and feel good, you have to slog it out.
Have you inspired your husband Boney Kapoor to keep fit?
Forget going to the gym, he hasn't even given up fatty food! Recently, I instructed the cook not to make rice, but I was shocked to see him eating rice at dinner. When I asked the cook, he said, 'Ma'am, you told me not to make rice, but this is
gobi
rice.' Now what can I say? I am taking it as a challenge to get him off oily food. Having said this, Boney
ji
is the most handsome guy in the world for me.
Today's female actors are very bold. Even Madhuri Dixit, who's making a comeback (with Gulab Gang), said she wouldn't mind being bold. Are you open to it too?
Nobody has offered me a bold role as yet, but I don't mind experimenting as long as I am comfortable. I am looking for versatility.
Since you've lost so much weight, would you wear a bikini?
No! I don't even wear one when swimming!
What do you like about cinema today?
Technology is unbelievably advanced. We never had these luxuries. We used to have an assistant director taking notes for shots, which today, are corrected by the monitors. We never had make-up vans. Today, they've got stylists on every film.
One thing you dislike about cinema today?
The fierce promotions for which actors are personally required. I don't like my life to be controlled like that. In my time, we just gave a few magazine interviews, and I prefer it that way. When my film is over, I like to spend time with my family.
You started as a child artiste. Looking back, do you think you missed out on a normal childhood?
I have no regrets. As for missing a normal childhood, I didn't spend mine in the studios wearing make-up. I was brought up in a traditional atmosphere with lots of cousins and friends. The only thing I missed out on was studying. That cannot be altered, so I look at whatever I have achieved and feel happy.
We've heard you are grooming Jhanavi to become an actor.
If I could, I would get Jhanavi married at the earliest. I am a normal mother, pestering the kids to eat healthy, sleep on time, study etc. This generation doesn't need guidance or grooming when it comes to fashion, fitness and health. But yes, Jhanavi is my gym, swimming and tennis partner. And if I have hammered anything into her head, it's to be religious.
Does she want to be an actor?
Sometimes she wants to be a writer, sometimes a designer. Anyway, Jhanavi needs to complete her studies before finding her vocation. And I'll have no problem with whatever she chooses.
Your wedding to Boney was unconventional. Is there anything you've learnt or had to unlearn along the way?
Life has always sprung surprises on me. Luckily, I've never had to unlearn anything with Boney
ji
. In return, I selflessly give my 100 per cent as his wife. And he feels I am the best.
Personalise your news feed. Follow trending topics