This Israeli poet made a machine that composes poetry
Israeli poet, software developer and new media artist Eran Hadas is in Mumbai as a speaker at Tata Literature Live. He speaks about how technology and poetry intersect in his work, getting a machine to compose poetry, and his upcoming book of poems which will be half-text and half-augmented reality.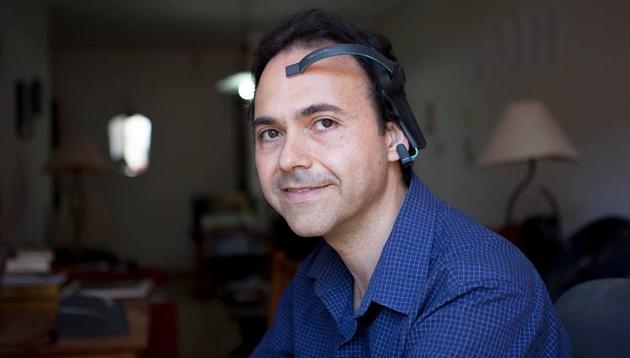 Updated on Nov 16, 2018 04:21 PM IST
While poetry and technology may seem like opposite ends of the spectrum, for Eran Hadas, it is all in a day's work.Hadas is an Israeli poet, software developer and new media artist who creates hypermedia poetry using software algorithm.
The Tel Aviv-based Hadas is famous for building "computer-based poetry generators that utilize the internet for their input" to create "Augmented Poetry". He has also created a headset that generates poems from brain waves, and a robot that can interview people.
Hadas has written seven books on technology and writing, one of which is a Wiki version that lets readers enter the website and modify the poems. He is also a lecturer at Tel-Aviv University and Shenkar College of Engineering, Design and Art, among other institutions, where he teaches how to bind art, computer science and digital culture.
He will be speaking at Tata Literature Live about gendered fiction, and are we ready for computer-generated literature.
Excerpts from an interview with Eran Hadas:
Most people feel that poetry and technology are dissimilar streams. What are the similarities between poetry and coding?
For me, poetry and coding are two branches of the same tree. Not only are they based on language, form and structure, but there is a constant effort by creators from both fields to reach beauty, to go beyond the functional needs (of text or of the program requirements) onto something that grants the creator a sense of reaching perfection.
How challenging was it to get a machine to generate poetry?
I started with very simple rule-based generators. I selected templates (e.g. noun, verb) and a bank of words (a list of nouns such as poet and dream, and verbs), and populated a template with words from the bank (e.g. poets debug dreams). I went on to use statistical methods and Deep Learning algorithms, but for me this is a mere technicality. What challenges me is how to utilize available resources and techniques, even if they are limited, to create works that deal with humanity.
Christie's recently sold Portrait of Edmond de Belamy, an AI-generated artwork painted using an algorithm for $4,32,000. Do you think there is a lot of potential for technology to be combined with the arts?
The advent of photography made painting shift in a certain way, as painters felt less enthusiastic to compete against photography when it came to realism. I think a similar shift may happen to visual arts, as artists will turn to areas in which the computer is not as proficient.
I'm interested in the relationship between visual images and text, and I think it has a great potential for both visual arts and poetry. The Electronic Curator is a collaboration between Eyal Gruss and me, where two AI entities represent a painter and a curator. They collaborate to generate a vegetable face portrait and a curatorial statement.
The Electronic Curator examines whether a computer can generate art and also evaluate its quality. It is a dialog between two competing neural networks, representing a painter and a curator. The dialog between the competing networks represents the artistic process. Using cycle-consistent generative adversarial networks (CycleGAN), the networks are trained together, each getting better in its own task. The painter-network learns to create vegetable-face portraits from face images.
You have also created a headset that generates poems from brain waves, and a robot that interviews people. What fascinates you about hypermedia?
For me, poetry should be alive in and outside the page. Therefore, I create interactive projects, but the focus is always on text and language. I am fascinated by the potential technology brings to language, as it can enable us to reach ideas we could never discover by ourselves. I feel technology helps me to have better control of language and, as a result, also of my consciousness.
However, in the age of big data, large corporates and governments are taking control of our data using digital media. While they still don't read our brainwaves, they know more about us than we imagine. It is important that artists address this topic from a critical point of view.
Tell us about your books and the subjects you write on.
My books always revolve around a single concept, usually related to technology and writing. One book had a Wiki version; my editor Roni Hirsch and I got to a final version, but from that moment anyone can enter the website and modify the poems, just like entries on Wikipedia. Another book is a computer rewrite of the Torah in the form of Haiku. My new book uses Augmented Reality to show the relationship between technology and books.
What are you working on currently?
I have a new poetry book, titled Half Reading, dealing with the declining interest young people find in reading traditional books, and their rising interest in technology. So, each poem is half-text, half-augmented reality. In order to read it, one has to both hold the book and position their phone over it.
Eran Hadas will be part of two panel discussions: Imagination is an Algorithm will be held on November 17, 10.30am at Title Waves, Bandra; He Said, She Said will be held on November 17, 6pm, at Little Theatre, NCPA, Nariman Point. Log on to: tatalitlive.in/speakers/eran-hadas
Close Story
Personalise your news feed. Follow trending topics