I am a Tinder atheist: Athiya Shetty
The actress and fashionista talks about being called a Giraffe in school, her fetish for sneakers, and why she doesn't trust people on dating apps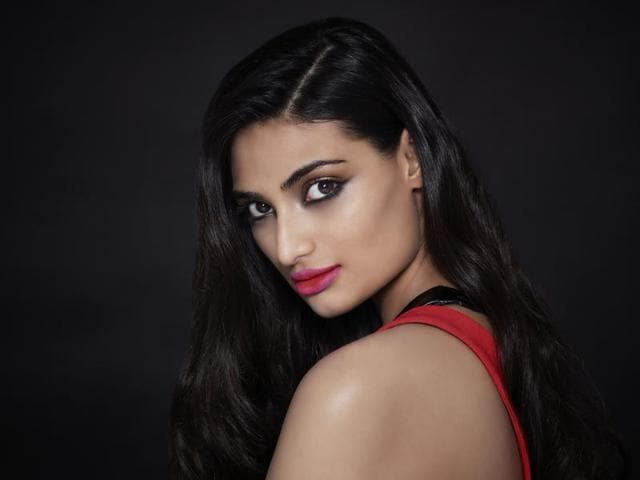 Updated on Oct 29, 2016 06:15 PM IST
Birthday: November 5, 1992
Place of Birth: Mumbai
College: Cathedral and John Connon School and American School of Bombay
First break: Hero (2015)
Sun sign: Scorpio
High point of your life: The release of my first film
Low point of your life: Well, I can't remember any right now! May be that is a good thing.
Currently I am: The brand ambassador of Maybelline New York
Have you felt too tall to do something?
When I was in school I used to feel too tall for everything. People would call me a giraffe! It is only now that people are appreciating my height. Being tall is amazing.
What is your fashion mantra?
It is important to dress according to your body type. Be comfortable in your own skin. And don't take fashion too seriously.
If you had just 10 minutes to get dressed what will you put on?
I usually get dressed in 10 minutes! But if I am in a real rush, it would be boyfriend jeans, a T-shirt or a ganji, a pair of sneakers. As for make-up, it would be some Maybelline Dream Velvet Soft Matte foundation, a dash of Drama eye liner and a dollop of bright pink lipstick their Vivid range. It is all about being bright this season and keeping the focus on the eyes and lips.
How many pairs of sneakers do you own?
LOTS! I don't think I can even count how many. I have more than ten basic plain ones. So, you can imagine my love for them!
One phrase that you use most often?
Oh my God!
One superpower you wish you had...
That I was invisible and spy on people! Or just observe the goings-on without being seen.
Most bizarre thing you have done...
I do a lot of bizarre things on a regular basis. The latest would probably be putting raw tomato juice on my face as a mask, which I did last night. People are saying my skin is glowing more today, but the process was indeed bizarre!
If you were on Tinder, what is that one thing that will make you swipe right?
You can say I am a Tinder atheist. I am not too sure how exactly it works. How can you decide if you want to meet a person just by looking at a picture, which most of the time turns out to be someone else's! I would delete the app.
What is the most filmi thing that you have done in real life?
I am not a very filmy person but yes, I used to do the Kuch Kuch Hota Hai handshake.
One superstition that you have?
Oh God, I am superstitious about everything! Even if someone gives me a compliment, I get superstitious.
Your biggest celebrity crush?
Ryan Gosling.
Ever had a girl crush?
Currently it is Kendell Jenner.
One thing not many people know about your dad, Suniel Shetty...
That he is a big foodie.
One habit of yours that you want to get rid of?
Biting my nails!
That one thing you thank your genes the most for?
My metabolism, of course!
One thing you admire the most about your mom and dad's relationship the most:
Trust and honesty. I think that is the most important thing in any relationship.
The worst thing about growing up with brother:
That he is stronger than me and would always easily beat me in all the fights.
Three words that describe you:
Hard-working, goofy and loyal.
My favourites:
Movie: DDLJ
Comfort food: Rajma chawal
Holiday destination: London
Song: Right now, it would be Closers by the Chainsmokers.
*
Follow @ananya1281 on Twitter
From HT Brunch, October 30, 2016
Follow us on twitter.com/HTBrunch
Connect with us on facebook.com/hindustantimesbrunch
Close Story