Meet India's best known sex doctor: The 93-year-old Mahinder Watsa
Updated on Apr 24, 2017 11:59 AM IST
Dr Mahinder Watsa is neither half as risqué as writer of the Vedic sex guide, nor is he remotely as glamourous as Carrie Bradshaw of Sex and the City fame, but this 93-year-old sex columnist has become sort of a pop icon thanks to his wit and pragmatism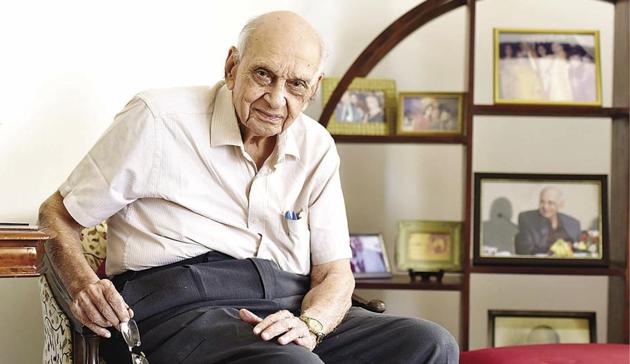 Dear Doctor, I use coconut oil to massage my penis. I wanted to know if doing so regularly can harm my penis."
Sex experts across the globe are used to receiving such absurd questions. Most would send mail like these to the trash folder. But not Dr Mahinder Watsa.
"Why?" he responds. "It's better you use the oil to massage the scalp, it might improve your thinking."
With such dry humour in his responses, it's no wonder that 93-year-old Dr Mahinder Watsa has so many fans. His column, Ask the Sexpert, in one of Mumbai's best-selling tabloids is a rage, and he has a cult following on social media.
Doctor funnybone
"People often make much out of my column. They find my answers funny. Well, it is because the questions I field are sometimes hilarious. I don't sit and try to come up with a funny answer," says Watsa. "If a guy asks me if it is 'safe' to pour lemon juice in his girlfriend's vagina after sex, because he has heard that acidic substances can prevent pregnancy, what can you say to that person? The first thought that crosses my mind is whether I am talking to a bhelpuri vendor here! I mean, really? Squeezing nimbu down there! What is he thinking?"
"Dr Watsa is one of the stars of the newspaper. There are readers who buy the paper just to read him," says Meenal Baghel, editor of Mumbai Mirror. Watsa's column has been part of this tabloid since it launched in 2005. According to the editor and the brain behind Ask the Sexpert, although there were sex and relationship columns in women's magazines, Dr Watsa's was the first daily column in an Indian newspaper that addressed readers' queries about sexual anxieties.
His unique style is his own and according to Baghel, it came as a bonus. "All I was looking for then was a credible person who could give sound medical advice. I had neither read any of his earlier columns nor met him. The tone and the wit are all his and were there from day one. Since I know him, I realise it's a reflection of who he is as a person," she says.
Until Ask the Sexpert, Indian media rarely (if at all) used words like penis and vagina, says Baghel. "Such is the squeamishness associated with sex that often families will have code names for these body parts. One of the main reasons for Dr Watsa's immense popularity is that he tackles these questions with great calm, wit and humanity. Crucially, he never judges those who write in," she says.
The beginning
Before joining forces with Baghel, Watsa was writing a health column for a Bombay-based magazine called Trends, which was later rechristened Femina. The year was 1972.
"Along with questions related to normal coughs and colds, I used to get queries related to sexual issues. Many of these were written by soon-to-be-married young girls. Many of them were victims of sexual abuse; girls who were molested by their relatives or some fake godman while growing up, who were now scared of getting into physical relationships with their husbands," says Watsa. "In some cases the problem was so serious that the girls contemplated ending their lives. I realised that I couldn't brush them under the carpet; their questions needed to be answered."
That was the beginning of Watsa the Sexpert.
At that time, there were people writing columns that aimed to address sexual problems, but the tone was generally sombre and even preachy. And what they wrote was filled with medical jargon.
"It is important to be on the same level as the person asking the question so that you can relate to their problems," says Watsa. "You can't sit on a high pedestal and give sermons. The person you are providing the solution to must understand what you are talking about."
That's how he realised he needed to take a personalised approach. "Here, more than approaching the problems as a doctor, you need to approach them as a counsellor. And I started doing just that, albeit with a touch of humour," Watsa says.
The fine balance
Unlike the question we quoted at the beginning of this story, most of the queries in Watsa's mailbox are related to serious issues. Though his answers might often seem to tremble on the brink of the frivolous, they always stay firmly on the side of the person who wrote in.
"We read all the questions with the same seriousness, but often after that serious read, it occurs to us that the person who wrote it wants some fun out of it. So we play along and reply accordingly," says Watsa.
But he's very serious about the basis of his column: a non-judgemental attitude. "As a counsellor, you can't let your beliefs and superstitions cloud your vision. Suppose a homosexual asks about oral sex and that upsets you great deal, it is still your job to answer his queries in the best possible way," he says.
However, there are some questions do infuriate this calm, grandfatherly man. "I often get this query from men: 'I am getting married. How will I know if my wife is a virgin?' Now, you either have faith in her, or spoil your first night with her thinking about such irrelevant things. I don't think such questions require serious answers," says Watsa.
And some questions are just plain weird. For instance, Watsa once had to deal with a person who was scared to have sex because he feared his penis would get entangled in his wife's pubic hair, and be throttled.
"This might sound funny, but it was actually a serious question. So I suggested that he buy a pair of scissors and clip the hair. Simple! You need to know which question to approach how, and that somehow comes naturally to me," says Watsa.
The dark clouds
Watsa's column also annoys some of the seriously prudish. "There have been a few FIRs from people who believe, misguidedly I feel, that the column promotes obscenity," says Baghel. "We are fighting these cases in court. Dr Watsa, given his age, has been a real trooper dealing with cops and courts."
But Watsa says that if not for the brave heart Baghel, his column might have been canned long ago. "Previously, at least three magazines stopped my columns midway because they thought they were too risqué. They said the way I approached the questions hurts people's sexual feelings. The mindset was different," he says.
And India's attitude to sex really hasn't changed since 1972, when he first became a sexpert, and now, he adds.
"Today, the column has gained a fan following. But to say India and its mindset about sex have changed will be a stretch. India is like a khichri. You have all sorts of things in a mixed and mashed state. People who live 50 kilometres away from Mumbai have a very different mindset from people we know here in the city. So it all depends on which India we are referring to," he says.
Follow @ananya1281 on Twitter
From HT Brunch, April 9, 2017
Follow us on twitter.com/HTBrunch
Connect with us on facebook.com/hindustantimesbrunch