No Sex Please, This Is An Office
Published on Mar 25, 2017 06:24 PM IST
How to deal with sexual harassment at the workplace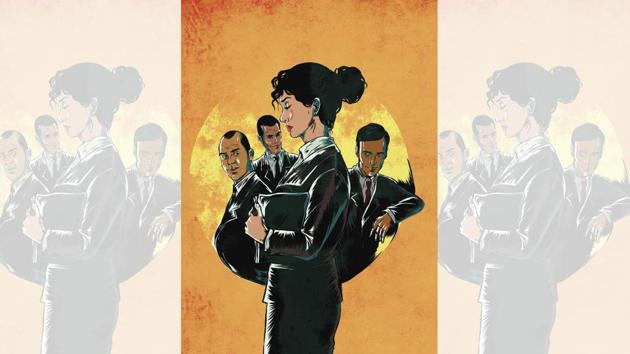 Hindustan Times |
Seema Goswami
How do you know what sexual harassment is? Short answer: you know it when you feel it. When that colleague brushes against your breast while trying to 'help' you with your PowerPoint presentation. When the guy on the opposite desk stares openly at your cleavage and tells you how sexy you are looking today. When your boss keeps asking you out for dinner even though you turn him down repeatedly. When the men in your office circulate porn clips on group messages and berate you as a prude when you object.
If you are a woman and you have ever worked in an office, the chances are that you have your own sexual harassment stories to tell. God knows I have my own. But it's not about our stories today. It's about how to deal with sexual harassment, whether you are the target, a witness or the person incharge. So, here is my handy – though far from comprehensive – guide.
 When an act of sexual harassment occurs, don't dismiss it in the hope that it is just a "one-off" transgression, an aberration that will never occur again. That may well be the case, but don't assume this as a fact. You may be inclined to give a first-time offender the benefit of the doubt. Do that if you want to. But make your feelings clear while you are at it.
 Keep the exchange as neutral as you can. Say something like, "I am sure that you don't mean to, but your standing so close behind my desk makes me feel uncomfortable." Phrase your pushback in a way that allows him an honourable out, if he chooses to take it. Give him the space to make an apology or even express regret. And if he does so, accept it graciously. If he reacts with outrage at the accusation, stand firm. Say that you're sorry that you misunderstood him. But it's only because you value your personal space and can't bear to have it invaded. Surely he understands?
 If the harassment persists, then the time to play nice is over. Tell him exactly how you feel, as vehemently as possible. The tone to aim for is polite but firm. "Those WhatsApp messages you have been sending me are inappropriate. I do not appreciate getting sexual-innuendo laden jokes. Please stop."
 Save all the inappropriate and sexually charged messages and share them with a trusted circle in real time. Take at least one senior colleague into confidence. Ask them to have a discreet word with the harasser. Try and resolve the issue informally if possible.
 If that doesn't work, it's time to up the ante. File an official complaint. Every office that has more than 10 employees is required by law to have an Internal Complaints Committee (ICC) headed by a senior female officer. If your office doesn't have one, there is a government body called the Local Complaints Committee that deals with such complaints. Present all the evidence you have stacked up, ask your colleagues to bear witness and stand up for your rights.
 Be prepared to lose. Too many of these cases come down to a "he said-she said" impasse and more often than not, the benefit of the doubt goes to the man, who is, by definition, the more powerful of the two. And yes, the temptation to do nothing and just walk away – which is always your right – and take another job is strong. But remember you are leaving behind a predator, who is now more emboldened than ever to prey on other women.
 At the end of the day, however, dealing with sexual harassment is not just up to individuals. Companies have to step up and ensure a healthy work environment for women. And just constituting an ICC is not enough. Companies also need to invest in gender sensitization training so that everyone learns just what is permissible within the workspace and what kind of behaviour is beyond the pale. (You would be surprised how many people simply have no clue.)
 Most important of all, companies must provide a safe space for women to speak out, and create an environment that imbues them with the confidence that their stories are worth listening to – and taking action on. And yes, while it is crucial to investigate before dubbing anyone guilty, it is vital that women who summon up the courage to file an official complaint be given the courtesy of belief. That doesn't mean always taking a woman's word against a man's. It just means taking her words seriously.
 As for those who are on the fringes of the drama, looking on with voyeuristic curiosity, I have just one line of advice: if you see something, for God's sake, say something!
From HT Brunch, March 26, 2017
Follow us on twitter.com/HTBrunch
Connect with us on facebook.com/hindustantimesbrunch
Personalise your news feed. Follow trending topics