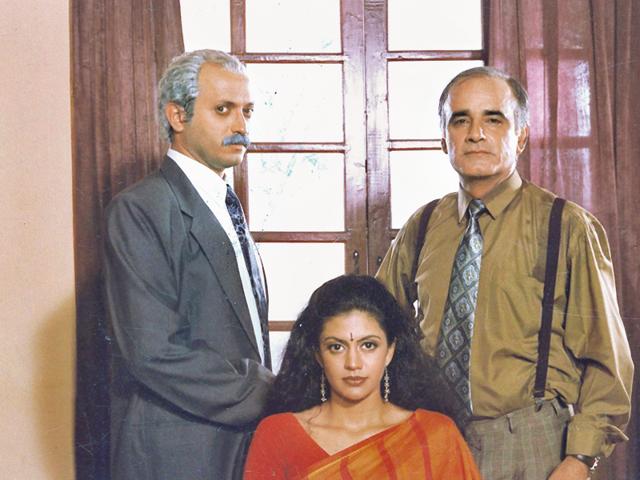 The wonder years: Flashback to the glory days of satellite TV in India
The early years of satellite TV in India were like the start of an exciting new affair. But then the affair turned sour. What happened?
UPDATED ON JAN 10, 2016 12:35 PM IST
It was like being seduced by a shiny new toy. When satellite TV arrived in India in 1991, one of the first American soaps we saw was The Bold & The Beautiful (which is still playing; prompting a colleague to say that it should now be called The Old & The Beautiful). It was a convoluted story starring handsome men with names like Ridge and Thorne and glamorous blonde women called Caroline and Brooke who wore earrings that could double as hubcaps. It was all very novel and everyone was hooked.
But The Bold & The Beautiful was foreign. It was also just an appetiser. In 1992 we got our first Hindi satellite channel with desi shows – Zee TV. While Doordarshan had telecast some truly excellent programmes in the 1980s, they were (mostly) earnest, literary, wholesome. Zee introduced us to unapologetic fun and entertainment, with serials about single working girls in the city (Tara), reality shows such as Antakshari (a truly innovative idea), game shows, horror serials and so on.
Also read: 25 Indian shows we loved
Doordarshan was the long-standing marriage, but this was an exciting new affair.
The early years of the affair were heady. After Zee came Sony in 1995. Two years later, Star said goodbye to its English programming and turned 100 per cent Hindi. Meanwhile, staid Doordarshan, taking cognisance of the new threat, strode into the entertainment battle, all guns blazing.
Not everything on these channels was wonderful, but there was enough that was very good: the music countdown shows (Philips Top Ten, I'm looking at you), comedies like Filmi Chakkar (which had Satish Shah and Ratna Pathak Shah), series like Star Bestsellers with episodes directed by Anurag Kashyap, Imtiaz Ali, Tigmanshu Dhulia, Rajkumar Hirani (goosebump-inducing names when you look at where all of them have reached today) and many others. In the middle of all the fun, there were some genuinely bold, interesting ideas being explored by talented directors.
But then, about 10 years after the launch of satellite TV, the affair began turning sour. Saas-bahus paratrooped into our TV screens in 2000 – and never left.
For a brief period in 2004, it seemed as if things might change, with the launch of Star One and its more modern, urban content (for example, Sarabhai vs Sarabhai). But soon enough Star One also succumbed to the saas-bahu's siren call, and the channel finally shut down in 2011.
I used to write a TV review column called Small Screen for many years and everyone I met always asked me the same question: do you really watch all those shows? The short answer was: yes (and I diligently took notes in case I got amnesia like one of the characters in the shows). There were many theories as to why these serials initially caught viewers' imaginations: the fact that they echoed the joint family, that they created this idealised picture of a docile bahu who liked nothing better than to dress up in a zari sari and touch every elderly person's feet in the vicinity.
But over time, this changed too. The saas-bahu soaps mutated into deeply unpleasant tales of suffering and oppression, overlaid with layers of garish makeup and gaudy costumes. The shiny toy had lost all its golden lustre.
What happened to the fresh, fun, modern programming of the early years of satellite TV in India? In broad brushstrokes, the following:
* Expansion. By the end of 1994, an estimated 12 million households were receiving satellite channels, but by 2000, this number had risen to more than 35 million. By the year 2009, it was more than 91 million. As the number continued to spiral upwards, TV began catering more and more to the lowest common denominator. The middle class metro audience of the 1990s slowly became irrelevant. My kind of viewer was of no consequence any more.
* Ratings. By the early 2000s, TV ratings had crept into the system and began dominating programming. Quality went flying out of the bahu's kitchen window and all we were left with was a pile of rotting laddoos. Whenever I asked TV executives why they were showing such execrable serials, I was always told the same thing: "What can we do? This is what people want to watch." This explanation is such a painful cliché, I don't know why anyone would even bother to offer it. The truth is that audiences – even your absolute mass, lowest common denominator audiences – will watch 'different' programming, provided you give it to them. But most channels don't. And if they do, they don't have the courage to push and sustain such shows over a period of time. Instead, at the first sign of sagging ratings, the shows are pulled out. This is what happens when marketing begins controlling content.
Even when some shows started promisingly – such as the Mills & Boon-style romance Iss Pyaar Ko Kya Naam Doon or the 'mature love story' Bade Achche Lagte Hain – they collapsed by the wayside after a while. Maybe if they had had seasons, they would have worked better and even found a place on our list of our favourite shows (for which you have to turn two pages).
* Lack of ideas. The TV industry in Mumbai is like an assembly-line factory making cookie-cutter shows. Channels, abandon your three-and-a-half production houses! Find new people.
The state of Hindi entertainment content is dire. No wonder we look back at the early years of satellite TV with yearning!
Follow @PoonamSaxena_ on twitter
From HT Brunch, January 10, 2016
Follow us on twitter.com/HTBrunch
Connect with us on facebook.com/hindustantimesbrunch
Close