Demonetisation cut cash in economy by 20%: Economic Survey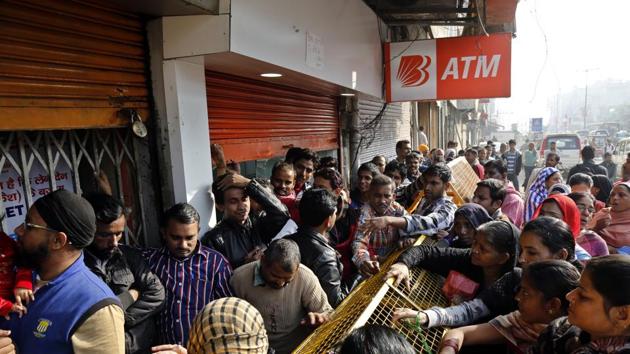 Published on Aug 11, 2017 09:40 PM IST
Indo Asian News Service | By Indo Asian News Service
, New Delhi
Describing the impact of demonetisation on the Indian economy, Chief Economic Adviser (CEA) Arvind Subramanian said on Friday that there has been a 20 per cent reduction in cash in the economy.
"Cash has come down in the economy..there has been a 20 per cent reduction in cash relative to what might have been without demonetisation," Subramanian said at a briefing following the release of Economic Survey 2016-17 - II, authored by him, which was tabled in Parliament earlier in the day.
"The cash-to-GDP (gross domestic product) ratio has come down by 1.6 percentage points," he added.
Curency in circulation declined significantly following the demonetisation of high-value notes. The Survey said that, as on the end of the last fiscal on March 31, currency in circulation contracted by 19.7 per cent whereas reserve money contracted by 12.9 per cent.
The CEA said there had been a "regime shift in terms of macro-economic stability since demonetisation", pointing to the addition of new taxpayers in the system.
He also noted that 5.4 lakh "new tax payers have been added in the post-demonetisation period (November 9, 2016) up to March 31, 2017... a big number," he said.
"The growth of taxpayers post-demonetisation was significantly greater than in the previous year (45 percent versus 25 percent)," the Survey said.
The addition amounted to about 5.4 lakh taxpayers, or 1 per cent of all individual taxpayers, in just a few months," it added.
According to it, "a series of deflationary impulses are weighing on an economy yet to gather its full momentum."
It highlighted decline in farm revenues and non-cereal food prices, farm loan waivers, fiscal consolidation and declining profitability in the power and telecommunication sectors as the factors generating deflationary tendencies.
The November demonetisation took a toll on the Indian economy with the Gross Domestic Product (GDP) during the fourth quarter, ending March this year, falling sharply to 6.1 per cent from seven per cent in the previous quarter while growth for entire 2016-17 also declined correspondingly.
"Real GDP growth declined from 8 percent in 2015-16 to 7.1 percent in 2016-17, as momentum slowed over the course of the fiscal year. Real GDP growth slipped from 7.7 percent in the first half of 2016-17 to 6.5 percent in the second half," the Survey said.
"The quarterly real GDP growth also shows a deceleration in the third and fourth quarters relative to the first two quarters. The slowdown in these indicators predated demonetisation but intensified in the post-demonetisation period.
"High frequency monthly indicators - for example, real credit growth to industry and IIP (Index of Industrial Production) manufacturing - suggest a similar pattern," it added.
Subramanian said farm loan waiver by states would have a deflationary effect by cutting demand in the economy by between 0.4 to 0.7 per cent of GDP.
"Farm loan waivers by states could amount to anything between Rs 1.25 lakh crore to Rs 2.75 lakh crore," he said.
"In sum, these tentative conclusions suggest themselves. First, demonetisation's impact on the informal economy increased demand for social insurance, particularly in less developed states with the striking exception of Uttar Pradesh," the Survey said.
"Second, this impact peaked between December and March, and has since disappeared, consistent with the evidence on 2-wheeler sales," it added.
Close Story