Demonetisation will lead to 6 months of chaos: Ex-RBI deputy guv Chakrabarty
Nov 21, 2016 09:13 AM IST
Former deputy governor of RBI KC Chakrabarty says demonetisation has affected the poor the most as rich people don't keep cash.
Former RBI deputy governor KC Chakrabarty has come down heavily on the demonetisation exercise, adding it will lead to chaos in the next six months unless there is efficient replacement of currency notes. The outspoken former banker recently spoke to HT on the issue. Excerpts.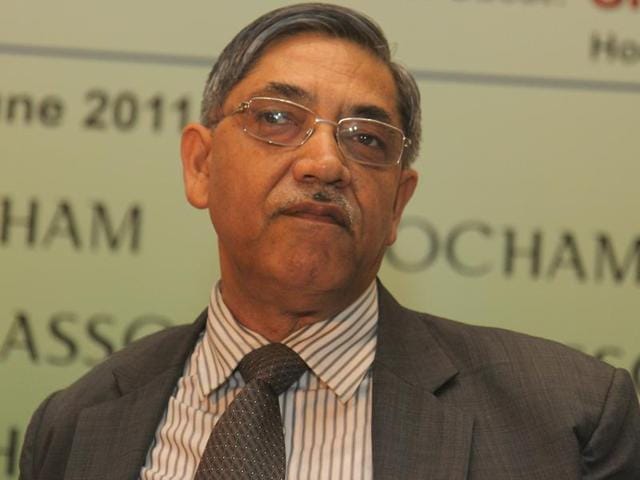 Can demonetisation curb black money?
Currency to the tune of Rs 17 lakh crore is not black. If it goes into the hands of people who don't pay taxes, it becomes black. If a taxpayer gets the money, it turns white. What we are killing is the note. We are not catching people who have not paid taxes. For that you have the I-T department, but they are not doing their duty. The poor hoard cash. The rich, who don't pay taxes, don't keep the black money under their pillows.
Read: Stranded trucks, unpaid workers: India Inc counts cost of demonetisation
How much black money do you think is in cash?
Nobody has a clear estimate. Suppose there is 20% black money in the economy and of the total money supply, currency is only 10%, this means that 10% is black money. I feel that the rich move black money very fast as there are leakages. The process through which money becomes black is not tackled. We are not identifying those who don't pay taxes. By banning notes, you are only increasing costs and taking away the right of the common man.
How can this be managed better?
If your enforcement department, I-T department is weak, it cannot be managed. It is an administrative issue. You think income tax officials don't know who hold black money? Next six months will be chaotic. It depends on how efficiently you bring back the new currency. If there is enough cash, why is there a restriction on withdrawals?
You said the issue was raised in the UPA regime and you refused?
Yes. We thought it should not be done. That's it.
How much black money is there in real estate?
People say that 20% of the economy is black money. In that case, black money constitutes 20% of all sectors. Its share is even higher in gold (40%) and real estate. But even the poor purchase gold.
Read: Max 7-yr jail for depositing unaccounted money in someone else's account: Report
What can be the negative impact?
The economy will suffer because liquidity has been sucked out. You have stopped market transactions for 70% of the economy. The issue is that even black money holders will not spend. The poor will suffer more. Already, we can see that farmers and small businesses are hit.
But banks are now flush with cash ...
That (Rs 500 and Rs 1,000 notes) is ultimately scrap paper now. The RBI will take six months to replace these and banks will have to pay 4% interest on those deposits. Only some time later, banks will be able to lend. There is no credit demand from the rich.
What about NPAs?
The NPA situation is very bad. All efforts should be made to identify the NPAs. If a person is sick, the person is not the problem. The problem with the NPA is the equity. Here no industrialist is doing business with his own money. It requires a surgical operation and we are administering small doses of tonic.
Will S4A (Scheme for Sustainable Structuring of Stressed Assets) help?
It is bogus. The medicine is being given so that the person is not declared sick. The fellow who is sick needs more medicines. I (as a bank) am constantly trying to avoid the classification of NPAs. There is nothing sustainable and unsustainable. A person cannot be half sick. This is manipulation.
First, all NPAs should be identified. They are still hiding it. The RBI has said restructured debt will be NPA. When unsustainable debt gets converted into equity, it is the restructuring of an asset, which means it's an NPA. Problems are just being postponed. They will resurface after two years.
How many NPAs do you think are still hidden?
More than Rs 4 lakh crore has been written off. NPAs are worth Rs 5 lakh crore, another Rs 2 lakh crore would be restructured and we still don't know what is sustainable and unsustainable. So if we include everything, it would be around 20%. Why don't banks declare everything, why hide it?
We saw that the SBI wrote off some loans recently. Do you think these loans have been recovered?
If a bank thinks it can recover the money, why write it off. These write-offs are the biggest scandal of the century. All banks must declare in public whose loans have been written off. These technical write-offs must be stopped immediately.
But banks say that entire provisions have been made and loans are being removed for accounting
You are an NPA, you are not ashamed of that, but showing it to other people is bad? If the economy improves, we will be better off, but banks need to perform.
"Exciting news! Hindustan Times is now on WhatsApp Channels
Subscribe today by clicking the link and stay updated with the latest news!"
Click here!