Donald Trump attacks Amazon, focuses on tax and shipping
Trump's attacks on Amazon reflect a broader debate about its effect on the US economy. While it employs many in the US, and has allowed some small vendors to thrive on its service, but it has also been blamed for putting brick-and-mortar stores out of business.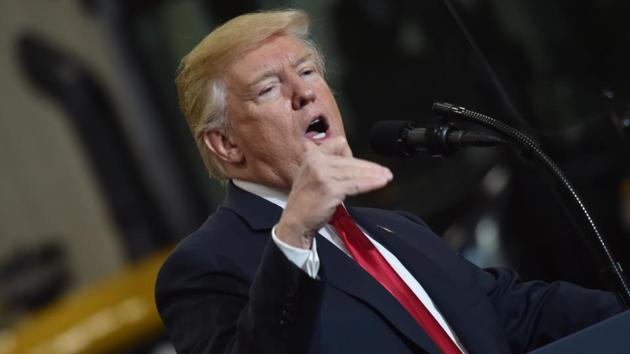 Updated on Mar 30, 2018 01:03 PM IST
US President Donald Trump accused Amazon.com Inc on Thursday of not paying enough tax, taking advantage of theUS postal system and putting small retailers out of business, but he offered no evidence to back up his criticisms and did not suggest any actions he would take.
Trump has attacked Amazon and its Chief Executive Jeff Bezos several times, and his latest comment came a day after news website Axios reported he was obsessed with the world's largest online retailer and wanted to rein in its growing power, possibly with federal antitrust or competition laws.
Amazon shares fell as much as 4.5% in morning trade, but recovered and closed up just over 1%. The stock dropped 5% on Wednesday following the Axios report. Amazon declined to comment on the tweet.
The retailer and cloud computing pioneer is the latest company Trump has singled out for praise or condemnation, although the effect on stock prices of his targets is generally short-lived.
Trump's criticism did not diminish US fund managers' long-term enthusiasm for Amazon, whose stock has risen more than five-fold in the last five years.
"If there really was teeth or real concern that something would come out of the government and regulatory oversight, Amazon's stock drop would be a lot lower than it is today," said Robert Bacarella, portfolio manager at Monetta Financial Services in Wheaton, Illinois, which holds Amazon shares.
Tax breaks
Trump's attacks on Amazon reflect a broader debate about its effect on the US economy. It employs many of its 566,000 full and part-time staff in the United States and has allowed some small vendors to thrive on its service, but it has also been blamed by some for putting brick-and-mortar stores out of business as more people shop online.
The Seattle-based company has promised to create 50,000 new jobs as it invests $5 billion in a second headquarters in North America. Amazon's choice of location for the new campus, winnowed to 20 candidates in January, has sparked fierce competition between state and local governments offering extensive tax breaks.
Trump does not have any new policies planned that would affect Amazon, a White House official said on Thursday, adding that Trump was prompted to speak out on the subject in reaction to news reports this week.
Amazon has been criticized for attempting to skirt state sales taxes, but since April last year it has voluntarily collected state sales tax on items it sells direct to customers in all 45 states that have one. Amazon does not have to collect taxes on third-party sellers using its Marketplace service.
That issue was the cause of some of Trump's ire, White House Council of Economic Advisers Chairman Kevin Hassett told Fox Business Network. "Amazon vendors that can run through the Amazon Marketplace ... don't collect the sales tax. And that's about half of their sales," he said.
Washington and Pennsylvania recently enacted laws requiring collection of third-party merchants' sales taxes, and other states are expected to follow.
The issue is still being disputed at the federal level, with the US Supreme Court set to hear oral arguments on April 17 in a case which could reverse a 1992 decision that only companies with a physical presence in a state are required to collect state sales tax.
Investors largely waved off concerns about that on Thursday.
"If there is a law that regulates how you tax third-party sellers, it's going to apply to everyone and Amazon's position will remain the same," said Steve Chiavarone, a portfolio manager at Federated Investors.
Amazon has carved out an influential position in Washington through lobbying, campaign contributions and pushing policy issues like job creation, but it could still face problems if Trump takes action against it.
"There's a lot of things where the federal government can do real damage to any business, and that's precisely why we don't want the president to attack individual companies, certainly not for political reasons," said Stan Veuger, an expert on politics and finance at the conservative American Enterprise Institute.
Post dispute
It is not clear that Amazon is responsible for the United States Postal Service (USPS) losing money, although Wall Street analysts have estimated it pays USPS roughly half what it would to United Parcel Service Inc or FedEx Corp to deliver a package.
Details of Amazon's payments to USPS are not publicly known. USPS declined to comment on Trump's tweet.
An independent agency of theUS federal government, USPS reported a net loss of $2.7 billion for fiscal 2017, largely due to increased costs of retirement benefits.
Deliveries for Amazon and other online retailers are the fastest-growing part of USPS' business, helping offset a sharp decline in regular first-class mail. Its revenue from shipping and packages in fiscal 2017 was $19.5 billion, up 13% from the previous year.
"Common sense suggests USPS needs Amazon more than Amazon needs USPS," Stifel analysts wrote in a research report this week.
Amazon has undoubtedly contributed to the closure of many brick-and-mortar stores and the bankruptcy of some chains as more people shop online instead of in malls. But there are other factors, such as high debt, and Amazon is not solely responsible.
"Yes, Amazon has put thousands of retailers out of business," said Wedbush Securities analyst Michael Pachter. "Walmart has also put thousands of retailers out of business. So has Starbucks, Barnes & Noble, Kroger and any other superstore that took share from small businesses."
Amazon founder Bezos also privately owns the Washington Post, which won a Pulitzer Prize last year for its investigation of Trump's donations to charities.
White House Deputy Press Secretary Raj Shah denied on Thursday that Trump's criticism was a personal grudge.
"A lot of people have made this, with respect to Amazon, about personalities and the CEO at Amazon - we're talking about Jeff Bezos here," he said on Thursday on the Fox News channel. "It's really about policy."
Close Story