Outrage over Nike ad that features footballer Colin Kaepernick who protested 'brutality against African Americans'
Quarterback Colin Kaepernick has not played in the National Football League since 2016 when he generated controversy for kneeling during the national anthem to 'protest racial injustice and police brutality against African Americans'.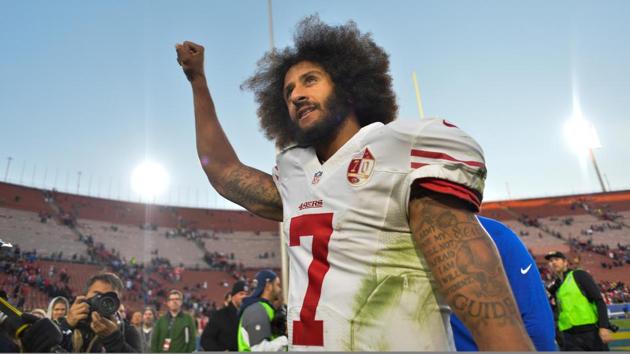 Updated on Sep 05, 2018 02:49 PM IST
Upset with Nike's decision to use American football quarterback Colin Kaepernick as the face of its latest advertising campaign, groups of people have started burning the brand's sneakers and sportswear.
Nike used Kaepernick to promote the 30th anniversary of its "Just Do It" advertising campaign.
The American footballer has not played in the National Football League (NFL) since 2016 when he generated controversy for kneeling during the national anthem to 'protest racial injustice and police brutality against African Americans'.
Dozens of other players later joined Kaepernick, making him a symbol of the dividing lines over race in America.
A Nike ad released on Monday featured a black-and-white close-up of Kaepernick's face and the words, "Believe in something. Even it if it means sacrificing everything. Just do it."
Nike's decision to feature Kaepernick has drawn strong criticism from customers, who took to social media to post videos of them burning and cutting up their Nike attire.
"Nike, due to your support of C.K. in your coming ads, I as an American can no longer support your company. #boycottNike #IStandForOurFlag," a Twitter user wrote while sharing a video of himself setting his Nike shoes on fire.
"Nike how you going to endorse Kaepernick a person that advertises socks with cops portrayed as pigs? A person that hasn't played NFL for 2 years. Well it's good I never really spent money on your brand but to the money I did, here they are," another user tweeted.
United States President Donald Trump has also responded to the Nike ad campaign, saying the company is sending a "terrible message" by featuring Kaepernick.
"I think it's a terrible message. Nike is a tenant of mine. They pay a lot of rent," Trump told The Daily Caller.
However, amidst the raging controversy, the NFL issued a statement, attributing to Jocelyn Moore, the league's new vice president of communications and public affairs.
The statement read, "The National Football League believes in dialogue, understanding and unity. We embrace the role and responsibility of everyone involved with this game to promote meaningful, positive change in our communities. The social issues that Colin and other professional athletes have raised deserve our attention and action."
Shortly after the league's statement was released, ESPN reported that "multiple sources" confirmed the NFL received no advance notice of the ad campaign until Nike launched it Monday.
Kaepernick has an active collusion grievance against the NFL, which cleared a hurdle last week when the league's request to dismiss the grievance was rejected. A trial hearing that requires testimony from NFL owners could happen at some point in the future.
One of those owners, Jerry Jones of the Dallas Cowboys, spoke about Nike in relation to the Kaepernick ad on Tuesday, but kept it brief, citing the ongoing grievance.
"I have tremendous respect for Nike and Phil Knight and everything they've meant to sports," Jones said on 105.3 FM The Fan in Dallas. "Because I'm in court and being sued, this is litigation and I'm not going to be able to comment on it."
ESPN reported that Nike kept paying Kaepernick -- who signed with the brand in 2011 -- for two years despite not using him in ads in order to bring him back at the right time.
Nike has been the NFL's licensed-apparel maker since the league switched from Reebok in 2012. In March, the sides signed a new eight-year extension to their agreement, which now runs through 2028.
After news broke Monday of Nike's Kaepernick ad, the company's stock was down more than 3 per cent on Tuesday amid numerous social media posting showing people burning or ruining Nike apparel. However, the Robinhood stock brokerage, which tends to have younger users, told Business Insider that "investors on (the app) are buying Nike stock 300 percent more than they are selling, compared to 12 percent last week."
Close Story