Retail food prices continue to fall, February CPI data shows
Mar 12, 2019 10:19 PM IST
Annual growth in India's benchmark inflation measure, Consumer Price Index (CPI) was reported to be 2.57% for February, 2019 against 1.97% in January.
Food prices registered their fifth successive monthly decline in February, continuing the trend first reported by Hindustan Times on 15 January, 2019. The fall is bound to put pressure on farm incomes, accentuating the agrarian crisis that could play an important role in the summer's Lok Sabha elections.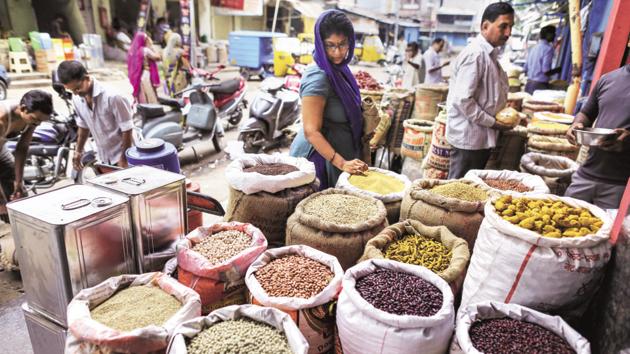 Annual growth in India's benchmark inflation measure, Consumer Price Index (CPI) was reported to be 2.57% for February, 2019 against 1.97% in January. However, food and beverage prices, which have a 46% weight in the total CPI basket, registered a fall.
This is the longest spell of a fall in food prices for the period covered by the new CPI series.
To be sure, the pace of fall in food prices has reduced in the past couple of months.
The growth in food and beverages component of CPI has increased by 122 basis points between January 2019 and February 2019. One basis point is one hundredth of a percentage point.
There is also a rural-urban divide in the behaviour of food prices. While urban food inflation has been in positive territory for both January and February 2019, rural food inflation continues to be negative.
The recovery in urban food prices was also reflected in the Wholesale Price Index (WPI) for primary food articles – a useful proxy for farm-gate prices – which registered positive growth in January 2019, after falling continuously between August 2018 and December 2018. WPI data for February is yet to be released.
A detailed breakup of CPI food basket also shows that the price crash in the headline food inflation number is because of fall in prices of fruits and vegetables, pulses and sugar.
In fact, inflation for vegetables, pulses and sugar has been in negative territory for the entire period between April 2018 and February 2019. Cereals, which are procured by the government at Minimum Support Prices (MSPs) have not faced a disinflation throughout this period.
The food inflation trends might have mixed political implications.
While a recovery in the headline number before the elections could signify an improvement in the rural economy, continuing crisis in commodities such as pulses and sugar could lead to localised anger in regions where regions which have an intensive cultivation of pulses and sugarcane.
The Narendra Modi government announced an income transfer scheme for farmers with retrospective effect, which could put an additional liquidity of up to ~20,000 crore in the hands of farmers before the elections. The first instalment of payments under the scheme was given out in February.
The BJP will be hoping that this scheme stimulates rural demand before the elections.
"Exciting news! Hindustan Times is now on WhatsApp Channels
Subscribe today by clicking the link and stay updated with the latest news!"
Click here!