Saks Fifth Avenue in talks with Aditya Birla Fashion to set up India stores
Updated on Feb 20, 2017 09:42 AM IST
First stores are likely to come up in Delhi's Aerocity and Mumbai's Bandra Kurla complex by late 2018.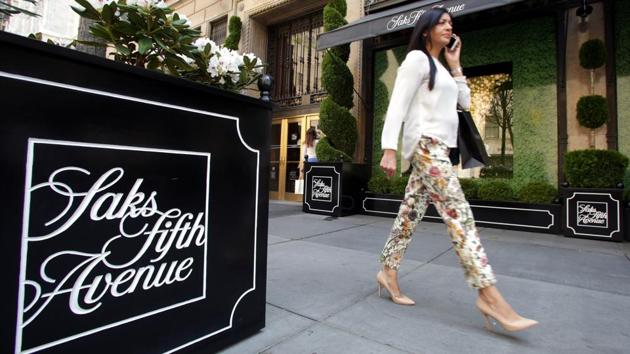 Live Mint, Mumbai |
Sapna Agarwal
Luxury goods retailer Saks Fifth Avenue Inc is in advanced talks with Aditya Birla Fashion Retail Ltd to open two stores in India, according to two people aware of the development.
The first store is likely to open in Aerocity, near the Indira Gandhi International Airport in Delhi, followed by a second in an upcoming retail project in Mumbai's Bandra Kurla Complex business district, said one of the two people, both of whom spoke on condition of anonymity.
A team from Saks Fifth Avenue has visited India twice in the past three months and is likely to make another trip in March, said the second person. The potential partners have reached an understanding and are in the process of finalizing their plans, this person said.
An Aditya Birla Fashion Retail spokesperson declined to comment in response to an email last week. The director of international operations at Saks Fifth Avenue did not respond to an email.
Saks will be attempting to tap the rich with family wealth of over Rs 25 crore or annual income in the range of Rs 3-4 crore. According to the Top of the Pyramid survey by Kotak Wealth Management published in July, 59% of wealthy Indians now purchase luxury apparel and accessories locally as luxury brands are more widely available in India. Many of them still prefer to shop for clothes and luxury items abroad.
There were 146,600 Indians with a combined net worth of Rs 135 lakh crore in the year ended March 2016, according to Kotak. This is set to increase to Rs 319 lakh crore by March 2021, according to the wealth management firm.
The luxury goods market in India is still to reach its full potential and lags behind more advanced markets such as China by 12 years, said Abheek Singhi, senior partner and director, Boston Consulting Group.
"The reason this (partnership) could make sense is that they are early in the game and are looking at a 10-20 year partnership model to capitalize on the market rather than the immediate two-three years' return," said Singhi.
India's luxury goods market is led by the National Capital Region, Mumbai and Bengaluru. It is dominated by single-brand retailers such as Gucci and Louis Vuitton, which have about half a dozen stores in India. If the partnership with Aditya Birla Fashion Retail works out, Saks Fifth Avenue will be the first multi-brand luxury retailer to enter India.
India allows 51% foreign direct investment (FDI) in non-food multi-brand retail with riders that limit markets to states that permit FDI in organized retail. Foreign retailers also need to meet other conditions pertaining to the manufacturing and sourcing of material.
Read | Aditya Birla Fashion ties up with Forever 21
The partnership between Aditya Birla Fashion and Saks Fifth Avenue is envisaged as a long-term licensing agreement, said the first of the people cited earlier.
Saks Fifth Avenue would be retailing goods across segments such as cosmetics, apparel and accessories from luxury retailers including Gucci and Burberry. It is also expected to introduce brands like Ralph Lauren that are not present in India, said the second person cited above.
The first time the New York-based luxury retailer evaluated the Indian market was as long ago as in 2005 and by the time its first store opens in the country, it could be late 2018. Globally, Saks Fifth Avenue has about 60 stores.
Its parent Hudson's Bay Co., which also owns the Lord & Taylor chain in the US, is looking at strengthening its US footprint and has made a takeover approach for struggling retailer Macy's Inc., Reuters reported on 3 February.
In 2015 Hudson's Bay bought Galeria Kaufhof and its Belgian unit Inno from German retailer Metro AG for about $2.7 billion to counter the impact of reduced consumer spending in the US and Canada.
Aditya Birla Fashion Retail's business includes the Madura Fashion division. It sells brands including Van Heusen, Louis Phillipe, Peter England and Allen Solly. The Pantaloons department retail chain it acquired in 2012 is India's largest fashion and apparel retailer with revenue of over Rs 6,060 crore in financial year 2016. In the luxury segment, it operates multi-brand retail chain Collective and has been slowly expanding its portfolio. Last year it announced a partnership with UK-based luxury brand Simon Carter and US-based fashion retailer Forever21.