Teacher, entrepreneur: The success story of Byju Raveendran
Jul 11, 2016 09:16 PM IST
Founder of Byju's Classes raises $75 million in funding from venture capitalists.
Byju Raveendran looks unsettled only once during our PR agent-chaperoned interview, and even then, the pause is so short-lived that you wouldn't be blamed for missing it. I have just asked him whether he feels he is enabling the familial pressure that forces uninterested kids into intense courses like engineering or medicine, which ends with resentment at the very least, or even suicide in the worst cases.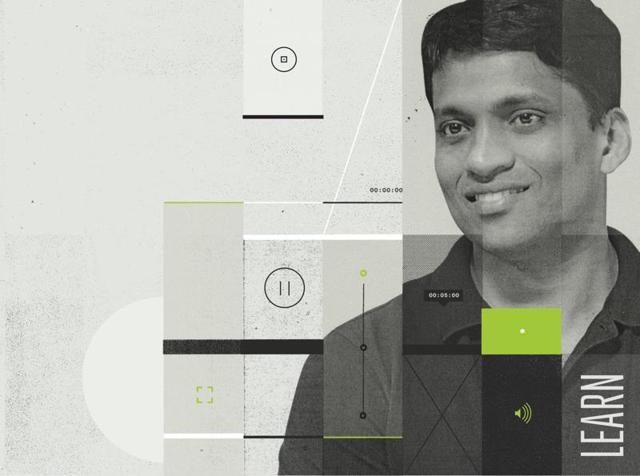 Raveendran is the founder of Byju's Classes, the Education Technology firm whose tagline is "Fall in love with learning". The test prep business he founded in 2007, helping CAT aspirants crack the exam by understanding the concepts behind the questions, is now a giant in the Indian education technology space, teaching predominantly maths and science concepts to kids from classes 6-12 along with test prep for several entrance exams. There are an estimated 227 million students in India, and education is traditionally a priority for Indians, so it is no wonder that the Indian EdTech market is estimated to be worth $40 million by 2017. Byju's recently raised $75 million in funding from venture capitalists Sequoia Capital and Sofina, the largest funding round in the (admittedly short) history of EdTech in India, and the man at its helm is clearly the driving force that has made it all happen.
Raveendran has just spent the last 40 minutes telling me why it's more important to him to teach students how to learn than it is to prepare them for entrance exams, so the question, I think, is particularly pertinent in his case. The pause is infinitesimal, though, and he quickly regains control of his face and launches into an answer which is probably a version of the spiel he has given a lot of people. In fact, he's given it to me already.
We are at the corporate offices of Byju's Classes, in Koramangala, Bangalore--a sprawling maze in white, grey, and the brand colours of purple and green, the quintessential startup that's doing well. An inconceivably smooth talker, Raveendran asks repeatedly about the focus of my article, quite concerned with how he is portrayed. It is clear that his image is important to him, but then again, his entire business--right down to the name--has been built around his personality and prowess as a teacher. It doesn't seem far-fetched to suggest that he has different modes--Teacher Byju, Meeting-With-Potential-Investors Byju, Inspiring Boss Byju, Football-With-Buddies Byju, Media Byju - all of which he probably employs at different points in the course of his busy days.
Firmly in Media Byju mode, he tells me about his childhood in a small village called Azhikode in Kerala's Kannur District, studying at a Malayalam-medium school where both his parents were teachers. Though they wanted him to do well at school (what Indian parents don't?), his parents encouraged him to play sports, and he proudly tells me he has played six different sports, including football, cricket and badminton, at the university level.
All this time spent away from classes meant that Raveendran had to catch up with his academics on his own, and, he says, this was when he first began to develop the learning methods (hinging predominantly on visualising techniques to understand concepts) that he now imparts to the 1.6 lakh paying students on the Byju's network, as well as those who have downloaded his free app. He credits his parents with teaching him about the importance of learning, and sports with giving him a lot of the social skills and confidence that have taken him far in his business ventures.
After school, Raveendran became an engineer (although, he says, if he had had the choices available to kids today, he might have studied something in Applied Mathematics instead) and got an IT job that involved spending many months at a time abroad. During a vacation in Bangalore in 2003, he helped a few friends study for the CAT exam, the common entrance exam for the Indian Institutes of Management as well as other Indian business schools. His friends did well, and, he tells me after a pause, he wrote the exam for a lark and ended up scoring in the 100th percentile. He returned to his job after this, but came back to India two years later, and helped some more people with the CAT. When he got a lot of positive feedback and heard of the good results of the people he had coached, it hit Raveendran that, like his parents, he was a teacher. He quit his IT job.
How did his approach help his friends score so well back then? He thinks it's because he doesn't obsess about solving the past years' papers over and over again or developing mindless shortcuts. Instead he helped people to understand the problem underpinning a question and break it down into something easy to answer. He says, "you learn the best when you start asking questions, not to teachers, not to parents, but to yourself." The other pillar of his approach involves getting students to take on the primary responsibility for their learning by taking the pressure off, making the concepts attractive, and getting them excited about learning.
Pravin Prakash was one of the students at these early CAT prep sessions in 2007. He describes himself as having been "addicted to CAT" at that time, having taken the exam five times. It was only during his fifth year preparing for the exam, however, that he heard about "a maths teacher who could do wonders" and decided to travel to Bangalore to try his classes out, just a week before the exam. For Prakash, it was Raveendran's classes that made the difference between an average performance and getting the calls from the Indian Institutes of Management, but when he called Raveendran to thank him for his help, he was surprised to receive a job offer. Surprising even himself, Prakash took the job instead of going for an MBA, and has worked with Raveendran ever since.
With the business taking off in multiple cities, Raveendran was suddenly travelling to nine cities a week. He kicked off revision classes that were pre-recorded and screened using WebEx (an early software that enabled screen-sharing and video conferencing for business). As demand for coaching grew and technology improved, they began to record more classes for more locations. Eventually, they switched over entirely to recorded classes, with a "mentor" present to answer doubts after the video. This is how they operate today for many of their test prep batches.
Teaching for entrance exams made them realise that students were not learning their fundamentals at the school level, and this prompted them to expand into subject coaching for classes 6-12. They were already delivering coaching for many different entrance tests through tablets that would be sent to students pre-loaded with course material, but in 2015, as phones themselves grew in screen size, they launched their mobile app, which is available for free for the first 15 days and then requires students to pay for continued and more advanced material.
Raveendran's approach to test prep and even school-level coaching is completely non-interactive, involving no back-and-forth between teacher and student. Byju's prides itself on the high production values and visual appeal of the content, and feels that the animations and visual aids enable the explaining of concepts better than a teacher with a blackboard could.
To Raveendran, technology can be the difference between forcing kids to study in the traditional way, and getting them interested in content that's as much fun as the movies or games on their gadgets. "That's the only thing which can be sustained over a long period of time. If you're forcing them to learn, they might do it for two-three years." He is very clear that the content must be "effective, interesting and meaningful" and that technology can only be an enabler. With over 4 million free app downloads and 1,60,000 paid users across platforms, Byju's is only growing bigger, claiming a 15 percent increase in students month-on-month.
Show me the money
It's easy to imagine why a venture capitalist would be happy to fund him. TV Mohandas Pai, the former Infosys CFO who now runs Aarin Capital (the first firm to fund Byju's, thanks to Pai's partner Ranjan Pai, who discovered Raveendran when he gave a lecture at Manipal University), tells me how impressed he was when he first met Raveendran. "Byju is a natural genius… I think he's having a great impact in the field of education and he has cracked the problem. Among all the hundreds of EdTech startups in India, Byju Raveendran is the only one to have cracked the problem and built up scale," he says.
GV Ravishankar, MD at Sequoia Capital, one of the firms responsible for the record-breaking round of funding Byju's received this year, agrees that the scalability, or ability of the business to be expanded and reach a huge number of people, is the key to its success. He finds the roots of that scalability in the way Byju's makes high-quality teaching and an effective methodology available anytime and anywhere. He says, "As you interact with Raveendran you realise he's a very high-energy guy, very ambitious, very visionary in the way he's thinking about [education]. It's fundamentally, 'How many people can you influence? Can you have a generation of learners who learn differently from the people before?' That's what motivates Byju, and that's what got us very interested, because he was thinking very differently from other people." Sequoia invested in Byju's for the first time last year, and Ravishankar says that the profitability of Byju's following that previous round encouraged them to invest even more this year, making this year's round the largest-ever funding round in EdTech in India. Raveendran is planning to expand his operations abroad, but also to include material for younger children and more subjects, to eventually cover the entire school syllabus
Test-Driving Byju's
After downloading the app and watching a few 10th grade videos in maths, physics and biology, what is most striking is their use of graphics and animation to illustrate different ways of visualising a concept, especially effective in maths and physics. However, the videos range from extremely clear to rather abstract and cloudy in terms of quality of explanations, and it remains unclear whether the content will actually make students 'fall in love with learning'. To put the costs in perspective, a two-year subscription to Byju's IIT-JEE material costs Rs 40,000, as compared to Rs 20,000 for the distance education materials from Brilliant Tutorials (which includes only paper-based materials and no video content), and approximately Rs 1,20,000 per year (excluding living costs) for full-time in-classroom coaching at Resonance, one of the top IIT-JEE coaching institutes in Kota, Rajasthan.
Twenty-six-year-old Shashank Saurav, who attended live CAT prep classes taught by Raveendran in Bangalore in 2014, found the classes useful overall, but says "Byju's mainly covers a few types of problems, but doesn't [do] fundamentals so well." In his opinion, "Byju usually concentrates on those mathematical portions which he is best at. Questions nowadays are [rarely] pattern-based, which he focuses hugely upon." Saurav concedes that Raveendran "does instil a lot of confidence in his students. However, at the same time, his lack of focus or extreme focus leads his students to score a tad less in other exams." A remark loaded with irony given how students suffer in the 'focused' coaching classes. Just last month, 17-year-old Kriti Tripathi jumped off a building in Kota, Rajasthan, that veritable factory of IIT entrants and rank-holders. She left behind a heart-breaking suicide note begging the government to shut down coaching centres.
Meha Mehta, a 20-year-old engineering student at Manipal Institute of Technology, Manipal, spent three years attending IIT-JEE coaching classes in Kota. We asked her to try out the JEE-specific material on the Byju's app. While she found the tests available on the app extremely useful, particularly because they were timed, she said, "It seems to be mostly JEE mains-related… It really doesn't prepare the students for the kind of questions and the difficulty level of JEE advanced." However, when it came to the video lessons themselves, she found that the lessons were well-structured and the teachers seemed well-informed. She said "They can't really take illustrative examples, because it's difficult to do that without live students. But that's made up for by really well-structured lessons. Plus they're not as long the lectures in Kota (90 minutes) so it's easier to focus throughout." She also felt that she could see these lessons being enjoyable to first-time learners, adding, "They really put effort into making the student understand it theoretically, because they don't rely on illustrations a lot." Another thing that impressed her was that less than 24 hours after she signed up to the app, she received a phone call from a 'personal mentor' at Byju's, who had been assigned to her and offered to clear her doubts. I didn't receive any such phone call when I chose the Class 10 lessons on the app, so I assume this is a special service for students preparing for the JEE.
The Byju Behind Byju's
Raveendran possesses great powers of persuasion, which he uses to deflect attention from his personal life. For instance, he looks fairly young, but when I try to find out how old he is exactly, I am told he doesn't like to reveal his age. When I ask him about his wife, Divya, who I have heard works with him, he hesitates, then, after a long pause, opens up about what it is like to work with her. "It's so much fun when you are in this journey together," he says, sounding quite happy after all.
Divya Gokulnath, his wife, says, "We're working together because we are a fit, not just personally, but professionally… I can't imagine working without him." She is a director in the company, playing a major role in the academic team as well as handling other functions like PR. Like most of the top management team, she was also his student in the early days, and, she says, "I guess the admiration has always been there because of that, he's always been an inspiration." Though his classes helped her get admission at Stanford University, she like Pravin, received a job offer from Raveendran and chose to stay and work with him, and at some point (it appears they don't like to say when), they got married. She calls him a mathematical genius and says it is his infectious energy and passion that make him an ideal CEO-founder for the company, and that none of the team members who joined in the beginning has left, though some have gone for their post-graduation and then returned.
Raveendran wears a black t-shirt every day because it's easy to get ready in the morning, and plays football every night after work with his colleagues, whom he describes as his extended family. He calls himself an "entrepreneur by chance" but he is going after growth and success aggressively. He is not the only person in the country to emphasise learning for the sake of learning or understanding the subject rather than rote-learning for exams. India has a sizeable share of Montessori schools, alternative schools, and international schools who emphasise 'true learning', to the point that this is now the fashionable thing to say when one talks about education, for all that the rote addicts deplore Byju's 'lack of focus'.
That said, it is clear that Raveendran genuinely believes in making learning the focus of education. And while his approach may not be as subversive as his pitch likes to make it seem, he has succeeded in finding a way to turn it into a lucrative business with a huge potential for growth. That is where his genius truly lies.
(Published in arrangement with GRIST Media)
"Exciting news! Hindustan Times is now on WhatsApp Channels
Subscribe today by clicking the link and stay updated with the latest news!"
Click here!