UAE plans to invest $75 billion in India, says nation's foreign minister
Jun 24, 2018 09:53 AM IST
UAE foreign minister Sheikh Abdullah bin Zayed Al Nahyan will be on a week-long visit to India beginning Sunday.
The United Arab Emirates plans to invest up to $75 billion in India over the next few years, and trade and investment constitute one of the three pillars driving the bilateral relationship, foreign minister Sheikh Abdullah bin Zayed Al Nahyan has said. In an interview with Jayanth Jacob ahead of a week-long visit to India beginning Sunday, the minister said the UAE is committed to increasing bilateral trade, which was worth $40 billion last year. Edited excerpts: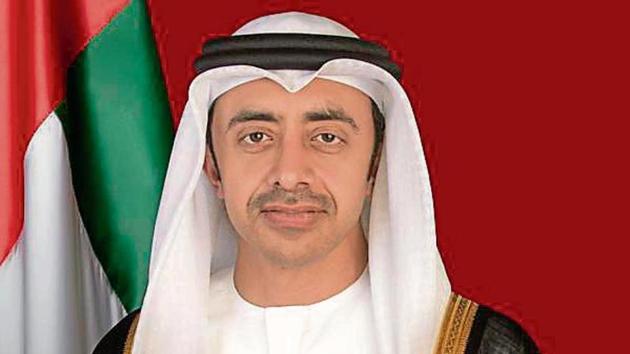 My visit indicates the growing strength and depth of bilateral relations between India and the UAE. It shows the UAE's desire for its relationship with India to be multifaceted: not only political but also one steeped in strong economic, cultural, and technological ties. I hope to engage the business community in Chennai, Hyderabad, and Mumbai; and visit India's Space Research Organisation in Bengaluru. I hope to visit more states in the future. On a personal level, a very important aspect of this trip is that it also allows me to explore and engage with India's fascinating and diverse history and people.
Stay tuned with breaking news on HT Channel on Facebook. Join Now
Click to join.
I see the UAE-India relationship as founded on three key pillars. The first is the natural sense of closeness. This comes from a shared history of trade and cultural exchanges that go back centuries, as well as from our strong people-to-people ties. The Indian community in the continues to be an integral part of our society, and we greatly appreciate their daily contributions to our way of life.
As we are taking a shared stake in each other's prosperity, trade and investment ties are an essential, second pillar to our relationship. Our bilateral trade stood at around $40 billion last year, and we are committed to seeing this grow even further. To this end, the UAE plans to invest up to $75 billion in India over the next few years, alongside a number of other important steps. These include an agreement to store UAE oil underground in Mangalore, which helps ensure India's energy security and opens up new market opportunities in Asia for the UAE. A historic first cargo of UAE crude destined for India was dispatched last month.
The third pillar is based on a shared vision for peace and stability in our regions, and this in many ways is a direct consequence of the pillars I have mentioned.
Ever since we reached agreement to establish an investment fund during Prime Minister Narendra Modi's first visit to the UAE, we have taken many steps to set up the proper governance structures for the investment fund, and provide confidence to investors. We also have a high-level task force on investments, which meets regularly to assess progress and set directions for the future. We are beginning to meet our goals.
A few months ago, the Abu Dhabi Investment Authority, one of the largest sovereign wealth funds in the world, signed a $1 billion agreement with the fund set up by India in 2015, and became a shareholder in its management company. This effectively operationalises our decision to invest in infrastructure projects in India. Also this year, the fund and DP World announced they had agreed to invest up to $3 billion in ports, terminals, transportation, and logistics businesses in India. These partnerships bring us closer to achieving our investment targets.
We have received assurances from the Indian government that it would resolve some issues from the past. We do not intend for legacy issues to become a roadblock to future investments. When we speak to our investors, they say they feel the need for transparent and clear regulations, which is understandable. At the same time, they are keen to explore investment opportunities in India. Global CEOs place India in the top ten most attractive investment destinations in the world. We share this view, and are eager to tap into its enormous potential, to the benefit of both countries.
Both the UAE and India have a strong commitment to combating terrorism, and we work in partnership to tackle this threat, as evidenced by the two joint military exercises that were conducted in March and May. We acknowledge that this requires a multifaceted approach, including joint collaboration on counter-terrorism operations, intelligence sharing, and capacity building. In short, a strengthening of security and defence ties. It also requires joint efforts to combat transnational crimes, including money laundering and drug trafficking. Beyond this, however, it requires open and tolerant societies, and both the UAE and India have built diverse societies.
The UAE and India have made significant progress over the last three years, including several official visits at the highest levels, and the establishment of a strategic partnership. The political leadership in both countries have a strong personal relationship, and we engage openly and efficiently with one another. I think there is a sense of excitement on both sides, that under these conditions, truly impressive things can happen. I think there is a real energy in this relationship, and it is this energy that will help us achieve new heights.
If that decision is made, we would be happy to again host part of the IPL in the UAE. The IPL offers some very exciting cricket, with remarkable players from across India and the world, and I think that makes for a fantastic competition every year. Test games will always show the best skills of the players, but the excitement and energy of the IPL is just unmatched. If the UAE does host the IPL next year, I will look forward to it very much.